Ukraine Google maps and Driving Directions
Get free driving directions, Google maps, traffic information for Ukraine, and Kiev (GPS: 50 26 N 30 31 E), the capital city of the country located in (the) Eastern Europe, bordering the Black Sea, between Poland, Romania, and Moldova in the west and Russia in the east.
Find any address in Kiev on the Google map of Ukraine (UA) with ease or calculate your up to date itinerary to and from Ukraine or its neighboring counties like Belarus, Hungary, Moldova, Poland, Romania, Russia, Slovakia.
Sightseeing and exploring in Europe starts here, thanks to Google because its Earth Engine combines a multi-petabyte catalog of updated satellite imagery and geospatial datasets with planetary-scale analysis capabilities. Wonder the world, use the satellite map function of the Google maps to explore or see differences on the Earth's surface, inland, or the surrounding areas of Ukraine.
Google Maps Ukraine
The former "breadbasket of the Soviet Union," Ukraine lies on the north coast of the Black Sea. Politics is divided between pro-Russian sentiments and pro-European nationalism.
Ukraine is mostly fertile plains (steppes) and plateaus, with mountains found only in the west (the Carpathians) or in the extreme south of the Crimean Peninsula.
The map above fully covers Ukraine with its road routes from cities to towns, road intersections in any region, provinces, prefectures, also with free driving directions in Kiev or to the neighboring towns and countries. To look at the detailed map about a particular quarter in Kiev, please click on the area and zoom to the place you are interested in the Google maps of Ukraine (UA).
Be creative, use the extras of this Google map; This is a detailed, clear, zoomable, large road map of Ukraine with its administrative divisions; 24 provinces (oblasti, singular – oblast'), 1 autonomous republic* (avtonomna respublika), and 2 municipalities (mista, singular – misto) with oblast status**; Cherkasy, Chernihiv, Chernivtsi, Crimea or Avtonomna Respublika Krym* (Simferopol'), Dnipropetrovs'k (Dnipro), Donets'k, Ivano-Frankivs'k, Kharkiv, Kherson, Khmel'nyts'kyy, Kirovohrad (Kropyvnyts'kyy), Kyiv**, Kyiv, Luhans'k, L'viv, Mykolayiv, Odesa, Poltava, Rivne, Sevastopol'**, Sumy, Ternopil', Vinnytsya, Volyn' (Luts'k), Zakarpattya (Uzhhorod), Zaporizhzhya, Zhytomyrnote 1: administrative divisions have the same names as their administrative centers (exceptions have the administrative center name following in parentheses); plans include the eventual renaming of Dnipropetrovsk and Kirovohrad oblasts, but because these names are mentioned in the Constitution of Ukraine, the change will require a constitutional amendmentnote 2: the United States does not recognize Russia's annexation of Ukraine's Autonomous Republic of Crimea and the municipality of Sevastopol, nor their redesignation as the Republic of Crimea and the Federal City of Sevastopol.
The interactive map above is also may be used as the satellite map of Ukraine, or as a reverse search map for finding an address from its GPS coordinates.
Located in southeast Europe, the country consists largely of fertile black soil steppes. Mountainous areas include the Carpathians in the southwest and the Crimean chain in the south. Ukraine is bordered by Belarus on the north, by Russia on the north and east, by the Black Sea on the south, by Moldova and Romania on the southwest, and by Hungary, Slovakia, and Poland on the west.
Ukraine (area: 603 500 sq km / 233 012,56 sq mi), where the official language is Ukrainian, lying in Europe and using the currency; Ukrainian hryvnia (UAH), since 1996, set their clock to UTC+2. That means they are 7 hours ahead of Washington DC during Standard Time in Kiev, the capital. Note to the time difference: Daylight saving time: +1hr begins last Sunday in March; ends last Sunday in October.
The climate in Ukraine; Mainly continental climate, with distinct seasons. Southern Crimea has Mediterranean climate.
Geography in a nutshell; Mainly fertile steppes and forests. Carpathian Mountains in west, Crimean chain in south. Pripet Marshes in northwest.
Click here for more detailed information about Ukraine.
Driving directions Ukraine
The Google maps and Google Satellite maps of Ukraine above showing the country, located next to Belarus, Hungary, Moldova, Poland, Romania, Russia, Slovakia. For your further reference, the latitude and longitude coordinates of Ukraine are 49 00 N, 32 00 E , while the capital, Kiev found at 50 26 N 30 31 E.
When you are traveling around Ukraine, Kiev, or its other cities, use this routing tool, providing up to date route planning service free of charge.
Look no further; get accurate driving directions in Ukraine, Europe, by filling the route planner form below.
Since Google acquired and introduced its digitalized maps in 2004, you're probably familiar with its base functions, like finding an address or driving directions to locations. Still, Google maps also accommodate bicyclists, pedestrians, and also public transportation with special directions and customizable routes.
---
About Ukraine and the capital, Kiev
| | |
| --- | --- |
| | |
| The national flag of Ukraine | Borderline map of Ukraine |
| | |
| Flag description: two equal horizontal bands of azure (top) and golden yellow represent grain fields under a blue sky. | Border length: total: 5,618 km. Border countries (total: 7): Belarus 1,111 km, Hungary 128 km, Moldova 1,202 km, Poland 535 km, Romania 601 km, Russia 1,944 km, Slovakia 97 km. |
About Kiev (Kyiv)
Sprawling, energetic but never overwhelming, KYIV (Київ, Kiev) combines the stately aura of a great historical city with the raw vigor of a rapidly changing society. Golden-domed churches recall the city's role as the birthplace of Christian Rus – the medieval Slav civilization that subsequently gave rise to both the Ukrainian and Russian nations. Designer-label boutiques, flashy bars, and top-of-the-range jeeps offer a jarringly contemporary contrast. With attractions aplenty and a fast-developing nightlife scene, it's a city that is easy to enjoy. It also remains an easy-to-explore capital despite its scale: walking distances between the main sights are not too taxing, and the city's metro system provides quick and cheap transport from one neighborhood to the next.
Did you know about Ukraine?
Ukraine formed an independent state in 1918, but came under Soviet control one year later and remained so until independence in 1991.
Ukraine means "on the border," referring to its position on the edge of the old Russian Empire.
The Donbass basin in eastern Ukraine is Europe's largest coalfield and supports massive iron and steel works, car plants, and other industries.
Surpassed in size within Europe only by Russia, the Ukraine shares borders with Romania, Moldova, Hungary, Slovakia, Poland, Belarus, and Russia. The Crimean Peninsula in the south (Crimea), which borders the Black Sea and the Sea of Azov, has been an autonomous region within Ukraine since 1996.
Most of the country is an elevated continuation of the Russian plain with a swathe of higher ground in the west and a smaller area in the southeast around Donetsk. The Carpathian Mountains cut across the extreme western portion of Ukraine while the Crimean Mountains occupy the extreme south of the peninsula. The plains are generally lower-lying in the east and south, and in the northwest there is a region of marshes. Ukraine drained by numerous rivers, of which the most important is the River Dnieper (Dnipro) and its tributaries. As well as being Europe's third longest river, it is an important source of hydroelectric power.
The main farming region is in the west. Ukraine has valuable reserves of timber and small-scale fishing industry. The country is rich in natural mineral resources, especially coal, iron ore, and manganese. Industries and manufacturing include iron and metals, heavy machinery, chemicals, refining of oil and gas and food processing.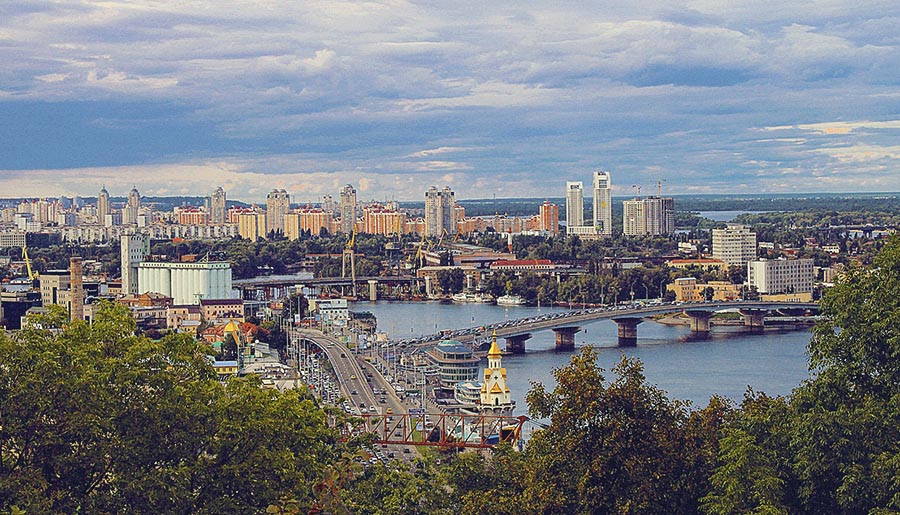 ---
Facts of Ukraine (UA)
Name conventional long form: none, conventional short form: Ukraine, local long form: none, local short form: Ukrayina, former: Ukrainian National Republic, Ukrainian State, Ukrainian Soviet Socialist Republic, etymology: name derives from the Old East Slavic word "ukraina" meaning "borderland or march (militarized border region)" and began to be used extensively in the 19th century; originally Ukrainians referred to themselves as Rusyny (Rusyns, Ruthenians, or Ruthenes), an endonym derived from the medieval Rus state (Kyivan Rus)
Codes: ISO; UA, Internet; .ua
Capital city: Kiev
Language(s): Ukrainian (official language) 67.5%, Russian (regional language) 29.6%, other (includes small Crimean Tatar-, Moldavian-, and Hungarian-speaking minorities) 2.9% (2001 estimate). Note: 2012 legislation enables a language spoken by at least 10% of an oblast's population to be given the status of "regional language," allowing for its use in courts, schools, and other government institutions; Ukrainian remains the country's only official language nationwide language
National holiday(s): Independence Day, 24 August (1991)
Motto: N/A
Currency: Ukrainian hryvnia (UAH), since 1996
GPS: 49 00 N, 32 00 E, Kiev; 50 26 N 30 31 E
Location: Eastern Europe, bordering the Black Sea, between Poland, Romania, and Moldova in the west and Russia in the east
Geography note: strategic position at the crossroads between Europe and Asia; second-largest country in Europe after Russia
Land boundaries: Belarus 1,111 km, Hungary 128 km, Moldova 1,202 km, Poland 535 km, Romania 601 km, Russia 1,944 km, Slovakia 97 km, total: 5,618 km
Maritime boundaries: Black Sea, Sea of Azov
Coastline: 2,782 km
Area: total: 603,550 sq km; land: 579,330 sq km, water: 24,220 sq km (total 233 012,56 mi2), almost four times the size of Georgia; slightly smaller than Texas.
Roadways: total: 169,694 km, paved: 166,095 km (includes 17 km of expressways), unpaved: 3,599 km (2012)
Waterways: 1,672 km (most on Dnieper River) (2012)
Local time (capital): UTC+2, 7 hours ahead of Washington DC during Standard Time
Note to the local time: Daylight saving time: +1hr begins last Sunday in March; ends last Sunday in October
Population in Ukraine: 44 009 214
Population in Kiev: 2 829 000 (including the metropolitan areas)
Urbanization: urban population: 69.7% of total population (2015)
Major urban areas population: KYIV (capital) 2.942 million; Kharkiv 1.441 million; Odesa 1.01 million; Dnipropetrovsk 957,000; Donetsk 934,000; Zaporizhzhya 753,000 (2015)
Population growth rate: -0.39% (2016 estimate)
Birth rate: 10.5 births / 1,000 population (2016 estimate)
Death rate: 14.4 deaths / 1,000 population (2016 estimate)
Age structure: 0-14 years: 15.51% (male 3,528,821 / female 3,326,405) 15-24 years: 10.3% (male 2,334,454 / female 2,218,718) 25-54 years: 44.47% (male 9,639,404 / female 10,020,385) 55-64 years: 13.68% (male 2,587,898 / female 3,458,016) 65 years and over: 16.05% (male 2,375,904 / female 4,719,728) (2016 estimate)
Median age: total: 40.4 years; male: 37.2 years, female: 43.5 years (2016 estimate)
Ethnic groups: Ukrainian 77.8%, Russian 17.3%, Belarusian 0.6%, Moldovan 0.5%, Crimean Tatar 0.5%, Bulgarian 0.4%, Hungarian 0.3%, Romanian 0.3%, Polish 0.3%, Jewish 0.2%, other 1.8% (2001 estimate)
Religions: Orthodox (includes Ukrainian Autocephalous Orthodox (UAOC), Ukrainian Orthodox – Kyiv Patriarchate (UOC-KP), Ukrainian Orthodox – Moscow Patriarchate (UOC-MP), Ukrainian Greek Catholic, Roman Catholic, Protestant, Muslim, Jewish. Note: Ukraine's population is overwhelmingly Christian; the vast majority – up to two-thirds – identify themselves as Orthodox, but many do not specify a particular branch; the UOC-KP and the UOC-MP each represent less than a quarter of the country's population, the Ukrainian Greek Catholic Church accounts for 8-10%, and the UAOC accounts for 1-2%; Muslim and Jewish adherents each compose less than 1% of the total population (2013 estimate)
Government type: Unitary semi-presidential constitutional republic
Legal system: civil law system; judicial review of legislative acts
National anthem: Shche ne vmerla Ukrainy ni slava ni volya (The glory and the will of Ukraine has not yet died)
Known national hazards: N/A
Major infectious diseases: N/A
Land use: agricultural land: 71.2%; arable land 56.1%; permanent crops 1.5%; permanent pasture 13.6%; forest: 16.8%; other: 12% (2011 estimate)
Agricultural products: grain, sugar beets, sunflower seeds, vegetables; beef, milk
Industries: coal, electric power, ferrous and nonferrous metals, machinery and transport equipment, chemicals, food processing
Export commodities: ferrous and nonferrous metals, fuel and petroleum products, chemicals, machinery and transport equipment, foodstuffs
Main export partners: Russia 12.7%, Turkey 7.3%, China 6.3%, Egypt 5.5%, Italy 5.2%, Poland 5.2% (2015)
Import commodities: energy, machinery and equipment, chemicals
Main import partners: Russia 20%, Germany 10.4%, China 10.1%, Belarus 6.5%, Poland 6.2%, Hungary 4.2% (2015)
Navigate the countries in Europe faster and easier while driving, use the interactive Google maps for your driving directions. The continuously updated database contains over 220 countries and territories digitally mapped, hundreds of millions of businesses and places around the world positioned on the map.
Get fresh GPS navigation, traffic, and transit information – no matter what part of Ukraine, Kiev, any other city and country in Europe, or the world you're in.
Do you like this Ukraine information page? Please don't forget to share it with others! Thank you.