Italy Google maps and Driving Directions
Get free driving directions, Google maps, traffic information for Italy, and Rome (GPS: 41 54 N 12 29 E), the capital city of the country located in (the) Southern Europe, a peninsula extending into the central Mediterranean Sea, northeast of Tunisia.
Find any address in Rome on the Google map of Italy (IT) with ease or calculate your up to date itinerary to and from Italy or its neighboring counties like Austria, France, San Marino, Slovenia, Switzerland, Vatican City.
Sightseeing and exploring in Europe starts here, thanks to Google because its Earth Engine combines a multi-petabyte catalog of updated satellite imagery and geospatial datasets with planetary-scale analysis capabilities. Wonder the world, use the satellite map function of the Google maps to explore or see differences on the Earth's surface, inland, or the surrounding areas of Italy.
Google Maps Italy
The Italian peninsula was home to the Roman Empire, one of the greatest ancient civilizations. The south has two famous volcanoes, Vesuvius and Etna.
Italy is mostly rugged and mountainous; some plains, coastal lowlands.
The map above fully covers Italy with its road routes from cities to towns, road intersections in any region, provinces, prefectures, also with free driving directions in Rome or to the neighboring towns and countries. To look at the detailed map about a particular quarter in Rome, please click on the area and zoom to the place you are interested in the Google maps of Italy (IT).
Be creative, use the extras of this Google map; This is a detailed, clear, zoomable, large road map of Italy with its administrative divisions; 15 regions (regioni, singular – regione) and 5 autonomous regions (regioni autonome, singular – regione autonoma)regions: Abruzzo, Basilicata, Calabria, Campania, Emilia-Romagna, Lazio (Latium), Liguria, Lombardia, Marche, Molise, Piemonte (Piedmont), Puglia (Apulia), Toscana (Tuscany), Umbria, Veneto (Venetia)autonomous regions: Friuli-Venezia Giulia; Sardegna (Sardinia); Sicilia (Sicily); Trentino-Alto Adige (Trentino-South Tyrol) or Trentino-Suedtirol (German); Valle d'Aosta (Aosta Valley) or Vallee d'Aoste (French).
The interactive map above is also may be used as the satellite map of Italy, or as a reverse search map for finding an address from its GPS coordinates.
Italy, slightly larger than Arizona, is a long peninsula shaped like a boot, surrounded on the west by the Tyrrhenian Sea and the east by the Adriatic. It is bounded by France, Switzerland, Austria, and Slovenia to the north. The Apennine Mountains form the peninsula's backbone the Alps form its northern boundary. The largest of its many northern lakes is Garda (143 sq mi 370 sq km) the Po, its principal river, flows from the Alps on Italy's western border and crosses the Lombard plain to the Adriatic Sea. Several islands form part of Italy the largest are Sicily (9,926 sq mi 25,708 sq km) and Sardinia (9,301 sq mi 24,090 sq km).
Italy (area: 301 336 sq km / 116 346,43 sq mi), where the official language is Italian, lying in Europe and using the currency; Euro (EUR), since 1999, set their clock to UTC+1. That means they are 6 hours ahead of Washington DC during Standard Time in Rome, the capital. Note to the time difference: Daylight saving time: +1hr begins last Sunday in March; ends last Sunday in October.
The climate in Italy; Mediterranean in the south. Seasonal extremes in the mountains and on the northern alluvial plain.
Geography in a nutshell; The Apennines form the backbone of a rugged peninsula, extending from the Alps into the Mediterranean Sea. An alluvial plain in the north.
Click here for more detailed information about Italy.
Driving directions Italy
The Google maps and Google Satellite maps of Italy above showing the country, located next to Austria, France, San Marino, Slovenia, Switzerland, Vatican City. For your further reference, the latitude and longitude coordinates of Italy are 42 50 N, 12 50 E , while the capital, Rome found at 41 54 N 12 29 E.
When you are traveling around Italy, Rome, or its other cities, use this routing tool, providing up to date route planning service free of charge.
Look no further; get accurate driving directions in Italy, Europe, by filling the route planner form below.
Since Google acquired and introduced its digitalized maps in 2004, you're probably familiar with its base functions, like finding an address or driving directions to locations. Still, Google maps also accommodate bicyclists, pedestrians, and also public transportation with special directions and customizable routes.
---
About Italy and the capital, Rome
| | |
| --- | --- |
| | |
| The national flag of Italy | Borderline map of Italy |
| | |
| Flag description: three equal vertical bands of green (hoist side), white, and red; design inspired by the French flag brought to Italy by Napoleon in 1797; colors are those of Milan (red and white) combined with the green uniform color of the Milanese civic guard. Note: similar to the flag of Mexico, which is longer, uses darker shades of red and green, and has its coat of arms centered on the white band; Ireland, which is longer and is green (hoist side), white, and orange; also similar to the flag of the Cote d'Ivoire, which has the colors reversed – orange (hoist side), white, and green. | Border length: total: 1,836.4 km. Border countries (total: 6): Austria 404 km, France 476 km, Holy See (Vatican City) 3.4 km, San Marino 37 km, Slovenia 218 km, Switzerland 698 km. |
About Rome
The city of Rome is simultaneously strident, romantic, and sensual. And although the romantic poets would probably be horrified at today's traffic, pollution, overcrowding, crime, political discontent, and barely controlled chaos of modern Rome, the city endures and thrives in a way that is called "eternal."
It would take a lifetime to know a city filled with 27 centuries of artistic achievement. A cradle of Western civilization, Rome is timeless with its ancient history, art, and architecture, containing more treasures per square foot than any other city in the world. Caesar assassinated here, Charlemagne crowned, and the list of the significant events goes on and on.
In between all that absorption of culture and history, take time to relax and meet the Romans. Savor their delicious kinds of pasta while enjoying a fine glass of wine on one of the city's splendid squares where one of the reigning Caesars might have gone before you, or perhaps Michelangelo or Raphael.
Did you know about Italy?
Italy was a collection of city states, dukedoms, and monarchies before it became a unified nation in 1861. Italy became a republic in 1946.
Boot-shaped Italy, kicking into the Mediterranean Sea, is renowned for its wealth of beautiful medieval churches and palaces. Its capital, Rome, once commanded a mighty empire that controlled most of western Europe.
The huge peaks of the Alps and Dolomites form Italy's northern border with France, Switzerland, Austria, and Slovenia. Towards the foothills of the mountains lie several large lakes of which the most famous are Maggiore, Como, and Garda. These form the spectacular and beautiful region of the Italian Lake District, which attracts many visitors who come to climb in the mountains and to ski and enjoy winter sports.
The fertile Lombardy Plain lies to the south. Numerous rivers rise in the northern mountains, and many become tributaries of the great River Po which flows eastwards and drains the Lombardy Plain before emptying into the Adriatic Sea. South of the Lombardy Plain lies the familiar long 'boot' of peninsular Italy, which comprises the majority of the country. The Apennine Mountains extend down the length of the peninsula. The principal rivers of the peninsula are the Arno, which flows through Florence (Firenze) and Pisa, and the Tiber (Tevere), which runs through Rome.
Agriculture remains important to the Italian economy, and Italy is one of the leading producers in Europe of wine and olive oil. A variety of cereal crops grown and the dairy industry produces several kinds of cheese, such as Parmesan and Gorgonzola.
The Italians transformed their economy after the Second World War, embarking upon a rapid process of industrialization and the development of manufacturing from an entirely agricultural base. Tourism is also an important contributor to the economy.
Rome
Rome, Italy's capital city, probably offers visitors the chance to see more than any other city in the world. A modern European capital city, Rome also offers tourists the opportunity to explore the remains of the various eras that are part of its 2,000 years of history. Places to look out for include the Coliseum and the Forum, ancient basilicas, the fountains and churches of the Baroque period and the Vatican City, while a day trip away is Hadrian's Villa at Tivoli and the ancient site of Ostea Antica.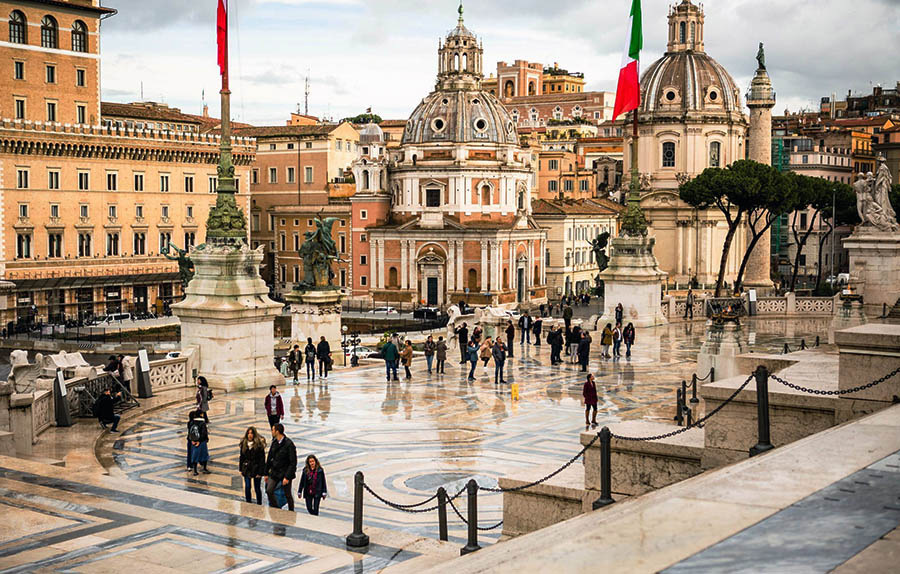 ---
Facts of Italy (IT)
Name conventional long form: Italian Republic, conventional short form: Italy, local long form: Repubblica Italiana, local short form: Italia, former: Kingdom of Italy, etymology: derivation is unclear, but the Latin "Italia" may come from the Oscan "Viteliu" meaning "[land] of young cattle" (the bull was a symbol of southern Italic tribes)
Codes: ISO; IT, Internet; .it
Capital city: Rome
Language(s): Italian (official language), German (parts of Trentino-Alto Adige region are predominantly German-speaking), French (small French-speaking minority in Valle d'Aosta region), Slovene (Slovene-speaking minority in the Trieste-Gorizia area)
National holiday(s): Republic Day, 2 June (1946)
Motto: N/A
Currency: Euro (EUR), since 1999
GPS: 42 50 N, 12 50 E, Rome; 41 54 N 12 29 E
Location: Southern Europe, a peninsula extending into the central Mediterranean Sea, northeast of Tunisia
Geography note: strategic location dominating the central Mediterranean as well as southern sea and air approaches to Western Europe
Land boundaries: Austria 404 km, France 476 km, Holy See (Vatican City) 3.4 km, San Marino 37 km, Slovenia 218 km, Switzerland 698 km, total: 1,836.4 km
Maritime boundaries: Adriatic Sea, Ionian Sea, Mediterranean Sea, Tyrrhenian Sea
Coastline: 7,600 km
Area: total: 301,340 sq km; land: 294,140 sq km, water: 7,200 sq km (total 116 346,43 mi2), almost twice the size of Georgia; slightly larger than Arizona.
Roadways: total: 487,700 km, paved: 487,700 km (includes 6,700 km of expressways) (2007)
Waterways: 2,400 km (used for commercial traffic; of limited overall value compared to road and rail) (2012)
Local time (capital): UTC+1, 6 hours ahead of Washington DC during Standard Time
Note to the local time: Daylight saving time: +1hr begins last Sunday in March; ends last Sunday in October
Population in Italy: 59 290 969
Population in Rome: 3 550 900 (including the metropolitan areas)
Urbanization: urban population: 69% of total population (2015)
Major urban areas population: ROME (capital) 3.718 million; Milan 3.099 million; Naples 2.202 million; Turin 1.765 million; Palermo 853,000; Bergamo 840,000 (2015)
Population growth rate: 0.23% (2016 estimate)
Birth rate: 8.7 births / 1,000 population (2016 estimate)
Death rate: 10.3 deaths / 1,000 population (2016 estimate)
Age structure: 0-14 years: 13.69% (male 4,337,792 / female 4,151,901) 15-24 years: 9.74% (male 3,026,359 / female 3,012,882) 25-54 years: 42.46% (male 13,003,171 / female 13,326,901) 55-64 years: 12.73% (male 3,826,630 / female 4,069,855) 65 years and over: 21.37% (male 5,696,612 / female 7,555,437) (2016 estimate)
Median age: total: 45.1 years; male: 44 years, female: 46.2 years (2016 estimate)
Ethnic groups: Italian (includes small clusters of German-, French-, and Slovene-Italians in the north and Albanian-Italians and Greek-Italians in the south)
Religions: Christian 80% (overwhelmingly Roman Catholic with very small groups of Jehovah's Witnesses and Protestants), Muslim (about 800,000 to 1 million), atheist and agnostic 20%
Government type: Unitary parliamentary republic
Legal system: civil law system; judicial review of legislation under certain conditions in Constitutional Court
National anthem: Il Canto degli Italiani (Fratelli d'Italia)
Known national hazards: regional risks include landslides, mudflows, avalanches, earthquakes, volcanic eruptions, flooding; land subsidence in Venicevolcanism: significant volcanic activity; Etna (elev. 3,330 m), which is in eruption as of 2010, is Europe's most active volcano; flank eruptions pose a threat to nearby Sicilian villages; Etna, along with the famous Vesuvius, which remains a threat to the millions of nearby residents in the Bay of Naples area, have both been deemed Decade Volcanoes by the International Association of Volcanology and Chemistry of the Earth's Interior, worthy of study due to their explosive history and proximity to human populations; Stromboli, on its namesake island, has also been continuously active with moderate volcanic activity; other historically active volcanoes include Campi Flegrei, Ischia, Larderello, Pantelleria, Vulcano, and Vulsini
Major infectious diseases: N/A
Land use: agricultural land: 47.1%; arable land 22.8%; permanent crops 8.6%; permanent pasture 15.7%; forest: 31.4%; other: 21.5% (2011 estimate)
Agricultural products: fruits, vegetables, grapes, potatoes, sugar beets, soybeans, grain, olives; beef, dairy products; fish
Industries: tourism, machinery, iron and steel, chemicals, food processing, textiles, motor vehicles, clothing, footwear, ceramics
Export commodities: engineering products, textiles and clothing, production machinery, motor vehicles, transport equipment, chemicals; foodstuffs, beverages, and tobacco; minerals, nonferrous metals
Main export partners: Germany 12.3%, France 10.3%, US 8.7%, UK 5.4%, Spain 4.8%, Switzerland 4.7% (2015)
Import commodities: engineering products, chemicals, transport equipment, energy products, minerals and nonferrous metals, textiles and clothing; food, beverages, tobacco
Main import partners: Germany 15.4%, France 8.7%, China 7.7%, Netherlands 5.6%, Spain 5%, Belgium 4.7% (2015)
Navigate the countries in Europe faster and easier while driving, use the interactive Google maps for your driving directions. The continuously updated database contains over 220 countries and territories digitally mapped, hundreds of millions of businesses and places around the world positioned on the map.
Get fresh GPS navigation, traffic, and transit information – no matter what part of Italy, Rome, any other city and country in Europe, or the world you're in.
Do you like this Italy information page? Please don't forget to share it with others! Thank you.