Slovenia Google maps and Driving Directions
Get free driving directions, Google maps, traffic information for Slovenia, and Ljubljana (GPS: 46 03 N 14 31 E), the capital city of the country located in (the) south Central Europe, Julian Alps between Austria and Croatia.
Find any address in Ljubljana on the Google map of Slovenia (SI) with ease or calculate your up to date itinerary to and from Slovenia or its neighboring counties like Austria, Croatia, Hungary, Italy.
Sightseeing and exploring in Europe starts here, thanks to Google because its Earth Engine combines a multi-petabyte catalog of updated satellite imagery and geospatial datasets with planetary-scale analysis capabilities. Wonder the world, use the satellite map function of the Google maps to explore or see differences on the Earth's surface, inland, or the surrounding areas of Slovenia.
Google Maps Slovenia
Lying at the junction of central Europe and the Balkans, Slovenia seceded from socialist Yugoslavia in 1991. In 2004, it became the first former Yugoslav state to join the EU.
Slovenia is a short southwestern coastal strip of Karst topography on the Adriatic; an alpine mountain region lies adjacent to Italy and Austria in the north; mixed mountains and valleys with numerous rivers to the east.
The map above fully covers Slovenia with its road routes from cities to towns, road intersections in any region, provinces, prefectures, also with free driving directions in Ljubljana or to the neighboring towns and countries. To look at the detailed map about a particular quarter in Ljubljana, please click on the area and zoom to the place you are interested in the Google maps of Slovenia (SI).
Be creative, use the extras of this Google map; This is a detailed, clear, zoomable, large road map of Slovenia with its administrative divisions; 201 municipalities (obcine, singular – obcina) and 11 urban municipalities (mestne obcine, singular – mestna obcina)municipalities: Ajdovscina, Ankaran, Apace, Beltinci, Benedikt, Bistrica ob Sotli, Bled, Bloke, Bohinj, Borovnica, Bovec, Braslovce, Brda, Brezice, Brezovica, Cankova, Cerklje na Gorenjskem, Cerknica, Cerkno, Cerkvenjak, Cirkulane, Crensovci, Crna na Koroskem, Crnomelj, Destrnik, Divaca, Dobje, Dobrepolje, Dobrna, Dobrova-Polhov Gradec, Dobrovnik/Dobronak, Dolenjske Toplice, Dol pri Ljubljani, Domzale, Dornava, Dravograd, Duplek, Gorenja Vas-Poljane, Gorisnica, Gorje, Gornja Radgona, Gornji Grad, Gornji Petrovci, Grad, Grosuplje, Hajdina, Hoce-Slivnica, Hodos, Horjul, Hrastnik, Hrpelje-Kozina, Idrija, Ig, Ilirska Bistrica, Ivancna Gorica, Izola/Isola, Jesenice, Jezersko, Jursinci, Kamnik, Kanal, Kidricevo, Kobarid, Kobilje, Kocevje, Komen, Komenda, Kosanjevica na Krki, Kostel, Kozje, Kranjska Gora, Krizevci, Krsko, Kungota, Kuzma, Lasko, Lenart, Lendava/Lendva, Litija, Ljubno, Ljutomer, Log-Dragomer, Logatec, Loska Dolina, Loski Potok, Lovrenc na Pohorju, Luce, Lukovica,Majsperk, Makole, Markovci, Medvode, Menges, Metlika, Mezica, Miklavz na Dravskem Polju, Miren-Kostanjevica, Mirna, Mirna Pec, Mislinja, Mokronog-Trebelno, Moravce, Moravske Toplice, Mozirje, Muta, Naklo, Nazarje, Odranci, Oplotnica, Ormoz, Osilnica, Pesnica, Piran/Pirano, Pivka, Podcetrtek, Podlehnik, Podvelka, Poljcane, Polzela, Postojna, Prebold, Preddvor, Prevalje, Puconci, Race-Fram, Radece, Radenci, Radlje ob Dravi, Radovljica, Ravne na Koroskem, Razkrizje, Recica ob Savinji, Rence-Vogrsko, Ribnica, Ribnica na Pohorju, Rogaska Slatina, Rogasovci, Rogatec, Ruse, Selnica ob Dravi, Semic, Sevnica, Sezana, Slovenska Bistrica, Slovenske Konjice, Sodrazica, Solcava, Sredisce ob Dravi, Starse, Straza, Sveta Ana, Sveta Trojica v Slovenskih Goricah, Sveti Andraz v Slovenskih Goricah, Sveti Jurij ob Scavnici, Sveti Jurij v Slovenskih Goricah, Sveti Tomaz, Salovci, Sempeter-Vrtojba, Sencur, Sentilj, Sentjernej, Sentjur, Sentrupert, Skocjan, Skofja Loka, Skofljica, Smarje pri Jelsah, Smarjeske Toplice, Smartno ob Paki, Smartno pri Litiji, Sostanj, Store, Tabor, Tisina, Tolmin, Trbovlje, Trebnje, Trnovska Vas, Trzic, Trzin, Turnisce, Velika Polana, Velike Lasce, Verzej, Videm, Vipava, Vitanje, Vodice, Vojnik, Vransko, Vrhnika, Vuzenica, Zagorje ob Savi, Zalec, Zavrc, Zelezniki, Zetale, Ziri, Zirovnica, Zrece, Zuzemberkurban municipalities: Celje, Koper-Capodistria, Kranj, Ljubljana, Maribor, Murska Sobota, Nova Gorica, Novo Mesto, Ptuj, Slovenj Gradec, Velenje.
The interactive map above is also may be used as the satellite map of Slovenia, or as a reverse search map for finding an address from its GPS coordinates.
Slovenia occupies an area about the size of the state of Massachusetts. It is largely a mountainous republic and almost half of the land is forested, with hilly plains spread across the central and eastern regions. Mount Triglav, the highest peak, rises to 9,393 ft (2,864 m).
Slovenia (area: 20 273 sq km / 7 827,45 sq mi), where the official language is Slovene, lying in Europe and using the currency; Euro (EUR), since 2007, set their clock to UTC+1. That means they are 6 hours ahead of Washington DC during Standard Time in Ljubljana, the capital. Note to the time difference: Daylight saving time: +1hr begins last Sunday in March; ends last Sunday in October.
The climate in Slovenia; Mediterranean climate on the small coastal strip. The alpine interior has continental extremes.
Geography in a nutshell; Alpine terrain with hills and mountains. Forests cover almost half the country's area. There is a short coastline on the Adriatic Sea.
Click here for more detailed information about Slovenia.
Driving directions Slovenia
The Google maps and Google Satellite maps of Slovenia above showing the country, located next to Austria, Croatia, Hungary, Italy. For your further reference, the latitude and longitude coordinates of Slovenia are 46 07 N, 14 49 E , while the capital, Ljubljana found at 46 03 N 14 31 E.
When you are traveling around Slovenia, Ljubljana, or its other cities, use this routing tool, providing up to date route planning service free of charge.
Look no further; get accurate driving directions in Slovenia, Europe, by filling the route planner form below.
Since Google acquired and introduced its digitalized maps in 2004, you're probably familiar with its base functions, like finding an address or driving directions to locations. Still, Google maps also accommodate bicyclists, pedestrians, and also public transportation with special directions and customizable routes.
---
About Slovenia and the capital, Ljubljana
| | |
| --- | --- |
| | |
| The national flag of Slovenia | Borderline map of Slovenia |
| | |
| Flag description: three equal horizontal bands of white (top), blue, and red, derive from the medieval coat of arms of the Duchy of Carniola; the Slovenian seal (a shield with the image of Triglav, Slovenia's highest peak, in white against a blue background at the center; beneath it are two wavy blue lines depicting seas and rivers, and above it are three six-pointed stars arranged in an inverted triangle, which are taken from the coat of arms of the Counts of Celje, the great Slovene dynastic house of the late 14th and early 15th centuries) appears in the upper hoist side of the flag centered on the white and blue bands. | Border length: total: 1,211 km. Border countries (total: 4): Austria 299 km, Croatia 600 km, Hungary 94 km, Italy 218 km. |
About Ljubljana
Slovenia's sophisticated capital, Ljubljana, is a delight, pleasantly compact and cluttered with fabulous Baroque and Habsburg buildings. Prosperous and elegant: the Slovene capital Ljubljana gracefully fans out from its castle-topped hill, the old center marooned in the shapeless modernity that stretches out across the plain. The city's museums, galleries, and architecture are only part of the picture; above all, Ljubljana is a place to meet people and enjoy the nightlife.
Did you know about Slovenia?
Historically under Austrian rule, Slovenia formed part of Yugoslavia in 1919. It declared independence on June 26, 1991.
A wheel found in a marsh in 2003 is claimed to be the world's oldest, pre-dating 3000 BCE.
This largely rural nation sits across some of the major road and rail links between west and east Europe, and is attracting increasing numbers of tourists to its Alpine scenery.
Slovenia is a small country that, before 1991, was a republic in the former Yugoslavia. It is a mountainous country, bounded by Croatia in the southwest, Hungary in the east, Austria in the north and Italy in the west. Slovenia also has a short stretch of coastline bordering the Adriatic Sea where the port of Koper located.
The Julian Alps are in the densely forested, northwestern part of the country. Slovenia's capital, Ljubljana, is situated fairly centrally within the upland region.
About half of Slovenia's people live in small, rural farming communities where cattle and sheep rearing are particularly important but crops also grown.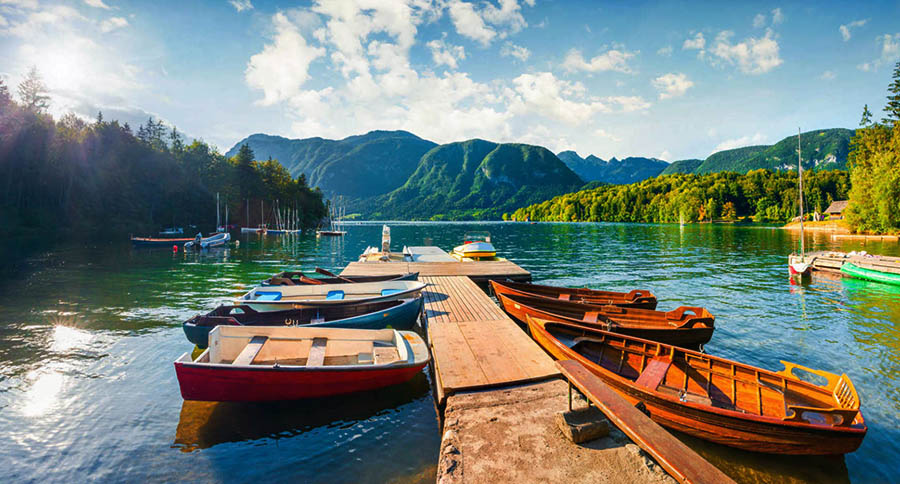 ---
Facts of Slovenia (SI)
Name conventional long form: Republic of Slovenia, conventional short form: Slovenia, local long form: Republika Slovenija, local short form: Slovenija, former: People's Republic of Slovenia, Socialist Republic of Slovenia, etymology: related to the Slavic autonym (self-designation) "Slovenin," a derivation from "slovo" (word), denoting "people who speak (the same language)" (i.e., people who understand each other)
Codes: ISO; SI, Internet; .si
Capital city: Ljubljana
Language(s): Slovenian (official language) 91.1%, Serbo-Croatian 4.5%, other or unspecified 4.4%, Italian (official language, only in municipalities where Italian national communities reside), Hungarian (official language, only in municipalities where Hungarian national communities reside) (2002 census)
National holiday(s): Independence Day/Statehood Day, 25 June (1991)
Motto: N/A
Currency: Euro (EUR), since 2007
GPS: 46 07 N, 14 49 E, Ljubljana; 46 03 N 14 31 E
Location: south Central Europe, Julian Alps between Austria and Croatia
Geography note: despite its small size, this eastern Alpine country controls some of Europe's major transit routes
Land boundaries: Austria 299 km, Croatia 600 km, Hungary 94 km, Italy 218 km, total: 1,211 km
Maritime boundaries: Adriatic Sea
Coastline: 46.6 km
Area: total: 20,273 sq km; land: 20,151 sq km, water: 122 sq km (total 7 827,45 mi2), slightly smaller than New Jersey.
Roadways: total: 38,985 km, paved: 38,985 km (includes 769 km of expressways) (2012)
Waterways: (some transport on the Drava River) (2012)
Local time (capital): UTC+1, 6 hours ahead of Washington DC during Standard Time
Note to the local time: Daylight saving time: +1hr begins last Sunday in March; ends last Sunday in October
Population in Slovenia: 2 081 260
Population in Ljubljana: 273 000 (including the metropolitan areas)
Urbanization: urban population: 49.6% of total population (2015)
Major urban areas population: LJUBLJANA (capital) 279,000 (2014)
Population growth rate: -0.29% (2016 estimate)
Birth rate: 8.3 births / 1,000 population (2016 estimate)
Death rate: 11.5 deaths / 1,000 population (2016 estimate)
Age structure: 0-14 years: 13.35% (male 136,114 / female 127,904) 15-24 years: 9.58% (male 97,191 / female 92,369) 25-54 years: 43.3% (male 432,824 / female 423,708) 55-64 years: 14.82% (male 144,160 / female 148,903) 65 years and over: 18.95% (male 152,770 / female 222,086) (2016 estimate)
Median age: total: 44.1 years; male: 42.5 years, female: 45.9 years (2016 estimate)
Ethnic groups: Slovene 83.1%, Serb 2%, Croat 1.8%, Bosniak 1.1%, other or unspecified 12% (2002 census)
Religions: Catholic 57.8%, Muslim 2.4%, Orthodox 2.3%, other Christian 0.9%, unaffiliated 3.5%, other or unspecified 23%, none 10.1% (2002 census)
Government type: Parliamentary republic
Legal system: civil law system
National anthem: Zdravljica (A Toast)
Known national hazards: flooding; earthquakes
Major infectious diseases: N/A
Land use: agricultural land: 22.8%; arable land 8.4%; permanent crops 1.3%; permanent pasture 13.1%; forest: 62.3%; other: 14.9% (2011 estimate)
Agricultural products: hops, wheat, coffee, corn, apples, pears; cattle, sheep, poultry
Industries: ferrous metallurgy and aluminum products, lead and zinc smelting; electronics (including military electronics), trucks, automobiles, electric power equipment, wood products, textiles, chemicals, machine tools
Export commodities: manufactured goods, machinery and transport equipment, chemicals, food
Main export partners: Germany 19.1%, Italy 10.6%, Austria 8%, Croatia 6.8%, Slovakia 4.7%, Hungary 4.4%, France 4.2% (2015)
Import commodities: machinery and transport equipment, manufactured goods, chemicals, fuels and lubricants, food
Main import partners: Germany 16.5%, Italy 13.6%, Austria 10.2%, China 5.5%, Croatia 5.1%, Turkey 4% (2015)
Navigate the countries in Europe faster and easier while driving, use the interactive Google maps for your driving directions. The continuously updated database contains over 220 countries and territories digitally mapped, hundreds of millions of businesses and places around the world positioned on the map.
Get fresh GPS navigation, traffic, and transit information – no matter what part of Slovenia, Ljubljana, any other city and country in Europe, or the world you're in.
Do you like this Slovenia information page? Please don't forget to share it with others! Thank you.