Greece Google maps and Driving Directions
Get free driving directions, Google maps, traffic information for Greece, and Athens (GPS: 37 59 N 23 44 E), the capital city of the country located in (the) Southern Europe, bordering the Aegean Sea, Ionian Sea, and the Mediterranean Sea, between Albania and Turkey.
Find any address in Athens on the Google map of Greece (GR) with ease or calculate your up to date itinerary to and from Greece or its neighboring counties like Albania, Bulgaria, Macedonia, Turkey.
Sightseeing and exploring in Europe starts here, thanks to Google because its Earth Engine combines a multi-petabyte catalog of updated satellite imagery and geospatial datasets with planetary-scale analysis capabilities. Wonder the world, use the satellite map function of the Google maps to explore or see differences on the Earth's surface, inland, or the surrounding areas of Greece.
Google Maps Greece
The Balkan state of Greece is bounded on three sides by the Mediterranean, Aegean, and Ionian seas. It has a strong seafaring tradition, with some of the world's richest shipowners.
Greece is mountainous with ranges extending into the sea as peninsulas or chains of islands.
The map above fully covers Greece with its road routes from cities to towns, road intersections in any region, provinces, prefectures, also with free driving directions in Athens or to the neighboring towns and countries. To look at the detailed map about a particular quarter in Athens, please click on the area and zoom to the place you are interested in the Google maps of Greece (GR).
Be creative, use the extras of this Google map; This is a detailed, clear, zoomable, large road map of Greece with its administrative divisions; 13 regions (perifereies, singular – perifereia) and 1 autonomous monastic state* (aftonomi monastiki politeia); Agion Oros* (Mount Athos), Anatoliki Makedonia kai Thraki (East Macedonia and Thrace), Attiki (Attica), Dytiki Ellada (West Greece), Dytiki Makedonia (West Macedonia), Ionia Nisia (Ionian Islands), Ipeiros (Epirus), Kentriki Makedonia (Central Macedonia), Kriti (Crete), Notio Aigaio (South Aegean), Peloponnisos (Peloponnese), Sterea Ellada (Central Greece), Thessalia (Thessaly), Voreio Aigaio (North Aegean).
The interactive map above is also may be used as the satellite map of Greece, or as a reverse search map for finding an address from its GPS coordinates.
Located in southern Europe, Greece forms an irregular-shaped peninsula in the Mediterranean with two additional large peninsulas projecting from it: the Chalcidice and the Peloponnese. The Greek islands are generally subdivided into two groups, according to location: the Ionian islands (including Corfu, Cephalonia, and Leucas) west of the mainland and the Aegean islands (including Euboea, Samos, Chios, Lesbos, and Crete) to the east and south. North-central Greece, Epirus, and western Macedonia are all mountainous. The main chain of the Pindus Mountains extends from northwest Greece to the Peloponnese. Mount Olympus, rising to 9,570 ft (2,909 m), is the highest point in the country.
Greece (area: 131 957 sq km / 50 948,86 sq mi), where the official language is Greek, lying in Europe and using the currency; Euro (EUR), since 2001, set their clock to UTC+2. That means they are 7 hours ahead of Washington DC during Standard Time in Athens, the capital. Note to the time difference: Daylight saving time: +1hr begins last Sunday in March; ends last Sunday in October begins last Sunday in March; ends last Sunday in October.
The climate in Greece; Mainly Mediterranean, with dry, hot summers. Alpine climate in northern mountain areas.
Geography in a nutshell; Mountainous peninsula and over 2000 islands. Large plain along the mainland's Aegean coast.
Click here for more detailed information about Greece.
Driving directions Greece
The Google maps and Google Satellite maps of Greece above showing the country, located next to Albania, Bulgaria, Macedonia, Turkey. For your further reference, the latitude and longitude coordinates of Greece are 39 00 N, 22 00 E , while the capital, Athens found at 37 59 N 23 44 E.
When you are traveling around Greece, Athens, or its other cities, use this routing tool, providing up to date route planning service free of charge.
Look no further; get accurate driving directions in Greece, Europe, by filling the route planner form below.
Since Google acquired and introduced its digitalized maps in 2004, you're probably familiar with its base functions, like finding an address or driving directions to locations. Still, Google maps also accommodate bicyclists, pedestrians, and also public transportation with special directions and customizable routes.
---
About Greece and the capital, Athens
| | |
| --- | --- |
| | |
| The national flag of Greece | Borderline map of Greece |
| | |
| Flag description: nine equal horizontal stripes of blue alternating with white; a blue square bearing a white cross appears in the upper hoist-side corner; the cross symbolizes Greek Orthodoxy, the established religion of the country; there is no agreed upon meaning for the nine stripes or for the colors; the exact shade of blue has never been set by law and has varied from a light to a dark blue over time. | Border length: total: 1,110 km. Border countries (total: 4): Albania 212 km, Bulgaria 472 km, Macedonia 234 km, Turkey 192 km. |
About Athens
Athens is the city that Greeks love to hate, complaining that it's too expensive, too crowded, and also polluted. More than five million people – some 40% of Greece's population – live here, and streets are so congested you'll suspect that every Athenian has at least one car or motorcycle! The new Metro (subway) has significantly diminished Athens's endemic gridlock and nefos (smog). Still, traffic in central Athens can be fierce. Forever the city of a thousand contradictions, Athens is one of the few ancient cities in the world where the cutting edge, the hip, and the modern coexist harmoniously with the classical, and old and new complement each other to near perfection.
The 2004 Olympics brought several welcome changes to Athens. The city now boasts an Archaeological Park – a network of walkways linking major archaeological sites including Hadrian's Gate, the Acropolis, the Ancient Agora, and Kerameikos cemetery. Numerous exhibits held along the walkways in the shadow of the Acropolis and new cafes, restaurants, and galleries (populated by chic young Athenians) have sprung up nearby.
Still, visitors momentarily overwhelmed by Athens' round-the-clock hustle and bustle (which sometimes includes motorcycles barreling along sidewalks) may be forgiven for sometimes wondering if Athens, even with all its recent updates and fabled glories, is the ideal holiday destination. Don't despair. You'll almost certainly develop your love-hate relationship with the city, snarling at the traffic and gasping in wonder at the Acropolis; fuming at the taxi driver who tries to overcharge you and marveling at the stranger who realizes that you're lost and walks several blocks out of his way to take you where you're going.
And if you do get caught in an Athenian gridlock, remember what it was like when the Parthenon built: Teams of mules dragged carts laden with 12-ton blocks of marble from Mount Pendeli along today's Queen Sophia Avenue to the Acropolis. If an axle broke, traffic stopped for several days until the damage repaired.
Did you know about Greece?
Once part of the Ottoman Empire, Greece has seen periodic unrest since World War II. In 1974 it became a multiparty democracy.
The modern Olympics, first held in Athens in 1896, evolved from Olympia's ancient Greek games.
More than 2,500 years ago, Greece was the center of European civilization. Many famous buildings survive from that period.
Greece is a southern European country consisting of a mainland portion and more than 1,400 islands that make up around 20 percent of the country's total land area. Mainland Greece occupies the southernmost portion of the Balkans Peninsula and shares borders with Albania in the northwest, the FYROM (Macedonia) and Bulgaria in the north and Turkey in the northeast. The Aegean Sea lies to the east, the Mediterranean Sea to the south and the Ionian Sea to the west. The Ionian Islands (lonioi Nisoi) lie off the coast of the western mainland in the Ionian Sea, of which the most northerly is Corfu (Kerkira), situated only three kilometers or two miles from the Albanian mainland.
The remaining Greek islands scattered throughout the Aegean Sea. They include the Cyclades (Kikladhes) group in the southeast, Crete (Kriti) in the south, the Dodecanese group (Dhodhekanisos), including Rhodes (Rodhos), just west of mainland Turkey, the northern Aegean Islands, such as Thasos, Limnos and Lesvos, and the Northern Sporades (Voriai Sporhadhes), situated off the eastern coast of Greece. In general, the islands are quite arid, hilly and stony with thin soils that are difficult to cultivate. The larger ones are visited each year by numerous tourists who are attracted by the beautiful scenery, warm climate, and superb archaeological and historical sites.
The northwestern and central regions of mainland Greece are rugged and mountainous, the main chain being the Pindus Mountains (Pindos Oros). Westwards the hills gradually become lower with flatter land towards the coast of the Ionian Sea. A series of extensive plains interrupted by hills and mountains lie in the northeast while to the east of the Pindus Mountains lies the extensive plain of Thessaly, a fertile agricultural region. The southeastern 'finger' of mainland Greece is called Attica and is one of the most important regions historically being the cradle of the city-states such as Athens.
It consists of a series of hills, valleys, and plains, the most famous of which is the Athenian Plain. The Peloponnese Peninsula is largely mountainous, with steep ridges and narrow valleys extending in a northwest-southeast direction, although there is some lower, flatter land in the west.
Greece is not as densely forested as it was in the past, but both deciduous and pine forests still occur on the hillsides. At lower levels and around the coasts, citrus fruits, olives, pomegranates, figs, dates and grapes cultivated. Forestry and fishing are carried out on a small scale. The country is relatively poor in mineral resources although it has significant oil and natural gas reserves in the Aegean Sea.
Greece has traditionally been an agricultural country, but it has undergone a rapid process of industrialization since the Second World War. This received a fresh impetus when the country joined the European Union in 1981. Tourism and service industries are also very important to the economy.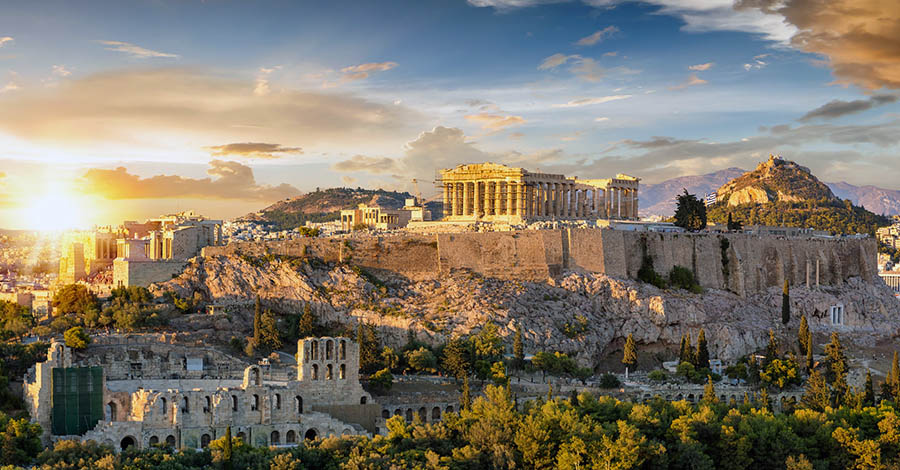 ---
Facts of Greece (GR)
Name conventional long form: Hellenic Republic, conventional short form: Greece, local long form: Elliniki Dimokratia, local short form: Ellas or Ellada, former: Hellenic State, Kingdom of Greece, etymology: the English name derives from the Roman (Latin) designation "Graecia," meaning "Land of the Greeks"; the Greeks call their country "Hellas" or "Ellada"
Codes: ISO; GR, Internet; .gr
Capital city: Athens
Language(s): Greek (official language) 99%, other (includes English and French) 1%
National holiday(s): Independence Day, 25 March (1821)
Motto: Freedom or Death
Currency: Euro (EUR), since 2001
GPS: 39 00 N, 22 00 E, Athens; 37 59 N 23 44 E
Location: Southern Europe, bordering the Aegean Sea, Ionian Sea, and the Mediterranean Sea, between Albania and Turkey
Geography note: strategic location dominating the Aegean Sea and southern approach to Turkish Straits; a peninsular country, possessing an archipelago of about 2,000 islands
Land boundaries: Albania 212 km, Bulgaria 472 km, Macedonia 234 km, Turkey 192 km, total: 1,110 km
Maritime boundaries: N/A
Coastline: 13,676 km
Area: total: 131,957 sq km; land: 130,647 sq km, water: 1,310 sq km (total 50 948,86 mi2), slightly smaller than Alabama.
Roadways: total: 116,960 km, paved: 41,357 km (includes 1,091 km of expressways), unpaved: 75,603 km (2010)
Waterways: 6 km (the 6-km-long Corinth Canal crosses the Isthmus of Corinth; it shortens a sea voyage by 325 km) (2012)
Local time (capital): UTC+2, 7 hours ahead of Washington DC during Standard Time
Note to the local time: Daylight saving time: +1hr begins last Sunday in March; ends last Sunday in October begins last Sunday in March; ends last Sunday in October
Population in Greece: 11 142 161
Population in Athens: 3 247 000 (including the metropolitan areas)
Urbanization: urban population: 78% of total population (2015)
Major urban areas population: ATHENS (capital) 3.052 million (2015)
Population growth rate: -0.03% (2016 estimate)
Birth rate: 8.5 births / 1,000 population (2016 estimate)
Death rate: 11.2 deaths / 1,000 population (2016 estimate)
Age structure: 0-14 years: 13.93% (male 772,973 / female 727,720) 15-24 years: 9.68% (male 533,112 / female 510,133) 25-54 years: 42.71% (male 2,291,355 / female 2,309,664) 55-64 years: 13% (male 686,182 / female 713,821) 65 years and over: 20.68% (male 975,819 / female 1,252,474) (2016 estimate)
Median age: total: 44.2 years; male: 43.1 years, female: 45.3 years (2016 estimate)
Ethnic groups: population: Greek 93%, other (foreign citizens) 7% (2001 census). Note: data represent citizenship, since Greece does not collect data on ethnicity
Religions: Greek Orthodox (official) 98%, Muslim 1.3%, other 0.7%
Government type: Unitary parliamentary constitutional republic
Legal system: civil legal system based on Roman law
National anthem: Hymn to Liberty
Known national hazards: severe earthquakesvolcanism: Santorini (elev. 367 m) has been deemed a Decade Volcano by the International Association of Volcanology and Chemistry of the Earth's Interior, worthy of study due to its explosive history and proximity to human populations; although there have been very few eruptions in recent centuries, Methana and Nisyros in the Aegean are classified as historically active
Major infectious diseases: N/A
Land use: agricultural land: 63.4%; arable land 19.7%; permanent crops 8.9%; permanent pasture 34.8%; forest: 30.5%; other: 6.1% (2011 estimate)
Agricultural products: wheat, corn, barley, sugar beets, olives, tomatoes, wine, tobacco, potatoes; beef, dairy products
Industries: tourism, food and tobacco processing, textiles, chemicals, metal products; mining, petroleum
Export commodities: food and beverages, manufactured goods, petroleum products, chemicals, textiles
Main export partners: Italy 11.2%, Germany 7.3%, Turkey 6.6%, Cyprus 5.9%, Bulgaria 5.2%, US 4.8%, UK 4.2%, Egypt 4% (2015)
Import commodities: machinery, transport equipment, fuels, chemicals
Main import partners: Germany 10.7%, Italy 8.4%, Russia 7.9%, Iraq 7%, China 5.9%, Netherlands 5.5%, France 4.5% (2015)
Navigate the countries in Europe faster and easier while driving, use the interactive Google maps for your driving directions. The continuously updated database contains over 220 countries and territories digitally mapped, hundreds of millions of businesses and places around the world positioned on the map.
Get fresh GPS navigation, traffic, and transit information – no matter what part of Greece, Athens, any other city and country in Europe, or the world you're in.
Do you like this Greece information page? Please don't forget to share it with others! Thank you.