Romania Google maps and Driving Directions
Get free driving directions, Google maps, traffic information for Romania, and Bucharest (GPS: 44 26 N 26 06 E), the capital city of the country located in (the) Southeastern Europe, bordering the Black Sea, between Bulgaria and Ukraine.
Find any address in Bucharest on the Google map of Romania (RO) with ease or calculate your up to date itinerary to and from Romania or its neighboring counties like Bulgaria, Hungary, Moldova, Serbia, Ukraine.
Sightseeing and exploring in Europe starts here, thanks to Google because its Earth Engine combines a multi-petabyte catalog of updated satellite imagery and geospatial datasets with planetary-scale analysis capabilities. Wonder the world, use the satellite map function of the Google maps to explore or see differences on the Earth's surface, inland, or the surrounding areas of Romania.
Google Maps Romania
Once dominated by Poles, Hungarians, and Ottomans, Romania has been slowly converting to a market economy since the 1989 overthrow of its communist regime. It joined the EU in 2007.
Romania is central Transylvanian Basin is separated from the Moldavian Plateau on the east by the Eastern Carpathian Mountains and separated from the Walachian Plain on the south by the Transylvanian Alps.
The map above fully covers Romania with its road routes from cities to towns, road intersections in any region, provinces, prefectures, also with free driving directions in Bucharest or to the neighboring towns and countries. To look at the detailed map about a particular quarter in Bucharest, please click on the area and zoom to the place you are interested in the Google maps of Romania (RO).
Be creative, use the extras of this Google map; This is a detailed, clear, zoomable, large road map of Romania with its administrative divisions; 41 counties (judete, singular – judet) and 1 municipality* (municipiu); Alba, Arad, Arges, Bacau, Bihor, Bistrita-Nasaud, Botosani, Braila, Brasov, Bucuresti (Bucharest)*, Buzau, Calarasi, Caras-Severin, Cluj, Constanta, Covasna, Dambovita, Dolj, Galati, Gorj, Giurgiu, Harghita, Hunedoara, Ialomita, Iasi, Ilfov, Maramures, Mehedinti, Mures, Neamt, Olt, Prahova, Salaj, Satu Mare, Sibiu, Suceava, Teleorman, Timis, Tulcea, Vaslui, Valcea, Vrancea.
The interactive map above is also may be used as the satellite map of Romania, or as a reverse search map for finding an address from its GPS coordinates.
Romania is in southeast Europe and is slightly smaller than Oregon. The Carpathian Mountains divide Romania's upper half from north to south and connect near the center of the country with the Transylvanian Alps, running east and west. North and west of these ranges lies the Transylvanian plateau, and to the south and east are the plains of Moldavia and Walachia. In its last 190 mi (306 km), the Danube River flows through Romania only. It enters the Black Sea in northern Dobruja, just south of the border with Ukraine.
Romania (area: 238 391 sq km / 92 043,24 sq mi), where the official language is Romanian, lying in Europe and using the currency; Romanian leu (RON), since 2005, set their clock to UTC+2. That means they are 7 hours ahead of Washington DC during Standard Time in Bucharest, the capital. Note to the time difference: Daylight saving time: +1hr begins last Sunday in March; ends last Sunday in October.
The climate in Romania; Continental. Summers are hot and humid winters are cold and snowy. Very heavy spring rains.
Geography in a nutshell; The Carpathian Mountains encircle the Transylvanian plateau. Wide plains to the south and east. Danube River forms southern border.
Click here for more detailed information about Romania.
Driving directions Romania
The Google maps and Google Satellite maps of Romania above showing the country, located next to Bulgaria, Hungary, Moldova, Serbia, Ukraine. For your further reference, the latitude and longitude coordinates of Romania are 46 00 N, 25 00 E , while the capital, Bucharest found at 44 26 N 26 06 E.
When you are traveling around Romania, Bucharest, or its other cities, use this routing tool, providing up to date route planning service free of charge.
Look no further; get accurate driving directions in Romania, Europe, by filling the route planner form below.
Since Google acquired and introduced its digitalized maps in 2004, you're probably familiar with its base functions, like finding an address or driving directions to locations. Still, Google maps also accommodate bicyclists, pedestrians, and also public transportation with special directions and customizable routes.
---
About Romania and the capital, Bucharest
| | |
| --- | --- |
| | |
| The national flag of Romania | Borderline map of Romania |
| | |
| Flag description: three equal vertical bands of blue (hoist side), yellow, and red; modeled after the flag of France, the colors are those of the principalities of Walachia (red and yellow) and Moldavia (red and blue), which united in 1862 to form Romania; the national coat of arms that used to be centered in the yellow band removed. Note: now similar to the flag of Chad, whose blue band is darker; also resembles the flags of Andorra and Moldova. | Border length: total: 2,844 km. Border countries (total: 5): Bulgaria 605 km, Hungary 424 km, Moldova 683 km, Serbia 531 km, Ukraine 601 km. |
About Bucharest
Arriving in Bucharest (Bucureşti), most tourists want to leave as quickly as possible, yet to do so would mean missing out on Romania's most vibrant city. The capital does have its fair share of charm and elegance – it just takes a little seeking out. Among the ruptured roads and disintegrating buildings, you'll find leafy squares, beautiful, eclectic architecture (albeit often crumbling), and dressed-up young Romanians bringing a touch of glamour to the surroundings. What's more, it's a dynamic city, changing faster than any other in Romania as new office towers sprout up and shops and bars multiply. Head south of the center into the Centru Civic, and you'll come across myriad unfinished projects from Ceauşescu's reign – seeing the accurate scale of what a dictatorship can set in motion is something you won't forget, and reason enough to spend a day or two in the capital.
Did you know about Romania?
The Carpathian Mountains separate Transylvania, home of the legendary Count Dracula, from the rest of the country, which lies along the Danube River valley.
In 2001, Romania became the last country in Europe to lift its ban on homosexuality.
Romania emerged from the Ottoman Empire as an independent kingdom in 1859. It is now a democracy, after decades of communist rule.
Romania is a fairly large republic that shares borders with Ukraine, Moldova, Bulgaria, Yugoslavia (Serbia) and Hungary. In the southeast, the republic's coastline stretches for approximately 200 kilometers or 125 miles along the shores of the Black Sea.
The main topographic feature is the broad swathe of the Carpathian Mountains that dominate most of the country. In the center of the country, almost enclosed by the mountains, is Transylvania, a high and extensive plateau of uplands and forests. There is a continuation of the Hungarian Plain or Great Alföld in the west while further plains lie to the east, southeast and south of the mountains. The Danube (Dunav, Dunarea), with its tributaries, is Romania's most important river. Bucharest (Bucuresti), Romania's capital and largest city, is situated in the southeast of the country.
Farmland takes up about 43 percent of the total land area. The cultivated areas are mainly on the plains, particularly in the Danubian basin. Vineyards for Romania's wine industry flourish on the more sheltered lower hill slopes. Valuable timber resources are provided by Romania's extensive forests. The country has both marine and freshwater fishing industries.
Mineral reserves include petroleum and natural gas, coal, lignite, iron ore, lead, copper, aluminum (bauxite) and zinc — electricity generated from oil, coal, gas, hydroelectric and nuclear facilities and a small amount exported. Manufactured products include cement, construction materials, iron, and steel. Tourism is a growing industry in Romania and an important contributor to the economy. Visitors come to enjoy the Black Sea resorts, the birdlife of the Danube delta and the spectacular mountains and forests of the Carpathians and Transylvania.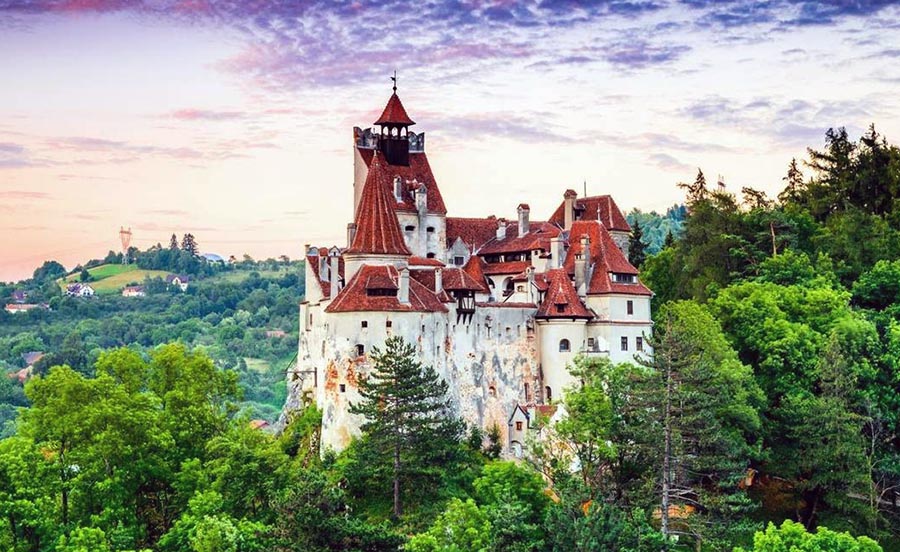 ---
Facts of Romania (RO)
Name conventional long form: none, conventional short form: Romania, local long form: none, local short form: Romania, etymology: the name derives from the Latin "Romanus" meaning "citizen of Rome" and was used to stress the common ancient heritage of Romania's three main regions – Moldavia, Transylvania, and Wallachia – during their gradual unification between the mid-19th century and early 20th century
Codes: ISO; RO, Internet; .ro
Capital city: Bucharest
Language(s): Romanian (official language) 85.4%, Hungarian 6.3%, Romany (Gypsy) 1.2%, other 1%, unspecified 6.1% (2011 estimate)
National holiday(s): Unification Day (of Romania and Transylvania), 1 December (1918)
Motto: N/A
Currency: Romanian leu (RON), since 2005
GPS: 46 00 N, 25 00 E, Bucharest; 44 26 N 26 06 E
Location: Southeastern Europe, bordering the Black Sea, between Bulgaria and Ukraine
Geography note: controls the most easily traversable land route between the Balkans, Moldova, and Ukraine; the Carpathian Mountains dominate the center of the country, while the Danube River forms much of the southern boundary with Serbia and Bulgaria
Land boundaries: Bulgaria 605 km, Hungary 424 km, Moldova 683 km, Serbia 531 km, Ukraine 601 km, total: 2,844 km
Maritime boundaries: Black Sea
Coastline: 225 km
Area: total: 238,391 sq km; land: 229,891 sq km, water: 8,500 sq km (total 92 043,24 mi2), slightly smaller than Oregon.
Roadways: total: 84,185 km, paved: 49,873 km (includes 337 km of expressways), unpaved: 34,312 km (2012)
Waterways: 1,731 km (includes 1,075 km on the Danube River, 524 km on secondary branches, and 132 km on canals) (2010)
Local time (capital): UTC+2, 7 hours ahead of Washington DC during Standard Time
Note to the local time: Daylight saving time: +1hr begins last Sunday in March; ends last Sunday in October
Population in Romania: 19 580 634
Population in Bucharest: 1 937 000 (including the metropolitan areas)
Urbanization: urban population: 54.6% of total population (2015)
Major urban areas population: BUCHAREST (capital) 1.868 million (2015)
Population growth rate: -0.32% (2016 estimate)
Birth rate: 9 births / 1,000 population (2016 estimate)
Death rate: 11.9 deaths / 1,000 population (2016 estimate)
Age structure: 0-14 years: 14.4% (male 1,597,470 / female 1,512,701) 15-24 years: 10.76% (male 1,192,310 / female 1,131,655) 25-54 years: 45.97% (male 5,023,060 / female 4,905,559) 55-64 years: 12.8% (male 1,293,423 / female 1,471,480) 65 years and over: 16.07% (male 1,403,211 / female 2,068,867) (2016 estimate)
Median age: total: 40.7 years; male: 39.3 years, female: 42.1 years (2016 estimate)
Ethnic groups: Romanian 83.4%, Hungarian 6.1%, Roma 3.1%, Ukrainian 0.3%, German 0.2%, other 0.7%, unspecified 6.1% (2011 estimate)
Religions: Eastern Orthodox (including all sub-denominations) 81.9%, Protestant (various denominations including Reformed and Pentecostal) 6.4%, Roman Catholic 4.3%, other (includes Muslim) 0.9%, none or atheist 0.2%, unspecified 6.3% (2011 estimate)
Government type: Unitary semi-presidential republic
Legal system: civil law system
National anthem: Desteapta-te, române! (Awaken thee, Romanian!)
Known national hazards: earthquakes, most severe in south and southwest; geologic structure and climate promote landslides
Major infectious diseases: N/A
Land use: agricultural land: 60.7%; arable land 39.1%; permanent crops 1.9%; permanent pasture 19.7%; forest: 28.7%; other: 10.6% (2011 estimate)
Agricultural products: wheat, corn, barley, sugar beets, sunflower seed, potatoes, grapes; eggs, sheep
Industries: electric machinery and equipment, auto assembly, textiles and footwear, light machinery, metallurgy, chemicals, food processing, petroleum refining, mining, timber, construction materials
Export commodities: machinery and equipment, other manufactured goods, agricultural products and foodstuffs, metals and metal products, chemicals, minerals, and fuels, raw materials
Main export partners: Germany 19.8%, Italy 12.5%, France 6.8%, Hungary 5.4%, UK 4.4% (2015)
Import commodities: machinery and equipment, other manufactured goods, chemicals, agricultural products and foodstuffs, fuels and minerals, metals and metal products, raw materials
Main import partners: Germany 19.8%, Italy 10.9%, Hungary 8%, France 5.6%, Poland 4.9%, China 4.6%, Netherlands 4% (2015)
Navigate the countries in Europe faster and easier while driving, use the interactive Google maps for your driving directions. The continuously updated database contains over 220 countries and territories digitally mapped, hundreds of millions of businesses and places around the world positioned on the map.
Get fresh GPS navigation, traffic, and transit information – no matter what part of Romania, Bucharest, any other city and country in Europe, or the world you're in.
Do you like this Romania information page? Please don't forget to share it with others! Thank you.