Slovakia Google maps and Driving Directions
Get free driving directions, Google maps, traffic information for Slovakia, and Bratislava (GPS: 48 09 N 17 07 E), the capital city of the country located in (the) Central Europe, south of Poland.
Find any address in Bratislava on the Google map of Slovakia (SK) with ease or calculate your up to date itinerary to and from Slovakia or its neighboring counties like Austria, Czech Republic, Hungary, Poland, Ukraine.
Sightseeing and exploring in Europe starts here, thanks to Google because its Earth Engine combines a multi-petabyte catalog of updated satellite imagery and geospatial datasets with planetary-scale analysis capabilities. Wonder the world, use the satellite map function of the Google maps to explore or see differences on the Earth's surface, inland, or the surrounding areas of Slovakia.
Google Maps Slovakia
Landlocked in central Europe, Slovakia became a separate state in 1993, splitting ex-communist Czechoslovakia in two. It joined the EU in 2004 and the eurozone five years later.
Slovakia is rugged mountains in the central and northern part and lowlands in the south.
The map above fully covers Slovakia with its road routes from cities to towns, road intersections in any region, provinces, prefectures, also with free driving directions in Bratislava or to the neighboring towns and countries. To look at the detailed map about a particular quarter in Bratislava, please click on the area and zoom to the place you are interested in the Google maps of Slovakia (SK).
Be creative, use the extras of this Google map; This is a detailed, clear, zoomable, large road map of Slovakia with its administrative divisions; 8 regions (kraje, singular – kraj); Banskobystricky, Bratislavsky, Kosicky, Nitriansky, Presovsky, Trenciansky, Trnavsky, Zilinsky.
The interactive map above is also may be used as the satellite map of Slovakia, or as a reverse search map for finding an address from its GPS coordinates.
Slovakia is located in central Europe. The land has rugged mountains, rich in mineral resources, with vast forests and pastures. The Carpathian Mountains dominate the topography of Slovakia, with lowland areas in the southern region. Slovakia is about twice the size of the state of Maryland.
Slovakia (area: 49 037 sq km / 18 933,28 sq mi), where the official language is Slovak, lying in Europe and using the currency; Euro (EUR), since 2009, set their clock to UTC+1. That means they are 6 hours ahead of Washington DC during Standard Time in Bratislava, the capital. Note to the time difference: Daylight saving time: +1hr begins last Sunday in March; ends last Sunday in October.
The climate in Slovakia; Continental. Moderately warm summers and steady rainfall. Cold winters with heavy snowfalls.
Geography in a nutshell; The Tatra Mountains stretch along the northern border with Poland. Southern lowlands include the fertile Danube plain.
Click here for more detailed information about Slovakia.
Driving directions Slovakia
The Google maps and Google Satellite maps of Slovakia above showing the country, located next to Austria, Czech Republic, Hungary, Poland, Ukraine. For your further reference, the latitude and longitude coordinates of Slovakia are 48 40 N, 19 30 E , while the capital, Bratislava found at 48 09 N 17 07 E.
When you are traveling around Slovakia, Bratislava, or its other cities, use this routing tool, providing up to date route planning service free of charge.
Look no further; get accurate driving directions in Slovakia, Europe, by filling the route planner form below.
Since Google acquired and introduced its digitalized maps in 2004, you're probably familiar with its base functions, like finding an address or driving directions to locations. Still, Google maps also accommodate bicyclists, pedestrians, and also public transportation with special directions and customizable routes.
---
About Slovakia and the capital, Bratislava
| | |
| --- | --- |
| | |
| The national flag of Slovakia | Borderline map of Slovakia |
| | |
| Flag description: three equal horizontal bands of white (top), blue, and red derive from the Pan-Slav colors; the Slovakian coat of arms (consisting of a red shield bordered in white and bearing a white double-barred cross of St. Cyril and St. Methodius surmounting three blue hills) is centered over the bands but offset slightly to the hoist side. Note: the Pan-Slav colors were inspired by the 19th-century flag of Russia. | Border length: total: 1,611 km. Border countries (total: 5): Austria 105 km, Czech Republic 241 km, Hungary 627 km, Poland 541 km, Ukraine 97 km. |
About Bratislava
Straddling the Danube in the southwest corner of Slovakia, Bratislava is one of Europe's quieter capitals, its meandering streets, and tiny but grand buildings attracting far fewer tourists than Vienna or Prague. In fact, with its slightly small-town atmosphere, on a hot afternoon, a flock of sheep wouldn't look out of place grazing on Františkánske Square. The Old Town showcases the skill of Slovak town planners, who crammed a city's worth of palaces, shops, cafés, pubs, restaurants, museums, and churches into a few blocks.
The area has been settled since the Neolithic era (about 500 BC), making it centuries older than Prague or Budapest. It has always been an international city – Romans, Hungarians, Germans, Austrians, Turks, Czechs, Jews, and Roma have all left their mark. The locals are less visitor-weary and cynical than the natives of most capitals, characterized by a friendly reserve.
Did you know about Slovakia?
Under Hungarian rule until 1919, Slovakia then formed part of Czechoslovakia with the Czech Republic. The two states separated in 1993.
From 1526 to 1784 Bratislava, then known as Pozsony, served as the capital of Hungary.
The Tatra Mountains of northern Slovakia are attracting increasing numbers of tourists to their ski resorts.
Slovakia or the Slovak Republic is a small, landlocked republic that came into being in 1993. It shares borders with Hungary, Austria, the Czech Republic, Poland, and Ukraine. A mountainous country, its main topographical feature, is the Carpathian Mountains which occupy most of the northern and central part of the republic.
Flatter land is mainly confined to the Danubian lowland basin in the southwest, a strip along the southern border and between the mountains in the east. The main river is the Danube (Dunaj) which forms the border with Hungary for about 120 kilometers or 75 miles. There are many other rivers and numerous freshwater lakes in the mountains, and over a third of Slovakia is forested. Nearly 60 percent of the people live in urban areas, particularly in and around Bratislava, Slovakia's capital and largest city.
Cultivatable land is located mainly in the Danubian lowlands, in the south and west and the river valleys. Slovakia has reserves of iron ore, lead, copper, manganese, zinc, and lignite (brown coal). Although hydroelectric power schemes supply some of the country's energy needs, Slovakia is still heavily dependent upon imports of oil and gas. Manufactured goods include military equipment and weapons and processed foods. Tourism is a growing contributor to the economy, with visitors coming to Slovakia for skiing and mountain pursuits as well as to enjoy the historical and cultural attractions of its towns and cities.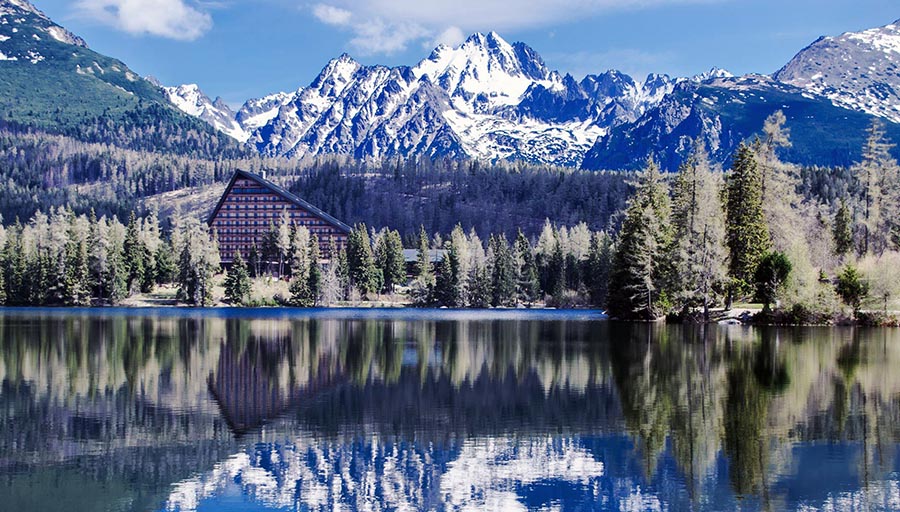 ---
Facts of Slovakia (SK)
Name conventional long form: Slovak Republic, conventional short form: Slovakia, local long form: Slovenska republika, local short form: Slovensko, etymology: related to the Slavic autonym (self-designation) "Slovenin," a derivation from "slovo" (word), denoting "people who speak (the same language)" (i.e., people who understand each other)
Codes: ISO; SK, Internet; .sk
Capital city: Bratislava
Language(s): Slovak (official language) 78.6%, Hungarian 9.4%, Roma 2.3%, Ruthenian 1%, other or unspecified 8.8% (2011 estimate)
National holiday(s): Constitution Day, 1 September (1992)
Motto: N/A
Currency: Euro (EUR), since 2009
GPS: 48 40 N, 19 30 E, Bratislava; 48 09 N 17 07 E
Location: Central Europe, south of Poland
Geography note: landlocked country; most of the country is rugged and mountainous; the Tatra Mountains in the north are interspersed with many scenic lakes and valleys
Land boundaries: Austria 105 km, Czech Republic 241 km, Hungary 627 km, Poland 541 km, Ukraine 97 km, total: 1,611 km
Maritime boundaries: N/A
Coastline: 0 km (landlocked country)
Area: total: 49,035 sq km; land: 48,105 sq km, water: 930 sq km (total 18 933,28 mi2), about twice the size of New Hampshire.
Roadways: total: 54,869 km (includes local roads, national roads, and 420 km of highways) (2012)
Waterways: 172 km (on Danube River) (2012)
Local time (capital): UTC+1, 6 hours ahead of Washington DC during Standard Time
Note to the local time: Daylight saving time: +1hr begins last Sunday in March; ends last Sunday in October
Population in Slovakia: 5 449 816
Population in Bratislava: 434 000 (including the metropolitan areas)
Urbanization: urban population: 53.6% of total population (2015)
Major urban areas population: BRATISLAVA (capital) 401,000 (2015)
Population growth rate: 0.01% (2016 estimate)
Birth rate: 9.8 births / 1,000 population (2016 estimate)
Death rate: 9.8 deaths / 1,000 population (2016 estimate)
Age structure: 0-14 years: 15.14% (male 422,797 / female 401,718) 15-24 years: 11.32% (male 317,775 / female 298,954) 25-54 years: 45.13% (male 1,241,212 / female 1,216,596) 55-64 years: 13.52% (male 349,089 / female 387,394) 65 years and over: 14.88% (male 312,042 / female 498,225) (2016 estimate)
Median age: total: 40.1 years; male: 38.4 years, female: 41.9 years (2016 estimate)
Ethnic groups: Slovak 80.7%, Hungarian 8.5%, Roma 2%, other and unspecified 8.8% (2011 estimate)
Religions: Roman Catholic 62%, Protestant 8.2%, Greek Catholic 3.8%, other or unspecified 12.5%, none 13.4% (2011 estimate)
Government type: Parliamentary republic
Legal system: civil law system based on Austro-Hungarian codes; note – legal code modified to comply with the obligations of Organization on Security and Cooperation in Europe
National anthem: Nad Tatrou sa blyska (Lightning Over the Tatras)
Known national hazards: N/A
Major infectious diseases: N/A
Land use: agricultural land: 40.1%; arable land 28.9%; permanent crops 0.4%; permanent pasture 10.8%; forest: 40.2%; other: 19.7% (2011 estimate)
Agricultural products: grains, potatoes, sugar beets, hops, fruit; pigs, cattle, poultry; forest products
Industries: automobiles; metal and metal products; electricity, gas, coke, oil, nuclear fuel; chemicals, synthetic fibers, wood and paper products; machinery; earthenware and ceramics; textiles; electrical and optical apparatus; rubber products; food and beverages; p
Export commodities: vehicles and related parts 27%, machinery and electrical equipment 20%, nuclear reactors and furnaces 12%, iron and steel 4%, mineral oils and fuels 5% (2015 estimate)
Main export partners: Germany 22.7%, Czech Republic 12.5%, Poland 8.5%, Austria 5.7%, Hungary 5.7%, France 5.6%, UK 5.5%, Italy 4.5% (2015)
Import commodities: machinery and electrical equipment 20%, vehicles and related parts 14%, nuclear reactors and furnaces 12%, fuel and mineral oils 9% (2015 estimate)
Main import partners: Germany 19.4%, Czech Republic 17.4%, Austria 9.1%, Hungary 6.3%, Poland 6.3%, South Korea 5.5%, Russia 5.2%, China 4.1% (2015)
Navigate the countries in Europe faster and easier while driving, use the interactive Google maps for your driving directions. The continuously updated database contains over 220 countries and territories digitally mapped, hundreds of millions of businesses and places around the world positioned on the map.
Get fresh GPS navigation, traffic, and transit information – no matter what part of Slovakia, Bratislava, any other city and country in Europe, or the world you're in.
Do you like this Slovakia information page? Please don't forget to share it with others! Thank you.