Netherlands Google maps and Driving Directions
Get free driving directions, Google maps, traffic information for Netherlands, and Amsterdam (GPS: 52 21 N 4 55 E), the capital city of the country located in (the) Western Europe, bordering the North Sea, between Belgium and Germany.
Find any address in Amsterdam on the Google map of Netherlands (NL) with ease or calculate your up to date itinerary to and from Netherlands or its neighboring counties like Belgium, Germany.
Sightseeing and exploring in Europe starts here, thanks to Google because its Earth Engine combines a multi-petabyte catalog of updated satellite imagery and geospatial datasets with planetary-scale analysis capabilities. Wonder the world, use the satellite map function of the Google maps to explore or see differences on the Earth's surface, inland, or the surrounding areas of Netherlands.
Google Maps Netherlands
Astride the delta of five major rivers in northwest Europe, the Netherlands built its historic wealth on maritime trade. Rotterdam is Europe's largest port.
Netherlands is mostly coastal lowland and reclaimed land (polders); some hills in southeast.
The map above fully covers Netherlands with its road routes from cities to towns, road intersections in any region, provinces, prefectures, also with free driving directions in Amsterdam or to the neighboring towns and countries. To look at the detailed map about a particular quarter in Amsterdam, please click on the area and zoom to the place you are interested in the Google maps of Netherlands (NL).
Be creative, use the extras of this Google map; This is a detailed, clear, zoomable, large road map of Netherlands with its administrative divisions; 12 provinces (provincies, singular – provincie); Drenthe, Flevoland, Fryslan (Friesland), Gelderland, Groningen, Limburg, Noord-Brabant (North Brabant), Noord-Holland (North Holland), Overijssel, Utrecht, Zeeland (Zealand), Zuid-Holland (South Holland)note 1: the Netherlands is one of four constituent parts (countries) of the Kingdom of the Netherlands; the other three parts, Aruba, Curacao, and Sint Maarten, are all islands in the Caribbean; while all four parts are considered equal partners, in practice, most of the Kingdom's affairs are administered by the Netherlands, which makes up about 98% of the Kingdom's total land area and populationnote 2: three other Caribbean islands, Bonaire, Saint Eustatius, and Saba, are considered to be special municipalities of the Netherlands proper.
The interactive map above is also may be used as the satellite map of Netherlands, or as a reverse search map for finding an address from its GPS coordinates.
The Netherlands, on the coast of the North Sea, is twice the size of New Jersey. Part of the great plain of north and west Europe, the Netherlands has maximum dimensions of 190 by 160 mi (360 by 257 km) and is low and flat except in Limburg in the southeast, where some hills rise up to 322 m (1056 ft). About half the country's area is below sea level, making the famous Dutch dikes a requisite for efficient land use. Reclamation of land from the sea through dikes has continued through recent times. All drainage reaches the North Sea, and the principal rivers – Rhine, Maas (Meuse), and Schelde – have their sources outside the country.
Netherlands (area: 41 540 sq km / 16 038,68 sq mi), where the official language is Dutch, lying in Europe and using the currency; Euro (EUR), since 1999, set their clock to UTC+1. That means they are 6 hours ahead of Washington DC during Standard Time in Amsterdam, the capital. Note to the time difference: Daylight saving time: +1hr begins last Sunday in March; ends last Sunday in October. Note: time descriptions apply to the continental Netherlands only not to the Caribbean components.
The climate in Netherlands; Mild, rainy winters and cool summers. Gales from the North Sea are common in fall and winter.
Geography in a nutshell; Mainly flat, with 27% of the land below sea level and protected by dunes, dikes, and canals. There are a few low hills in the south and east.
Click here for more detailed information about Netherlands.
Driving directions Netherlands
The Google maps and Google Satellite maps of Netherlands above showing the country, located next to Belgium, Germany. For your further reference, the latitude and longitude coordinates of Netherlands are 52 30 N, 5 45 E , while the capital, Amsterdam found at 52 21 N 4 55 E.
When you are traveling around Netherlands, Amsterdam, or its other cities, use this routing tool, providing up to date route planning service free of charge.
Look no further; get accurate driving directions in Netherlands, Europe, by filling the route planner form below.
Since Google acquired and introduced its digitalized maps in 2004, you're probably familiar with its base functions, like finding an address or driving directions to locations. Still, Google maps also accommodate bicyclists, pedestrians, and also public transportation with special directions and customizable routes.
---
About Netherlands and the capital, Amsterdam
| | |
| --- | --- |
| | |
| The national flag of Netherlands | Borderline map of Netherlands |
| | |
| Flag description: three equal horizontal bands of red (top), white, and blue; similar to the flag of Luxembourg, which uses a lighter blue and is longer; the colors were those of WILLIAM I, Prince of Orange, who led the Dutch Revolt against Spanish sovereignty in the latter half of the 16th century; originally the upper band was orange, but because it tended to fade to red over time, the red shade was eventually made the permanent color; the banner is perhaps the oldest tricolor in continuous use. | Border length: total: 1,053 km. Border countries (total: 2): Belgium 478 km, Germany 575 km. |
About Amsterdam
Easygoing and prosperous, the Dutch capital is the natural focus of a visit to the Netherlands. The historic center – a graceful cityscape of waterways, bridges, and old townhouses – recalls Amsterdam's 17th-century golden age as the command post of a vast trading network and colonial empire, when wealthy merchants constructed gabled residences along neatly laid-out canals.
A delicious irony is that some of the placid old structures now host brothels, smoke shops, and extravagant nightlife. The city's inhabitants, heirs to a live-and-let-live attitude, which is based on pragmatism as much as a long history of tolerance, aim to control what they cannot effectively outlaw. They permit licensed prostitution in the Rosse Buurt (Red-Light District) and the sale of hashish and marijuana in designated "coffee shops." Tolerance may have been a long-term tradition, but recent years have seen growing tensions between some Dutch and some members of ethnic minorities in Amsterdam, where migrants and their descendants and foreign residents are due to outnumber native locals by 2010. And both the coffee shops and the red-light haunts have been under pressure as the city works to improve its quality of life and reduce the negative values in its portfolio.
In any case, don't think Amsterdammers drift around town in a drug-induced haze. They are too busy zipping around on bikes, in-line skating through Vondelpark, consuming arrays of ethnic dishes, or simply watching the parade of street life from a sidewalk cafe. Small entrepreneurs have revitalized old neighborhoods like the Jordaan, turning distinctive houses into offbeat stores and bustling cafes, hotels, and restaurants. Meantime, the city government and prominent entrepreneurs – along with some once small ones that are now all grown up – have been redeveloping the old harbor waterfront along the IJ waterway in a shiny, modern style that's a long way from the spirit of Old Amsterdam.
Between dips into Amsterdam's artistic and historical treasures, be sure to take time out to absorb the freewheeling spirit of Europe's most vibrant city.
Did you know about Netherlands?
Independent from Spain in the 16th century, the Netherlands was a republic until the Napoleonic Wars and became a kingdom in 1814.
In 2002, the Netherlands became the first country in the world to legalize euthanasia.
With one-quarter of its land below sea level and four major rivers running through it, the Netherlands is kept high and dry by a massive system of dykes and drainage canals.
The Netherlands, also known as Holland, is bounded on the north and west by the North Sea, in the east by Germany and in the south by Belgium. The Netherlands is a very low-lying country with about 16 percent of its land area reclaimed from the sea. About 50 percent of the country lies below sea level, and slightly higher ground is found only in the extreme south where the land rises towards the foothills of the Ardennes.
The Netherlands crossed by numerous rivers which include the Rhine and its tributaries, and there are many navigable canals and lakes. The country also has highly developed road and rail networks. About 90 percent of its people live in cities or urban areas, such as the capital, Amsterdam. The country has a highly developed industrial and manufacturing base. In addition to natural gas and petroleum from the extensive deposits of natural gas located around Groningen, other important commodities include textiles and a wide range of light industrial and electronic goods.
Fishing has long been carried out from the North Sea coastal villages, but there is very little forestry in the Netherlands as any woodland cover that does exist is mainly within national parks or preserved for recreational purposes. Agriculture plays an extremely significant part in the Dutch economy, and the land is intensively farmed and cultivated.
The Netherlands is famous for its dairy products and specialty cheeses, such as Edam and Gouda. Some of its lands used for horticulture, with bulbs and other flowers grown for export. The Dutch bulb fields attract many visitors to the country every spring.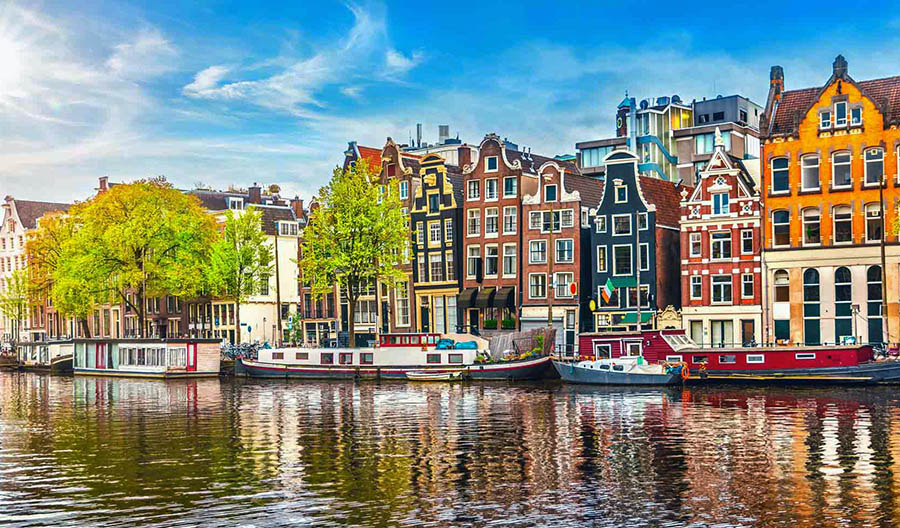 ---
Facts of Netherlands (NL)
Name conventional long form: Kingdom of the Netherlands, conventional short form: Netherlands, local long form: Koninkrijk der Nederlanden, local short form: Nederland, etymology: the country name literally means "the lowlands" and refers to the geographic features of the land being both flat and down river from higher areas (i.e., at the estuaries of the Scheldt, Meuse, and Rhine Rivers; only about half of the Netherlands is more than 1 meter above sea level)
Codes: ISO; NL, Internet; .nl
Capital city: Amsterdam
Language(s): Dutch (official language). Note: Frisian is an official language language in Fryslan province; Frisian, Low Saxon, Limburgish, Romani, and Yiddish have protected status under the European Charter for Regional or Minority Languages; Dutch is the official language language of the three special municipalities of the Caribbean Netherlands, while English is a recognized regional language on Sint Eustatius and Saba and Papiamento is a recognized regional language on Bonaire
National holiday(s): King's Day (the King's birthday of 27 April (1967); celebrated on 26 April if 27 April is a Sunday)
Motto: Je maintiendrai (I will uphold)
Currency: Euro (EUR), since 1999
GPS: 52 30 N, 5 45 E, Amsterdam; 52 21 N 4 55 E
Location: Western Europe, bordering the North Sea, between Belgium and Germany
Geography note: located at mouths of three major European rivers (Rhine, Maas or Meuse, and Schelde)
Land boundaries: Belgium 478 km, Germany 575 km, total: 1,053 km
Maritime boundaries: N/A
Coastline: 451 km
Area: total: 41,543 sq km; land: 33,893 sq km, water: 7,650 sq km (total 16 038,68 mi2), slightly less than twice the size of New Jersey.
Roadways: total: 138,641 km (includes 3,530 km of expressways) (2014)
Waterways: 6,237 km (navigable by ships up to 50 tons) (2012)
Local time (capital): UTC+1, 6 hours ahead of Washington DC during Standard Time
Note to the local time: Daylight saving time: +1hr begins last Sunday in March; ends last Sunday in October. Note: time descriptions apply to the continental Netherlands only not to the Caribbean components
Population in Netherlands: 17 084 459
Population in Amsterdam: 1 203 100 (including the metropolitan areas)
Urbanization: urban population: 90.5% of total population (2015)
Major urban areas population: AMSTERDAM (capital) 1.091 million; Rotterdam 993,000; The Hague (seat of government) 650,000 (2015)
Population growth rate: 0.4% (2016 estimate)
Birth rate: 10.9 births / 1,000 population (2016 estimate)
Death rate: 8.8 deaths / 1,000 population (2016 estimate)
Age structure: 0-14 years: 16.56% (male 1,442,059 / female 1,375,479) 15-24 years: 12.11% (male 1,050,889 / female 1,010,596) 25-54 years: 39.83% (male 3,400,998 / female 3,377,311) 55-64 years: 13.14% (male 1,113,587 / female 1,123,165) 65 years and over: 18.35% (male 1,411,830 / female 1,711,053) (2016 estimate)
Median age: total: 42.5 years; male: 41.4 years, female: 43.4 years (2016 estimate)
Ethnic groups: Dutch 78.6%, EU 5.8%, Turkish 2.4%, Indonesian 2.2%, Moroccan 2.2%, Surinamese 2.1%, Bonairian, Saba Islander, Sint Eustatian 0.8%, other 5.9% (2014 estimate)
Religions: Roman Catholic 28%, Protestant 19% (includes Dutch Reformed 9%, Protestant Church of The Netherlands, 7%, Calvinist 3%), other 11% (includes about 5% Muslim and fewer numbers of Hindu, Buddhist, Jehovah's Witness, and Orthodox), none 42% (2009 estimate)
Government type: Constitutional monarchy
Legal system: civil law system based on the French system; constitution does not permit judicial review of acts of the States General
National anthem: Wilhelmus (William)
Known national hazards: flooding
Major infectious diseases: N/A
Land use: agricultural land: 55.1%; arable land 29.8%; permanent crops 1.1%; permanent pasture 24.2%; forest: 10.8%; other: 34.1% (2011 estimate)
Agricultural products: grains, potatoes, sugar beets, fruits, vegetables; livestock
Industries: agroindustries, metal and engineering products, electrical machinery and equipment, chemicals, petroleum, construction, microelectronics, fishing
Export commodities: machinery and equipment, chemicals, fuels; foodstuffs
Main export partners: Germany 24.5%, Belgium 11.1%, UK 9.3%, France 8.4%, Italy 4.2% (2015)
Import commodities: machinery and transport equipment, chemicals, fuels, foodstuffs, clothing
Main import partners: Germany 14.7%, China 14.5%, Belgium 8.2%, US 8.1%, UK 5.1% (2015)
Navigate the countries in Europe faster and easier while driving, use the interactive Google maps for your driving directions. The continuously updated database contains over 220 countries and territories digitally mapped, hundreds of millions of businesses and places around the world positioned on the map.
Get fresh GPS navigation, traffic, and transit information – no matter what part of Netherlands, Amsterdam, any other city and country in Europe, or the world you're in.
Do you like this Netherlands information page? Please don't forget to share it with others! Thank you.