Macedonia Google maps and Driving Directions
Get free driving directions, Google maps, traffic information for Macedonia, and Skopje (GPS: 42 00 N 21 26 E), the capital city of the country located in (the) Southeastern Europe, north of Greece.
Find any address in Skopje on the Google map of Macedonia (MK) with ease or calculate your up to date itinerary to and from Macedonia or its neighboring counties like Albania, Bulgaria, Greece, Kosovo, Serbia.
Sightseeing and exploring in Europe starts here, thanks to Google because its Earth Engine combines a multi-petabyte catalog of updated satellite imagery and geospatial datasets with planetary-scale analysis capabilities. Wonder the world, use the satellite map function of the Google maps to explore or see differences on the Earth's surface, inland, or the surrounding areas of Macedonia.
Google Maps Macedonia
Landlocked Macedonia was hit hard by the sanctions placed on its northern trading partners in the mid-1990s, and by violent conflict with ethnic Albanians in 2001.
Macedonia is mountainous with deep basins and valleys; three large lakes, each divided by a frontier line; country bisected by the Vardar River.
The map above fully covers Macedonia with its road routes from cities to towns, road intersections in any region, provinces, prefectures, also with free driving directions in Skopje or to the neighboring towns and countries. To look at the detailed map about a particular quarter in Skopje, please click on the area and zoom to the place you are interested in the Google maps of Macedonia (MK).
Be creative, use the extras of this Google map; This is a detailed, clear, zoomable, large road map of Macedonia with its administrative divisions; 70 municipalities (opstini, singular – opstina) and 1 city* (grad); Aracinovo, Berovo, Bitola, Bogdanci, Bogovinje, Bosilovo, Brvenica, Caska, Centar Zupa, Cesinovo-Oblesevo, Cucer Sandevo, Debar, Debarca, Delcevo, Demir Hisar, Demir Kapija, Dojran, Dolneni, Gevgelija, Gostivar, Gradsko, Ilinden, Jegunovce, Karbinci, Kavadarci, Kicevo, Kocani, Konce, Kratovo, Kriva Palanka, Krivogastani, Krusevo, Kumanovo, Lipkovo, Lozovo, Makedonska Kamenica, Makedonski Brod, Mavrovo i Rostusa, Mogila, Negotino, Novaci, Novo Selo, Ohrid, Pehcevo, Petrovec, Plasnica, Prilep, Probistip, Radovis, Rankovce, Resen, Rosoman, Skopje*, Sopiste, Staro Nagoricane, Stip, Struga, Strumica, Studenicani, Sveti Nikole, Tearce, Tetovo, Valandovo, Vasilevo, Veles, Vevcani, Vinica, Vrapciste, Zelenikovo, Zelino, Zrnovci.
The interactive map above is also may be used as the satellite map of Macedonia, or as a reverse search map for finding an address from its GPS coordinates.
Macedonia is a landlocked state in the heart of the Balkans and is slightly smaller than the state of Vermont. It is a mountainous country with small basins of agricultural land. The Vardar is the largest and most important river.
Macedonia (area: 25 713 sq km / 9 927,84 sq mi), where the official language is Macedonian, lying in Europe and using the currency; Macedonian denar (MKD), since 1993, set their clock to UTC+1. That means they are 6 hours ahead of Washington DC during Standard Time in Skopje, the capital. Note to the time difference: Daylight saving time: +1hr begins last Sunday in March; ends last Sunday in October.
The climate in Macedonia; Continental climate with wet springs and dry autumns. Heavy snowfalls in northern mountains.
Geography in a nutshell; Mainly mountainous or hilly, with deep river basins in the center. Plains in the northeast and southwest.
Click here for more detailed information about Macedonia.
Driving directions Macedonia
The Google maps and Google Satellite maps of Macedonia above showing the country, located next to Albania, Bulgaria, Greece, Kosovo, Serbia. For your further reference, the latitude and longitude coordinates of Macedonia are 41 50 N, 22 00 E , while the capital, Skopje found at 42 00 N 21 26 E.
When you are traveling around Macedonia, Skopje, or its other cities, use this routing tool, providing up to date route planning service free of charge.
Look no further; get accurate driving directions in Macedonia, Europe, by filling the route planner form below.
Since Google acquired and introduced its digitalized maps in 2004, you're probably familiar with its base functions, like finding an address or driving directions to locations. Still, Google maps also accommodate bicyclists, pedestrians, and also public transportation with special directions and customizable routes.
---
About Macedonia and the capital, Skopje
| | |
| --- | --- |
| | |
| The national flag of Macedonia | Borderline map of Macedonia |
| | |
| Flag description: a yellow sun (the Sun of Liberty) with eight broadening rays extending to the edges of the red field; the red and yellow colors have long been associated with Macedonia. | Border length: total: 838 km. Border countries (total: 5): Albania 181 km, Bulgaria 162 km, Greece 234 km, Kosovo 160 km, Serbia 101 km. |
About Skopje
Other than the mazy lanes of the delightful, Ottoman-era Čaršija district, Skopje (Скопје) best described as "appealingly ugly"; the city ravaged by an earthquake in 1963, and stately buildings replaced by brutal Yugoslav-era designs. These have, in turn, superseded by the works of Skopje 2014, a government-sponsored renovation scheme. Almost universally unpopular with locals, its focal point is a chain of monumental Neoclassical buildings along the riverfront, joined by literally hundreds of new statues. For the traveler, all of this change is rather absorbing and worth keeping tabs on while you're sampling the city's excellent food and nightlife.
Did you know about Macedonia?
Macedonia was under Turkish rule for centuries. It united with Serbia in 1913 and became part of Yugoslavia. It declared independence in 1992.
Ohrid is the deepest lake in Europe at 964 ft (294 m).
The capital, Skopje, of this mountainous, landlocked republic lies in an earthquake zone and has been destroyed four times in its history.
Macedonia or The Former Yugoslav Republic of Macedonia (FYROM) is a small landlocked country in southeastern Europe. The republic shares a border with Albania in the west, Yugoslavia (Serbia) in the north, Bulgaria in the east and Greece in the south. The characteristic topographical features of the country are steep-sided, rugged hills and mountains dissected by deep valleys. There are numerous rivers and streams, the largest and most important of which is the Vardar.
FYROM's capital, Skopje, is located at the head of the Vardar river in the northwestern territory near the border with Yugoslavia. There are many freshwater lakes throughout the FYROM, including Lake Ohrid (Ohridsko Jezero) and Lake Prespa (Prespansko Jezero). About 35 percent of the country is forested, providing valuable timber resources.
Agriculture is a very important part of the economy with the other main activity being coal mining. Mineral reserves include zinc, manganese, and lead. There are some manufacturing, construction and service industries as well as forestry and freshwater fishing. Tourism is a further contributor to the economy and is now starting to revive, having been badly affected by the fighting in the region in the early 1990s.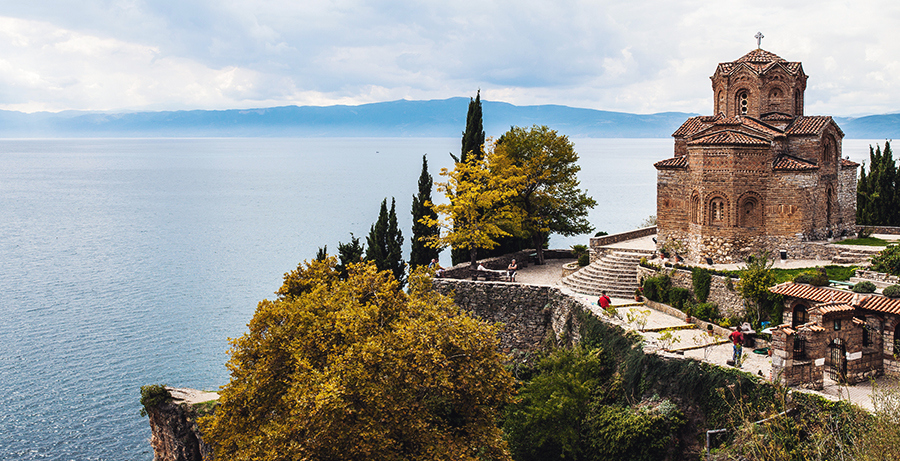 ---
Facts of Macedonia (MK)
Name conventional long form: Republic of Macedonia, conventional short form: Macedonia, local long form: Republika Makedonija, local short form: Makedonija. Note: the provisional designation used by the UN, EU, and NATO is the "former Yugoslav Republic of Macedonia" (FYROM), former: People's Republic of Macedonia, Socialist Republic of Macedonia, etymology: the country name derives from the ancient kingdom of Macedon (7th to 2nd centuries B.C.)
Codes: ISO; MK, Internet; .mk
Capital city: Skopje
Language(s): Macedonian (official language) 66.5%, Albanian (official language) 25.1%, Turkish 3.5%, Roma 1.9%, Serbian 1.2%, other 1.8% (2002 estimate)
National holiday(s): Independence Day, 8 September (1991); also known as National Day
Motto: N/A
Currency: Macedonian denar (MKD), since 1993
GPS: 41 50 N, 22 00 E, Skopje; 42 00 N 21 26 E
Location: Southeastern Europe, north of Greece
Geography note: landlocked country; major transportation corridor from Western and Central Europe to Aegean Sea and Southern Europe to Western Europe
Land boundaries: Albania 181 km, Bulgaria 162 km, Greece 234 km, Kosovo 160 km, Serbia 101 km, total: 838 km
Maritime boundaries: N/A
Coastline: 0 km (landlocked country)
Area: total: 25,713 sq km; land: 25,433 sq km, water: 280 sq km (total 9 927,84 mi2), slightly larger than Vermont.
Roadways: total: 14,182 km (includes 242 km of expressways), paved: 9,633 km, unpaved: 4,549 km (2014)
Waterways: N/A
Local time (capital): UTC+1, 6 hours ahead of Washington DC during Standard Time
Note to the local time: Daylight saving time: +1hr begins last Sunday in March; ends last Sunday in October
Population in Macedonia: 2 085 051
Population in Skopje: 587 300 (including the metropolitan areas)
Urbanization: urban population: 57.1% of total population (2015)
Major urban areas population: SKOPJE (capital) 503,000 (2015)
Population growth rate: 0.18% (2016 estimate)
Birth rate: 11.5 births / 1,000 population (2016 estimate)
Death rate: 9.1 deaths / 1,000 population (2016 estimate)
Age structure: 0-14 years: 17.27% (male 187,752 / female 174,935) 15-24 years: 13.69% (male 148,340 / female 139,195) 25-54 years: 43.65% (male 465,622 / female 451,028) 55-64 years: 12.3% (male 126,548 / female 131,749) 65 years and over: 13.09% (male 117,787 / female 157,069) (2016 estimate)
Median age: total: 37.5 years; male: 36.4 years, female: 38.6 years (2016 estimate)
Ethnic groups: Macedonian 64.2%, Albanian 25.2%, Turkish 3.9%, Roma (Gypsy) 2.7%, Serb 1.8%, other 2.2% (2002 estimate)
Religions: Macedonian Orthodox 64.8%, Muslim 33.3%, other Christian 0.4%, other and unspecified 1.5% (2002 estimate)
Government type: Parliamentary republic
Legal system: civil law system; judicial review of legislative acts
National anthem: Denes Nad Makedonija (Today over Macedonia)
Known national hazards: high seismic risks
Major infectious diseases: N/A
Land use: agricultural land: 44.3%; arable land 16.4%; permanent crops 1.4%; permanent pasture 26.5%; forest: 39.8%; other: 15.9% (2011 estimate)
Agricultural products: grapes, tobacco, vegetables, fruits; milk, eggs
Industries: food processing, beverages, textiles, chemicals, iron, steel, cement, energy, pharmaceuticals, automotive parts
Export commodities: foodstuffs, beverages, tobacco; textiles, miscellaneous manufactures, iron, steel; automotive parts
Main export partners: Germany 33.2%, Kosovo 11.5%, Bulgaria 5.1%, Greece 4.5% (2015)
Import commodities: machinery and equipment, automobiles, chemicals, fuels, food products
Main import partners: Germany 15.9%, UK 13.6%, Greece 10.9%, Serbia 8.7%, Bulgaria 6.7%, Turkey 5.5%, Italy 4.7% (2015)
Navigate the countries in Europe faster and easier while driving, use the interactive Google maps for your driving directions. The continuously updated database contains over 220 countries and territories digitally mapped, hundreds of millions of businesses and places around the world positioned on the map.
Get fresh GPS navigation, traffic, and transit information – no matter what part of Macedonia, Skopje, any other city and country in Europe, or the world you're in.
Do you like this Macedonia information page? Please don't forget to share it with others! Thank you.