Uruguay Google maps and Driving Directions
Get free driving directions, Google maps, traffic information for Uruguay, and Montevideo (GPS: 34 51 S 56 10 W), the capital city of the country located in (the) Southern South America, bordering the South Atlantic Ocean, between Argentina and Brazil.
Find any address in Montevideo on the Google map of Uruguay (UY) with ease or calculate your up to date itinerary to and from Uruguay or its neighboring counties like Argentina, Brazil.
Sightseeing and exploring in America starts here, thanks to Google because its Earth Engine combines a multi-petabyte catalog of updated satellite imagery and geospatial datasets with planetary-scale analysis capabilities. Wonder the world, use the satellite map function of the Google maps to explore or see differences on the Earth's surface, inland, or the surrounding areas of Uruguay.
Google Maps Uruguay
Situated in southeastern South America, Uruguay returned to civilian government in 1985, after 12 years of military rule. Most land is used for farming: Uruguay is a major wool exporter.
Uruguay is mostly rolling plains and low hills; fertile coastal lowland.
The map above fully covers Uruguay with its road routes from cities to towns, road intersections in any region, provinces, prefectures, also with free driving directions in Montevideo or to the neighboring towns and countries. To look at the detailed map about a particular quarter in Montevideo, please click on the area and zoom to the place you are interested in the Google maps of Uruguay (UY).
Be creative, use the extras of this Google map; This is a detailed, clear, zoomable, large road map of Uruguay with its administrative divisions; 19 departments (departamentos, singular – departamento); Artigas, Canelones, Cerro Largo, Colonia, Durazno, Flores, Florida, Lavalleja, Maldonado, Montevideo, Paysandu, Rio Negro, Rivera, Rocha, Salto, San Jose, Soriano, Tacuarembo, Treinta y Tres.
The interactive map above is also may be used as the satellite map of Uruguay, or as a reverse search map for finding an address from its GPS coordinates.
Uruguay, on the east coast of South America south of Brazil and east of Argentina, is comparable in size to Oklahoma. The country consists of a low, rolling plain in the south and a low plateau in the north. It has a 120-mile (193 km) Atlantic shoreline, a 235-mile (378 km) frontage on the Rio de la Plata, and 270 mi (435 km) on the Uruguay River, its western boundary.
Uruguay (area: 176 215 sq km / 68 036,96 sq mi), where the official language is Spanish, lying in America and using the currency; Uruguayan peso (UYU), since 1993, set their clock to UTC-3. That means they are 2 hours ahead of Washington DC during Standard Time in Montevideo, the capital. Note to the time difference: N/A.
The climate in Uruguay; Temperate throughout thecountry. Warm summers, mild winters, and moderate rainfall.
Geography in a nutshell; Low, rolling grasslands cover 80% of the country. Narrow coastal plain. An alluvial floodplain in southwest. Five rivers flow westward and drain into the Uruguay River.
Click here for more detailed information about Uruguay.
Driving directions Uruguay
The Google maps and Google Satellite maps of Uruguay above showing the country, located next to Argentina, Brazil. For your further reference, the latitude and longitude coordinates of Uruguay are 33 00 S, 56 00 W , while the capital, Montevideo found at 34 51 S 56 10 W.
When you are traveling around Uruguay, Montevideo, or its other cities, use this routing tool, providing up to date route planning service free of charge.
Look no further; get accurate driving directions in Uruguay, South America, by filling the route planner form below.
Since Google acquired and introduced its digitalized maps in 2004, you're probably familiar with its base functions, like finding an address or driving directions to locations. Still, Google maps also accommodate bicyclists, pedestrians, and also public transportation with special directions and customizable routes.
---
About Uruguay and the capital, Montevideo
| | |
| --- | --- |
| | |
| The national flag of Uruguay | Borderline map of Uruguay |
| | |
| Flag description: nine equal horizontal stripes of white (top and bottom) alternating with blue; a white square in the upper hoist-side corner with a yellow sun bearing a human face known as the Sun of May with 16 rays that alternate between triangular and wavy; the stripes represent the nine original departments of Uruguay; the sun symbol evokes the legend of the sun breaking through the clouds on 25 May 1810 as independence was first declared from Spain (Uruguay subsequently won its independence from Brazil); the sun features are said to represent those of Inti, the Inca god of the sun. Note: the banner was inspired by the national colors of Argentina and by the design of the US flag. | Border length: total: 1,591 km. Border countries (total: 2): Argentina 541 km, Brazil 1,050 km. |
About Montevideo
An extensive, blustery waterfront with a backdrop of gray Soviet-style apartment blocks contrasts with handsome government buildings and crumbling mansions. Karaoke sailor bars stand next to art deco diners, and fishers tend their catches while elders sip mate (a tealike beverage and national obsession) in the city parks, all buffeted by a sea breeze that reveals this city, the southernmost capital on the continent, is surrounded on three sides by water.
Montevideo often regarded as a downsized Buenos Aires. Still, it has a discreet charm and useful compactness that its sister city lacks across the vast, choppy waters of the Río de la Plata. Its colorful port area betrays its strong maritime past, first as a Spanish fort, and then as a major port city. Rich architecture reveals a diverse immigrant population, and though this city may have seen better times, it makes for a relaxing stopover and an exciting destination to linger, stroll, and relax.
Did you know about Uruguay?
Historically a Spanish colony, Uruguay annexed to Brazil and then to Argentina before becoming fully independent in 1830.
Uruguay's rich pastures are ideal for raising livestock; animal products bring in over 40% of export earnings.
Uruguay is the second smallest South American country, with its western boundary formed by the river from which it takes its name. The Negro River, which rises in Brazil, crosses the country from northeast to southwest, dividing Uruguay almost into two halves. It joins with the Uruguay river in the southwest before opening out into the large estuary of the Rio de la Plata.
Uruguay is a country of low-lying, grass-covered, rolling hills and plains. There is a plateau with hills in the northwest and the second area of higher ground along the Atlantic coast. The climate is temperate and rainfall plentiful, and the natural vegetation is prairie grassland. Some of the river valleys are wooded, but Uruguay lacks the dense forests of other parts of South America.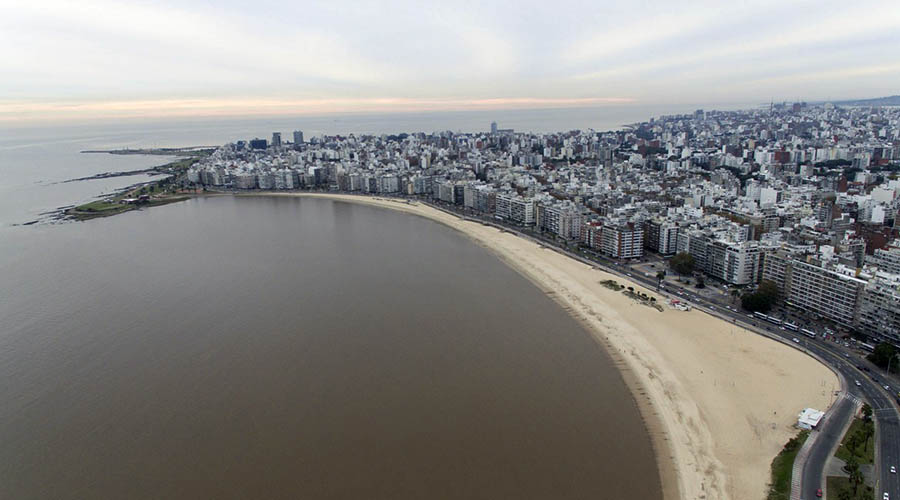 ---
Facts of Uruguay (UY)
Name conventional long form: Oriental Republic of Uruguay, conventional short form: Uruguay, local long form: Republica Oriental del Uruguay, local short form: Uruguay, former: Banda Oriental, Cisplatine Province, etymology: the Guarani Indians named the Uruguay River, which makes up the western border of the country and whose name later came to be applied to the entire country
Codes: ISO; UY, Internet; .uy
Capital city: Montevideo
Language(s): Spanish (official language), Portunol, Brazilero (Portuguese-Spanish mix on the Brazilian frontier)
National holiday(s): Independence Day, 25 August (1825)
Motto: Libertad o Muerte (Freedom or Death)
Currency: Uruguayan peso (UYU), since 1993
GPS: 33 00 S, 56 00 W, Montevideo; 34 51 S 56 10 W
Location: Southern South America, bordering the South Atlantic Ocean, between Argentina and Brazil
Geography note: second-smallest South American country (after Suriname); most of the low-lying landscape (three-quarters of the country) is grassland, ideal for cattle and sheep raising
Land boundaries: Argentina 541 km, Brazil 1,050 km, total: 1,591 km
Maritime boundaries: N/A
Coastline: 660 km
Area: total: 176,215 sq km; land: 175,015 sq km, water: 1,200 sq km (total 68 036,96 mi2), slightly smaller than the state of Washington.
Roadways: total: 77,732 km, paved: 7,743 km, unpaved: 69,989 km (2010)
Waterways: 1,600 km (2011)
Local time (capital): UTC-3, 2 hours ahead of Washington DC during Standard Time
Note to the local time: N/A
Population in Uruguay: 3 469 551
Population in Montevideo: 1 672 000 (including the metropolitan areas)
Urbanization: urban population: 95.3% of total population (2015)
Major urban areas population: MONTEVIDEO (capital) 1.707 million (2015)
Population growth rate: 0.27% (2016 estimate)
Birth rate: 13 births / 1,000 population (2016 estimate)
Death rate: 9.4 deaths / 1,000 population (2016 estimate)
Age structure: 0-14 years: 20.44% (male 348,547 / female 336,435) 15-24 years: 15.78% (male 267,848 / female 260,990) 25-54 years: 39.23% (male 649,702 / female 664,933) 55-64 years: 10.41% (male 164,201 / female 184,784) 65 years and over: 14.13% (male 189,197 / female 284,379) (2016 estimate)
Median age: total: 34.7 years; male: 33 years, female: 36.4 years (2016 estimate)
Ethnic groups: white 88%, mestizo 8%, black 4%, Amerindian (practically nonexistent)
Religions: Roman Catholic 47.1%, non-Catholic Christians 11.1%, nondenominational 23.2%, Jewish 0.3%, atheist or agnostic 17.2%, other 1.1% (2006)
Government type: Unitary presidential constitutional republic
Legal system: civil law system based on the Spanish civil code
National anthem: Himno Nacional de Uruguay (National Anthem of Uruguay)
Known national hazards: seasonally high winds (the pampero is a chilly and occasional violent wind that blows north from the Argentine pampas), droughts, floods; because of the absence of mountains, which act as weather barriers, all locations are particularly vulnerable to rapid changes from weather fronts
Major infectious diseases: N/A
Land use: agricultural land: 87.2%; arable land 10.1%; permanent crops 0.2%; permanent pasture 76.9%; forest: 10.2%; other: 2.6% (2011 estimate)
Agricultural products: soybeans, rice, wheat; beef, dairy products; fish; lumber, cellulose
Industries: food processing, electrical machinery, transportation equipment, petroleum products, textiles, chemicals, beverages
Export commodities: beef, soybeans, cellulose, rice, wheat, wood, dairy products; wool
Main export partners: China 15%, Brazil 14.4%, US 6.5%, Argentina 4.9% (2015)
Import commodities: refined oil, crude oil, passenger and other transportation vehicles, vehicle parts, cellular phones
Main import partners: Brazil 18.2%, China 17.4%, Argentina 12.6%, US 9.1%, Germany 4.5%, Nigeria 4.1% (2015)
Navigate the countries in South America faster and easier while driving, use the interactive Google maps for your driving directions. The continuously updated database contains over 220 countries and territories digitally mapped, hundreds of millions of businesses and places around the world positioned on the map.
Get fresh GPS navigation, traffic, and transit information – no matter what part of Uruguay, Montevideo, any other city and country in America, or the world you're in.
Do you like this Uruguay information page? Please don't forget to share it with others! Thank you.