Poland Google maps and Driving Directions
Get free driving directions, Google maps, traffic information for Poland, and Warsaw (GPS: 52 15 N 21 00 E), the capital city of the country located in (the) Central Europe, east of Germany.
Find any address in Warsaw on the Google map of Poland (PL) with ease or calculate your up to date itinerary to and from Poland or its neighboring counties like Belarus, Czech Republic, Germany, Lithuania, Russia, Slovakia, Ukraine.
Sightseeing and exploring in Europe starts here, thanks to Google because its Earth Engine combines a multi-petabyte catalog of updated satellite imagery and geospatial datasets with planetary-scale analysis capabilities. Wonder the world, use the satellite map function of the Google maps to explore or see differences on the Earth's surface, inland, or the surrounding areas of Poland.
Google Maps Poland
Located in the heart of Europe, Poland has undergone massive social, economic, and political change since the collapse of communism in 1989. It joined the EU in 2004.
Poland is mostly flat plain; mountains along southern border.
The map above fully covers Poland with its road routes from cities to towns, road intersections in any region, provinces, prefectures, also with free driving directions in Warsaw or to the neighboring towns and countries. To look at the detailed map about a particular quarter in Warsaw, please click on the area and zoom to the place you are interested in the Google maps of Poland (PL).
Be creative, use the extras of this Google map; This is a detailed, clear, zoomable, large road map of Poland with its administrative divisions; 16 provinces (wojewodztwa, singular – wojewodztwo); Dolnoslaskie (Lower Silesia), Kujawsko-Pomorskie (Kuyavia-Pomerania), Lodzkie (Lodz), Lubelskie (Lublin), Lubuskie (Lubusz), Malopolskie (Lesser Poland), Mazowieckie (Masovia), Opolskie (Opole), Podkarpackie (Subcarpathia), Podlaskie, Pomorskie (Pomerania), Slaskie (Silesia), Swietokrzyskie (Holy Cross), Warminsko-Mazurskie (Warmia-Masuria), Wielkopolskie (Greater Poland), Zachodniopomorskie (West Pomerania).
The interactive map above is also may be used as the satellite map of Poland, or as a reverse search map for finding an address from its GPS coordinates.
Poland, a country the size of New Mexico, is in north-central Europe. Most of the country is a plain with no natural boundaries except the Carpathian Mountains in the south and the Oder and Neisse rivers in the west. Other major rivers, which are important to commerce, are the Vistula, Warta, and Bug.
Poland (area: 312 685 sq km / 120 728,30 sq mi), where the official language is Polish, lying in Europe and using the currency; Polish zloty (PLN), since 1995, set their clock to UTC+1. That means they are 6 hours ahead of Washington DC during Standard Time in Warsaw, the capital. Note to the time difference: Daylight saving time: +1hr begins last Sunday in March; ends last Sunday in October.
The climate in Poland; Rainfall peaks during the hot summers. Cold winters with snow, especially in mountains.
Geography in a nutshell; Lowlands, part of the North European Plain, cover most of the country. The Tatra Mountains run along the southern border.
Click here for more detailed information about Poland.
Driving directions Poland
The Google maps and Google Satellite maps of Poland above showing the country, located next to Belarus, Czech Republic, Germany, Lithuania, Russia, Slovakia, Ukraine. For your further reference, the latitude and longitude coordinates of Poland are 52 00 N, 20 00 E , while the capital, Warsaw found at 52 15 N 21 00 E.
When you are traveling around Poland, Warsaw, or its other cities, use this routing tool, providing up to date route planning service free of charge.
Look no further; get accurate driving directions in Poland, Europe, by filling the route planner form below.
Since Google acquired and introduced its digitalized maps in 2004, you're probably familiar with its base functions, like finding an address or driving directions to locations. Still, Google maps also accommodate bicyclists, pedestrians, and also public transportation with special directions and customizable routes.
---
About Poland and the capital, Warsaw
| | |
| --- | --- |
| | |
| The national flag of Poland | Borderline map of Poland |
| | |
| Flag description: two equal horizontal bands of white (top) and red; colors derive from the Polish emblem – a white eagle on a red field. Note: similar to the flags of Indonesia and Monaco which are red (top) and white. | Border length: total: 3,071 km. Border countries (total: 7): Belarus 418 km, Czech Republic 796 km, Germany 467 km, Lithuania 104 km, Russia (Kaliningrad Oblast) 210 km, Slovakia 541 km, Ukraine 535 km. |
About Warsaw
Packed with a bizarre mix of gleaming office buildings and grey, Communist-era apartment blocks, Warsaw (Warszawa) often bewilders backpackers. Yet if any city rewards exploration, it is the Polish capital. North of the lively center is stunning Baroque palaces and the meticulously reconstructed Old Town; to the south are two of Central Europe's most beautiful urban parks, and in the east lie reminders of the rich Jewish heritage extinguished by the Nazis.
Warsaw became the capital in 1596 and flourished as one of Europe's most prosperous cities. Absorbed by the Russian Empire in 1815, it wasn't until 1918 that Warsaw again became the capital of an independent Poland. The Germans invaded in 1939 and herded the city's large Jewish population into a ghetto, before their transportation to the death camps. The Warsaw Uprising of 1944 so infuriated Hitler that he ordered the destruction of the city, leaving 850,000 Varsovians dead and 85 percent of Warsaw in ruins. Rebuilt after the war, the historic core of the city now stands at the center of a dynamic, fast-developing metropolis.
Did you know about Poland?
Poland strategically placed in Europe and its borders have constantly shifted. They were last altered after World War II, in 1945.
Wild wisent (European bison) live in the Bialowieza Forest straddling the Poland– – Belarus border.
A large, mainly low-lying country at the heart of Europe, Poland has major shipbuilding, electronic, and steel industries, although about a quarter of the workforce is employed on the land.
The republic of Poland shares borders with Russia (Kaliningrad), Lithuania, Belarus, Ukraine, Slovakia, the Czech Republic, and Germany. In the north, a low-lying narrow coastal plain of sandy beaches and dunes forms most of the Baltic Sea coastline. Further inland, lies the Baltic Heights region, consisting of low-lying wooded hills and valleys. The extensive central lowlands are crossed by numerous rivers and streams in a series of shallow valleys.
In the south, lies a region of uplands and valleys. The land then rises more steeply to form the Sudeten Mountains and ranges of the Carpathians. The Plain of Silesia lies in the southwest beyond the Sudeten Mountains. Poland's capital and largest city are Warsaw (Warszawa), situated on the River Vistula (Wista) in the central part of the country. About 62 percent of Poles live in cities or towns.
Agriculture plays a very important part in the country's economy with almost two-thirds of the land area suitable for farming. Poland's forests cover over a quarter of the land area and provide valuable timber resources. There are both marine and freshwater fishing industries. The country has valuable reserves of both hard coal and lignite, sulfur, copper, iron ore, lead, zinc, magnesium, gypsum, and rock salt but it has very little oil or natural gas so is heavily dependent upon imports to supply its domestic needs. The main industrial activities are in shipbuilding, iron and steel, chemicals, cement, vehicles, processed foods, and textiles. Tourism is a growing industry, with visitors coming to enjoy Poland's Baltic sea resorts, mountainous regions, and historic cities.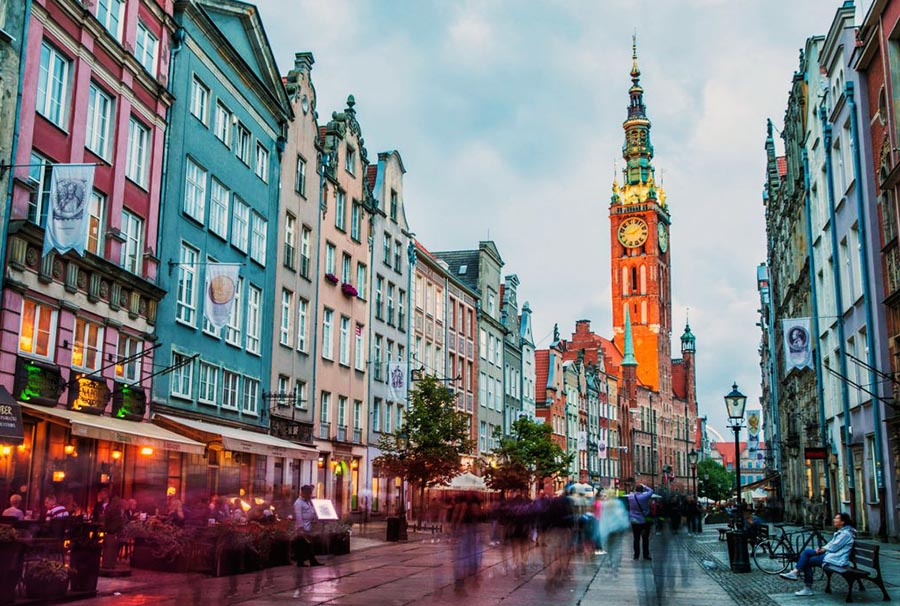 ---
Facts of Poland (PL)
Name conventional long form: Republic of Poland, conventional short form: Poland, local long form: Rzeczpospolita Polska, local short form: Polska, etymology: name derives from the Polanians, a west Slavic tribe that united several surrounding Slavic groups (9th-10th centuries A.D.) and who passed on their name to the country; the name of the tribe likely comes from the Slavic "pole" (field or plain), indicating the flat nature of their country
Codes: ISO; PL, Internet; .pl
Capital city: Warsaw
Language(s): Polish (official language) 98.2%, Silesian 1.4%, other 1.1%, unspecified 1.3%. Note: data represents the language spoken at home; shares sum to more than 100% because some respondents gave more than one answer on the census; Poland ratified the European Charter for Regional or Minority Languages in 2009 recognizing Kashub as a regional language, Czech, Hebrew, Yiddish, Belarusian, Lithuanian, German, Armenian, Russian, Slovak, and Ukrainian as national minority languages, and Karaim, Lemko, Romani (Polska Roma and Bergitka Roma), and Tatar as ethnic minority languages (2011 estimate)
National holiday(s): Constitution Day, 3 May (1791)
Motto: N/A
Currency: Polish zloty (PLN), since 1995
GPS: 52 00 N, 20 00 E, Warsaw; 52 15 N 21 00 E
Location: Central Europe, east of Germany
Geography note: historically, an area of conflict because of flat terrain and the lack of natural barriers on the North European Plain
Land boundaries: Belarus 418 km, Czech Republic 796 km, Germany 467 km, Lithuania 104 km, Russia (Kaliningrad Oblast) 210 km, Slovakia 541 km, Ukraine 535 km, total: 3,071 km
Maritime boundaries: Baltic Sea
Coastline: 440 km
Area: total: 312,685 sq km; land: 304,255 sq km, water: 8,430 sq km (total 120 728,30 mi2), about twice the size of Georgia; slightly smaller than New Mexico.
Roadways: total: 412,035 km, paved: 280,719 km (includes 2,418 km of expressways), unpaved: 131,316 km (2012)
Waterways: 3,997 km (navigable rivers and canals) (2009)
Local time (capital): UTC+1, 6 hours ahead of Washington DC during Standard Time
Note to the local time: Daylight saving time: +1hr begins last Sunday in March; ends last Sunday in October
Population in Poland: 38 104 832
Population in Warsaw: 1 723 000 (including the metropolitan areas)
Urbanization: urban population: 60.5% of total population (2015)
Major urban areas population: WARSAW (capital) 1.722 million; Krakow 760,000 (2015)
Population growth rate: -0.11% (2016 estimate)
Birth rate: 9.6 births / 1,000 population (2016 estimate)
Death rate: 10.3 deaths / 1,000 population (2016 estimate)
Age structure: 0-14 years: 14.72% (male 2,915,840 / female 2,754,098) 15-24 years: 11.11% (male 2,195,587 / female 2,082,634) 25-54 years: 43.5% (male 8,456,789 / female 8,301,167) 55-64 years: 14.42% (male 2,623,838 / female 2,931,215) 65 years and over: 16.26% (male 2,460,648 / female 3,801,445) (2016 estimate)
Median age: total: 40.3 years; male: 38.6 years, female: 42 years (2016 estimate)
Ethnic groups: Polish 96.9%, Silesian 1.1%, German 0.2%, Ukrainian 0.1%, other and unspecified 1.7%note: represents ethnicity declared first (2011 estimate)
Religions: Catholic 87.2% (includes Roman Catholic 86.9% and Greek Catholic, Armenian Catholic, and Byzantine-Slavic Catholic .3%), Orthodox 1.3% (almost all are Polish Autocephalous Orthodox), Protestant 0.4% (mainly Augsburg Evangelical and Pentacostal), other 0.4% (includes Jehovah's Witness, Buddhist, Hare Krishna, Gaudiya Vaishnavism, Muslim, Jewish, Mormon), unspecified 10.8% (2012 estimate)
Government type: Unitary parliamentary republic
Legal system: civil law system; judicial review of legislative, administrative, and other governmental acts; constitutional law rulings of the Constitutional Tribunal are final
National anthem: Mazurek Dabrowskiego (Dabrowski's Mazurka)
Known national hazards: flooding
Major infectious diseases: The degree of risk(s): intermediatevectorborne disease: tickborne encephalitis (2016)
Land use: agricultural land: 48.2%; arable land 36.2%; permanent crops 1.3%; permanent pasture 10.7%; forest: 30.6%; other: 21.2% (2011 estimate)
Agricultural products: potatoes, fruits, vegetables, wheat; poultry, eggs, pork, dairy
Industries: machine building, iron and steel, coal mining, chemicals, shipbuilding, food processing, glass, beverages, textiles
Export commodities: machinery and transport equipment 37.8%, intermediate manufactured goods 23.7%, miscellaneous manufactured goods 17.1%, food and live animals 7.6% (2012 estimate)
Main export partners: Germany 27.1%, UK 6.8%, Czech Republic 6.6%, France 5.5%, Italy 4.8%, Netherlands 4.4% (2015)
Import commodities: machinery and transport equipment 38%, intermediate manufactured goods 21%, chemicals 15%, minerals, fuels, lubricants, and related materials 9% (2011 estimate)
Main import partners: Germany 27.6%, China 7.5%, Russia 7.2%, Netherlands 5.9%, Italy 5.2%, France 4.1% (2015)
Navigate the countries in Europe faster and easier while driving, use the interactive Google maps for your driving directions. The continuously updated database contains over 220 countries and territories digitally mapped, hundreds of millions of businesses and places around the world positioned on the map.
Get fresh GPS navigation, traffic, and transit information – no matter what part of Poland, Warsaw, any other city and country in Europe, or the world you're in.
Do you like this Poland information page? Please don't forget to share it with others! Thank you.