Lithuania Google maps and Driving Directions
Get free driving directions, Google maps, traffic information for Lithuania, and Vilnius (GPS: 54 41 N 25 19 E), the capital city of the country located in (the) Eastern Europe, bordering the Baltic Sea, between Latvia and Russia, west of Belarus.
Find any address in Vilnius on the Google map of Lithuania (LT) with ease or calculate your up to date itinerary to and from Lithuania or its neighboring counties like Belarus, Latvia, Poland, Russia.
Sightseeing and exploring in Europe starts here, thanks to Google because its Earth Engine combines a multi-petabyte catalog of updated satellite imagery and geospatial datasets with planetary-scale analysis capabilities. Wonder the world, use the satellite map function of the Google maps to explore or see differences on the Earth's surface, inland, or the surrounding areas of Lithuania.
Google Maps Lithuania
Lying on the eastern coast of the Baltic Sea, Lithuania is the largest of the Baltic states. The first Soviet republic to declare independence from Moscow in 1991, it joined the EU in 2004.
Lithuania is lowland, many scattered small lakes, fertile soil.
The map above fully covers Lithuania with its road routes from cities to towns, road intersections in any region, provinces, prefectures, also with free driving directions in Vilnius or to the neighboring towns and countries. To look at the detailed map about a particular quarter in Vilnius, please click on the area and zoom to the place you are interested in the Google maps of Lithuania (LT).
Be creative, use the extras of this Google map; This is a detailed, clear, zoomable, large road map of Lithuania with its administrative divisions; 60 municipalities (savivaldybe, singular – savivaldybe); Akmene, Alytaus Miestas, Alytus, Anksciai, Birstono, Birzai, Druskininkai, Elektrenai, Ignalina, Jonava, Joniskis, Jurbarkas, Kaisiadorys, Kalvarijos, Kauno Miestas, Kaunas, Kazlu Rudos, Kedainiai, Kelme, Klaipedos Miestas, Klaipeda, Kretinga, Kupiskis, Lazdijai, Marijampole, Mazeikiai, Moletai, Neringa, Pagegiai, Pakruojis, Palangos Miestas, Panevezio Miestas, Panevezys, Pasvalys, Plunge, Prienai, Radviliskis, Raseiniai, Rietavo, Rokiskis, Sakiai, Salcininkai, Siauliu Miestas, Siauliai, Silale, Silute, Sirvintos, Skuodas, Svencionys, Taurage, Telsiai, Trakai, Ukmerge, Utena, Varena, Vilkaviskis, Vilniaus Miestas, Vilnius, Visaginas, Zarasai.
The interactive map above is also may be used as the satellite map of Lithuania, or as a reverse search map for finding an address from its GPS coordinates.
Lithuania is situated on the eastern shore of the Baltic Sea and borders Latvia on the north, Belarus on the east and south, and Poland and the Kaliningrad region of Russia on the southwest. It is a country of gently rolling hills, many forests, rivers and streams, and lakes. Its principal natural resource is agricultural land.
Lithuania (area: 65 300 sq km / 25 212,46 sq mi), where the official language is Lithuanian, lying in Europe and using the currency; Euro (EUR), since 2015, set their clock to UTC+2. That means they are 7 hours ahead of Washington DC during Standard Time in Vilnius, the capital. Note to the time difference: Daylight saving time: +1hr begins last Sunday in March; ends last Sunday in October.
The climate in Lithuania; Coastal location moderates continental extremes. Cold winters, cool summers, and steady rainfall.
Geography in a nutshell; Mostly flat with moors, bogs, and an intensively farmed central lowland. Numerous lakes and forested sandy ridges in the east.
Click here for more detailed information about Lithuania.
Driving directions Lithuania
The Google maps and Google Satellite maps of Lithuania above showing the country, located next to Belarus, Latvia, Poland, Russia. For your further reference, the latitude and longitude coordinates of Lithuania are 56 00 N, 24 00 E , while the capital, Vilnius found at 54 41 N 25 19 E.
When you are traveling around Lithuania, Vilnius, or its other cities, use this routing tool, providing up to date route planning service free of charge.
Look no further; get accurate driving directions in Lithuania, Europe, by filling the route planner form below.
Since Google acquired and introduced its digitalized maps in 2004, you're probably familiar with its base functions, like finding an address or driving directions to locations. Still, Google maps also accommodate bicyclists, pedestrians, and also public transportation with special directions and customizable routes.
---
About Lithuania and the capital, Vilnius
| | |
| --- | --- |
| | |
| The national flag of Lithuania | Borderline map of Lithuania |
| | |
| Flag description: three equal horizontal bands of yellow (top), green, and red; yellow symbolizes golden fields, as well as the sun, light, and goodness; green represents the forests of the countryside, in addition to nature, freedom, and hope; red stands for courage and the blood spilled in defense of the homeland. | Border length: total: 1,549 km. Border countries (total: 4): Belarus 640 km, Latvia 544 km, Poland 104 km, Russia (Kaliningrad) 261 km. |
About Vilnius
A cosmopolitan city with an ancient Baroque heart, Vilnius is relatively compact and easy to get to know, with a variety of inexpensive attractions and a lively nightlife. Its numerous churches and palaces jostle for space in the Old Town's winding cobbled alleys, where glitzy restaurants stand incongruously beside dilapidated old buildings. The large student population lends the place a tangible air of energy and optimism. Beguiling, and sometimes downright odd, Vilnius has an addictive quality.
Did you know about Lithuania?
After declaring independence from Russia in 1918, Lithuania again occupied by the Soviet Union in 1940. It declared independence in 1991.
The "amber coast"" of Lithuania produces most of the world's amber – fossilized resin.
Baltic amber-the fossilized resin of conifer trees-is world-famous and is used to make jewelry.
Lithuania is bounded by Latvia, Belarus, Poland, and Russia (Kaliningrad) with a Baltic Sea coastline to the west. Lithuania is a country of plains, broken by low hills with numerous rivers and lakes and many marshes and wetlands, some of which have drained.
The upland areas are generally to be found in the west while the majority of the lakes are in the southern and northeastern parts of the republic. The Neman River, with its tributaries, forms part of the border with Russia and supplies the country with hydroelectric power. Vilnius is the country's capital and largest city. Over two-thirds of the people live in cities, towns or urban areas.
Agriculture is very important to the economy and Lithuania's forests, which cover about a quarter of the country, provide valuable timber resources. There is also a small but important fishing industry. Lithuania lacks exploitable mineral reserves, and the country is completely dependent upon imports of oil. Nuclear power accounts for about half the country's energy needs with some additional power from hydroelectric schemes. Industries and manufacturing include shipbuilding, engineering, food processing, production of cement, machinery and electronic equipment.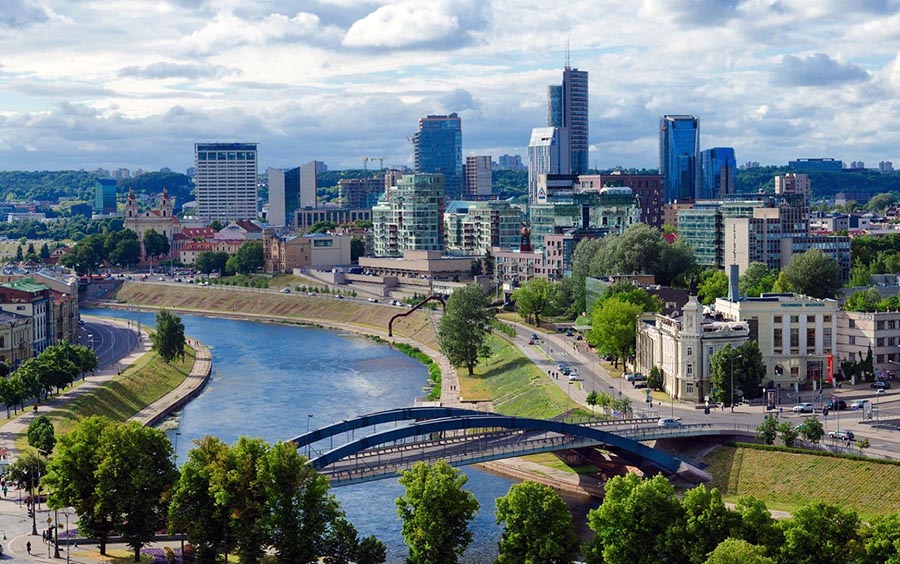 ---
Facts of Lithuania (LT)
Name conventional long form: Republic of Lithuania, conventional short form: Lithuania, local long form: Lietuvos Respublika, local short form: Lietuva, former: Lithuanian Soviet Socialist Republic, etymology: meaning of the name "Lietuva" remains unclear; it may derive from the Lietava, a stream in east central Lithuania
Codes: ISO; LT, Internet; .lt
Capital city: Vilnius
Language(s): Lithuanian (official language) 82%, Russian 8%, Polish 5.6%, other 0.9%, unspecified 3.5% (2011 estimate)
National holiday(s): Independence Day, 16 February (1918)
Motto: Vienybe tezydi
Currency: Euro (EUR), since 2015
GPS: 56 00 N, 24 00 E, Vilnius; 54 41 N 25 19 E
Location: Eastern Europe, bordering the Baltic Sea, between Latvia and Russia, west of Belarus
Geography note: fertile central plains are separated by hilly uplands that are ancient glacial deposits
Land boundaries: Belarus 640 km, Latvia 544 km, Poland 104 km, Russia (Kaliningrad) 261 km, total: 1,549 km
Maritime boundaries: N/A
Coastline: 90 km
Area: total: 65,300 sq km; land: 62,680 sq km, water: 2,620 sq km (total 25 212,46 mi2), slightly larger than West Virginia.
Roadways: total: 84,166 km, paved: 72,297 km (includes 312 km of expressways), unpaved: 11,869 km (2012)
Waterways: 441 km (navigable year round) (2007)
Local time (capital): UTC+2, 7 hours ahead of Washington DC during Standard Time
Note to the local time: Daylight saving time: +1hr begins last Sunday in March; ends last Sunday in October
Population in Lithuania: 2 876 475
Population in Vilnius: 543 500 (including the metropolitan areas)
Urbanization: urban population: 66.5% of total population (2015)
Major urban areas population: VILNIUS (capital) 517,000 (2015)
Population growth rate: -1.06% (2016 estimate)
Birth rate: 10 births / 1,000 population (2016 estimate)
Death rate: 14.5 deaths / 1,000 population (2016 estimate)
Age structure: 0-14 years: 14.93% (male 218,453 / female 207,643) 15-24 years: 11.55% (male 170,494 / female 159,283) 25-54 years: 40.36% (male 566,159 / female 585,862) 55-64 years: 13.73% (male 172,987 / female 218,955) 65 years and over: 19.42% (male 187,340 / female 367,059) (2016 estimate)
Median age: total: 43.4 years; male: 39.5 years, female: 46.7 years (2016 estimate)
Ethnic groups: Lithuanian 84.1%, Polish 6.6%, Russian 5.8%, Belarusian 1.2%, other 1.1%, unspecified 1.2% (2011 estimate)
Religions: Roman Catholic 77.2%, Russian Orthodox 4.1%, Old Believer 0.8%, Evangelical Lutheran 0.6%, Evangelical Reformist 0.2%, other (including Sunni Muslim, Jewish, Greek Catholic, and Karaite) 0.8%, none 6.1%, unspecified 10.1% (2011 estimate)
Government type: Unitary semi-presidential constitutional republic
Legal system: civil law system; legislative acts can be appealed to the constitutional court
National anthem: Tautiska giesme (National Hymn)
Known national hazards: N/A
Major infectious diseases: The degree of risk(s): intermediatevectorborne diseases: tickborne encephalitis (2016)
Land use: agricultural land: 44.8%; arable land 34.9%; permanent crops 0.5%; permanent pasture 9.4%; forest: 34.6%; other: 20.6% (2011 estimate)
Agricultural products: grain, potatoes, sugar beets, flax, vegetables; beef, milk, eggs, pork, cheese; fish
Industries: metal-cutting machine tools, electric motors, television sets, refrigerators and freezers, petroleum refining, shipbuilding (small ships), furniture, textiles, food processing, fertilizers, agricultural machinery, optical equipment, lasers, electronic com
Export commodities: refined fuel, machinery and equipment, chemicals, textiles, foodstuffs, plastics
Main export partners: Russia 13.7%, Latvia 9.8%, Poland 9.7%, Germany 7.8%, Estonia 5.3%, Belarus 4.6%, UK 4.5%, US 4.4%, Netherlands 4% (2015)
Import commodities: oil, natural gas, machinery and equipment, transport equipment, chemicals, textiles and clothing, metals
Main import partners: Russia 16.9%, Germany 11.5%, Poland 10.3%, Latvia 7.6%, Netherlands 5.1%, Italy 4.5% (2015)
Navigate the countries in Europe faster and easier while driving, use the interactive Google maps for your driving directions. The continuously updated database contains over 220 countries and territories digitally mapped, hundreds of millions of businesses and places around the world positioned on the map.
Get fresh GPS navigation, traffic, and transit information – no matter what part of Lithuania, Vilnius, any other city and country in Europe, or the world you're in.
Do you like this Lithuania information page? Please don't forget to share it with others! Thank you.