Liechtenstein Google maps and Driving Directions
Get free driving directions, Google maps, traffic information for Liechtenstein, and Vaduz (GPS: 47 08 N 9 31 E), the capital city of the country located in (the) Central Europe, between Austria and Switzerland.
Find any address in Vaduz on the Google map of Liechtenstein (LI) with ease or calculate your up to date itinerary to and from Liechtenstein or its neighboring counties like Austria, Switzerland.
Sightseeing and exploring in Europe starts here, thanks to Google because its Earth Engine combines a multi-petabyte catalog of updated satellite imagery and geospatial datasets with planetary-scale analysis capabilities. Wonder the world, use the satellite map function of the Google maps to explore or see differences on the Earth's surface, inland, or the surrounding areas of Liechtenstein.
Google Maps Liechtenstein
Perched in the Alps between Switzerland and Austria, the state of Liechtenstein became an independent principality of the Holy Roman Empire in 1719. It has close links with Switzerland.
Liechtenstein is mostly mountainous (Alps) with Rhine Valley in the western third.
The map above fully covers Liechtenstein with its road routes from cities to towns, road intersections in any region, provinces, prefectures, also with free driving directions in Vaduz or to the neighboring towns and countries. To look at the detailed map about a particular quarter in Vaduz, please click on the area and zoom to the place you are interested in the Google maps of Liechtenstein (LI).
Be creative, use the extras of this Google map; This is a detailed, clear, zoomable, large road map of Liechtenstein with its administrative divisions; 11 communes (Gemeinden, singular – Gemeinde); Balzers, Eschen, Gamprin, Mauren, Planken, Ruggell, Schaan, Schellenberg, Triesen, Triesenberg, Vaduz.
The interactive map above is also may be used as the satellite map of Liechtenstein, or as a reverse search map for finding an address from its GPS coordinates.
Tiny Liechtenstein, not quite as large as Washington, DC, lies on the east bank of the Rhine River, south of Lake Constance, between Austria and Switzerland. It consists of low valley land and alpine peaks. Falknis (8,401 ft 2,561 m) and Naafkopf (8,432 ft 2,570 m) are the tallest.
Liechtenstein (area: 160 sq km / 61,78 sq mi), where the official language is German, lying in Europe and using the currency; Swiss franc (CHF), since 1919, set their clock to UTC+1. That means they are 6 hours ahead of Washington DC during Standard Time in Vaduz, the capital. Note to the time difference: Daylight saving time: +1hr begins last Sunday in March; ends last Sunday in October.
The climate in Liechtenstein; Warm, dry summers. Winters are cold, with heavy snow in the mountains from December to March.
Geography in a nutshell; The upper Rhine Valley covers the western third of the country. The mountains and narrow valleys of the eastern Alps make up the remainder.
Click here for more detailed information about Liechtenstein.
Driving directions Liechtenstein
The Google maps and Google Satellite maps of Liechtenstein above showing the country, located next to Austria, Switzerland. For your further reference, the latitude and longitude coordinates of Liechtenstein are 47 16 N, 9 32 E , while the capital, Vaduz found at 47 08 N 9 31 E.
When you are traveling around Liechtenstein, Vaduz, or its other cities, use this routing tool, providing up to date route planning service free of charge.
Look no further; get accurate driving directions in Liechtenstein, Europe, by filling the route planner form below.
Since Google acquired and introduced its digitalized maps in 2004, you're probably familiar with its base functions, like finding an address or driving directions to locations. Still, Google maps also accommodate bicyclists, pedestrians, and also public transportation with special directions and customizable routes.
---
About Liechtenstein and the capital, Vaduz
| | |
| --- | --- |
| | |
| The national flag of Liechtenstein | Borderline map of Liechtenstein |
| | |
| Flag description: two equal horizontal bands of blue (top) and red with a gold crown on the hoist side of the blue band; the colors may derive from the blue and red livery design used in the principality's household in the 18th century; the prince's crown was introduced in 1937 to distinguish the flag from that of Haiti. | Border length: total: 75 km. Border countries (total: 2): Austria 34 km, Switzerland 41 km. |
Did you know about Liechtenstein?
The Principality of Liechtenstein created in 1719 as part of the Holy Roman Empire. It gained full independence in 1806.
Women in Liechtenstein obtained the vote only in 1984.
As asserted in its national anthem, the tiny Principality of Liechtenstein sits on the River Rhine, between Switzerland and Austria.
The small, independent state of Liechtenstein is sandwiched between Switzerland in the north, west and south and Austria in the east. Liechtenstein uses the Swiss franc and is generally represented internationally by Switzerland.
The upper reaches of the River Rhine flow along the western boundary of the principality while to the east and south lie the foothills of the Austrian Alps. The capital and principal town Vaduz, situated overlooking the River Rhine in the center of the principality.
The mainstays of the highly prosperous economy are international banking and financial services, the sale of postage stamps and tourism. Manufactured goods include precision tools and instruments, foods, pharmaceuticals, metal goods, pottery, and furniture — Liechtenstein's small amount of farmland mainly located within the Rhine valley.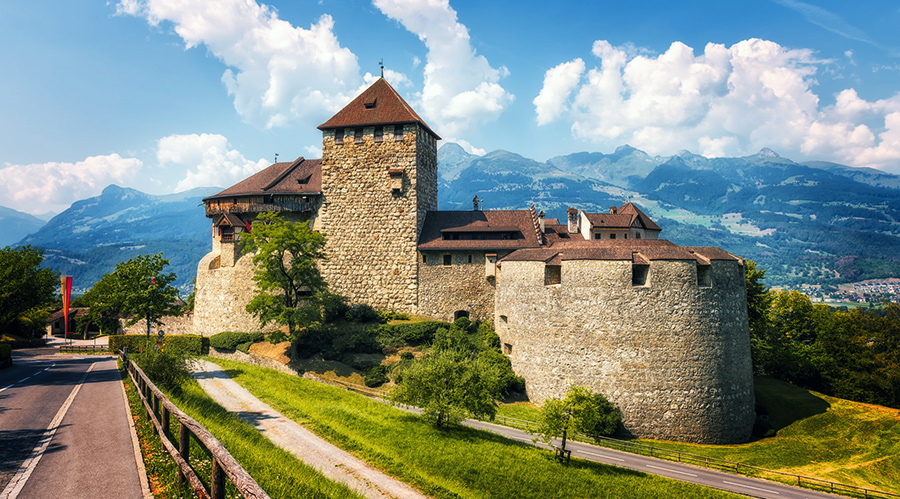 ---
Facts of Liechtenstein (LI)
Name conventional long form: Principality of Liechtenstein, conventional short form: Liechtenstein, local long form: Fuerstentum Liechtenstein, local short form: Liechtenstein, etymology: named after the Liechtenstein dynasty that purchased and united the counties of Schellenburg and Vaduz and that were allowed by the Holy Roman Emperor in 1719 to rename the new property after their family; the name in German means "light (bright) stone"
Codes: ISO; LI, Internet; .li
Capital city: Vaduz
Language(s): German 94.5% (official language) (Alemannic is the main dialect), Italian 1.1%, other 4.3% (2010 estimate)
National holiday(s): Assumption Day, 15 August, and National Day, 15 August (1940)
Motto: Für Gott, Fürst und Vaterland (For God, Prince, and Fatherland)
Currency: Swiss franc (CHF), since 1919
GPS: 47 16 N, 9 32 E, Vaduz; 47 08 N 9 31 E
Location: Central Europe, between Austria and Switzerland
Geography note: along with Uzbekistan, one of only two doubly landlocked countries in the world; a variety of microclimatic variations based on elevation
Land boundaries: Austria 34 km, Switzerland 41 km, total: 75 km
Maritime boundaries: N/A
Coastline: 0 km (doubly landlocked)
Area: total: 160 sq km; land: 160 sq km, water: 0 sq km (total 61,78 mi2), about 0.9 times the size of Washington, DC.
Roadways: total: 380 km, paved: 380 km (2012)
Waterways: 28 km (2010)
Local time (capital): UTC+1, 6 hours ahead of Washington DC during Standard Time
Note to the local time: Daylight saving time: +1hr begins last Sunday in March; ends last Sunday in October
Population in Liechtenstein: 38 155
Population in Vaduz: 5 300 (including the metropolitan areas)
Urbanization: urban population: 14.3% of total population (2015)
Major urban areas population: VADUZ (capital) 5,000 (2014)
Population growth rate: 0.82% (2016 estimate)
Birth rate: 10.4 births / 1,000 population (2016 estimate)
Death rate: 7.3 deaths / 1,000 population (2016 estimate)
Age structure: 0-14 years: 15.38% (male 3,141 / female 2,694) 15-24 years: 11.71% (male 2,214 / female 2,229) 25-54 years: 42.13% (male 7,983 / female 8,001) 55-64 years: 13.82% (male 2,553 / female 2,690) 65 years and over: 16.95% (male 2,954 / female 3,478) (2016 estimate)
Median age: total: 42.9 years; male: 41.7 years, female: 44.1 years (2016 estimate)
Ethnic groups: Liechtensteiner 66.3%, other 33.7% (2013 estimate)
Religions: Roman Catholic (official) 75.9%, Protestant Reformed 6.5%, Muslim 5.4%, Lutheran 1.3%, other 2.9%, none 5.4%, unspecified 2.6% (2010 estimate)
Government type: Unitary parliamentary constitutional monarchy
Legal system: civil law system influenced by Swiss, Austrian, and German law
National anthem: Oben am jungen Rhein (High on the Young Rhine)
Known national hazards: N/A
Major infectious diseases: N/A
Land use: agricultural land: 37.6%; arable land 18.8%; permanent crops 0%; permanent pasture 18.8%; forest: 43.1%; other: 19.3% (2011 estimate)
Agricultural products: wheat, barley, corn, potatoes; livestock, dairy products
Industries: electronics, metal manufacturing, dental products, ceramics, pharmaceuticals, food products, precision instruments, tourism, optical instruments
Export commodities: small specialty machinery, connectors for audio and video, parts for motor vehicles, dental products, hardware, prepared foodstuffs, electronic equipment, optical products
Main export partners: N/A
Import commodities: agricultural products, raw materials, energy products, machinery, metal goods, textiles, foodstuffs, motor vehicles
Main import partners: N/A
Navigate the countries in Europe faster and easier while driving, use the interactive Google maps for your driving directions. The continuously updated database contains over 220 countries and territories digitally mapped, hundreds of millions of businesses and places around the world positioned on the map.
Get fresh GPS navigation, traffic, and transit information – no matter what part of Liechtenstein, Vaduz, any other city and country in Europe, or the world you're in.
Do you like this Liechtenstein information page? Please don't forget to share it with others! Thank you.