Cuba Google maps and Driving Directions
Get free driving directions, Google maps, traffic information for Cuba, and Havana (GPS: 23 07 N 82 21 W), the capital city of the country located in (the) Caribbean, island between the Caribbean Sea and the North Atlantic Ocean, 150 km south of Key West, Florida.
Find any address in Havana on the Google map of Cuba (CU) with ease or calculate your up to date itinerary to and from Cuba or its neighboring counties like N/A.
Sightseeing and exploring in America starts here, thanks to Google because its Earth Engine combines a multi-petabyte catalog of updated satellite imagery and geospatial datasets with planetary-scale analysis capabilities. Wonder the world, use the satellite map function of the Google maps to explore or see differences on the Earth's surface, inland, or the surrounding areas of Cuba.
Google Maps Cuba
A former Spanish colony, Cuba is the largest island in the Caribbean. It became the only communist country in the Americas after Fidel Castro seized power in 1959.
Cuba is mostly flat to rolling plains, with rugged hills and mountains in the southeast.
The map above fully covers Cuba with its road routes from cities to towns, road intersections in any region, provinces, prefectures, also with free driving directions in Havana or to the neighboring towns and countries. To look at the detailed map about a particular quarter in Havana, please click on the area and zoom to the place you are interested in the Google maps of Cuba (CU).
Be creative, use the extras of this Google map; This is a detailed, clear, zoomable, large road map of Cuba with its administrative divisions; 15 provinces (provincias, singular – provincia) and 1 special municipality* (municipio especial); Artemisa, Camaguey, Ciego de Avila, Cienfuegos, Granma, Guantanamo, Holguin, Isla de la Juventud*, La Habana, Las Tunas, Matanzas, Mayabeque, Pinar del Rio, Sancti Spiritus, Santiago de Cuba, Villa Clara.
The interactive map above is also may be used as the satellite map of Cuba, or as a reverse search map for finding an address from its GPS coordinates.
The largest island of the West Indies group (equal in area to Pennsylvania), Cuba is also the westernmost—just west of Hispaniola (Haiti and the Dominican Republic), and 90 mi (145 km) south of Key West, Fla., at the entrance to the Gulf of Mexico. The island is mountainous in the southeast and south-central area (Sierra Maestra). It is flat or rolling elsewhere. Cuba also includes numerous smaller islands, islets, and cays.
Cuba (area: 109 886 sq km / 42 427,20 sq mi), where the official language is Spanish, lying in America and using the currency; Cuban peso (CUP), since 2004, set their clock to UTC-5. That means they are same time as Washington DC during Standard Time in Havana, the capital. Note to the time difference: Daylight saving time: +1hr begins second Sunday in March; ends first Sunday in November; note – Cuba has been known to alter the schedule of DST on short notice in an attempt to conserve electricity for lighting.
The climate in Cuba; Subtropical. Hot all year round, and very hot in summer. Heaviest rainfall in the mountains. Hurricanes can strike in the fall.
Geography in a nutshell; Mostly fertile plains and basins. Three mountainous areas. Forests of pine and mahogany cover one-quarter of the country.
Click here for more detailed information about Cuba.
Driving directions Cuba
The Google maps and Google Satellite maps of Cuba above showing the country, located next to N/A. For your further reference, the latitude and longitude coordinates of Cuba are 21 30 N, 80 00 W , while the capital, Havana found at 23 07 N 82 21 W.
When you are traveling around Cuba, Havana, or its other cities, use this routing tool, providing up to date route planning service free of charge.
Look no further; get accurate driving directions in Cuba, Central America and the Caribbean, by filling the route planner form below.
Since Google acquired and introduced its digitalized maps in 2004, you're probably familiar with its base functions, like finding an address or driving directions to locations. Still, Google maps also accommodate bicyclists, pedestrians, and also public transportation with special directions and customizable routes.
---
About Cuba and the capital, Havana
| | |
| --- | --- |
| | |
| The national flag of Cuba | Borderline map of Cuba |
| | |
| Flag description: five equal horizontal bands of blue (top, center, and bottom) alternating with white; a red equilateral triangle based on the hoist side bears a white, five-pointed star in the center; the blue bands refer to the three old divisions of the island: central, occidental, and oriental; the white bands describe the purity of the independence ideal; the triangle symbolizes liberty, equality, and fraternity, while the red color stands for the bloodshed in the independence struggle; the white star, called La Estrella Solitaria (the Lone Star) lights the way to freedom and was taken from the flag of Texas. Note: design similar to the Puerto Rican flag, with the colors of the bands and triangle reversed. | Border length: total: 28.5 km. Border countries: US Naval Base at Guantanamo Bay 28.5 km. Note: Guantanamo Naval Base is leased by the US and remains part of Cuba. |
Did you know about Cuba?
Cuba, the only communist state in the Americas, was a Spanish colony until 1898, when it was ceded to the USA. It gained independence in 1902.
Fidel Castro had become the world's longest-serving non-hereditary ruler before handing power to his brother Raúl in 2006.
The largest island in the Caribbean Sea, Cuba is made up of mountains, rolling hills, and flat plains. It is very fertile and rich in nickel, cobalt, and other minerals.
Cuba is the largest of the Caribbean islands, forming the western end of the Greater Antilles group. The Greater Antilles group of islands includes Cuba, Jamaica, Haiti, the Dominican Republic (formerly Hispaniola) and Puerto Rico. The Cayman Islands lie to the south of Cuba. Parts of Cuba are quite mountainous with forested slopes of mahogany and pine. Sugar has long formed the mainstay of the economy, but other important and developing economic activities are tobacco (Havana cigars), citrus fruits, light manufacturing, and tourism.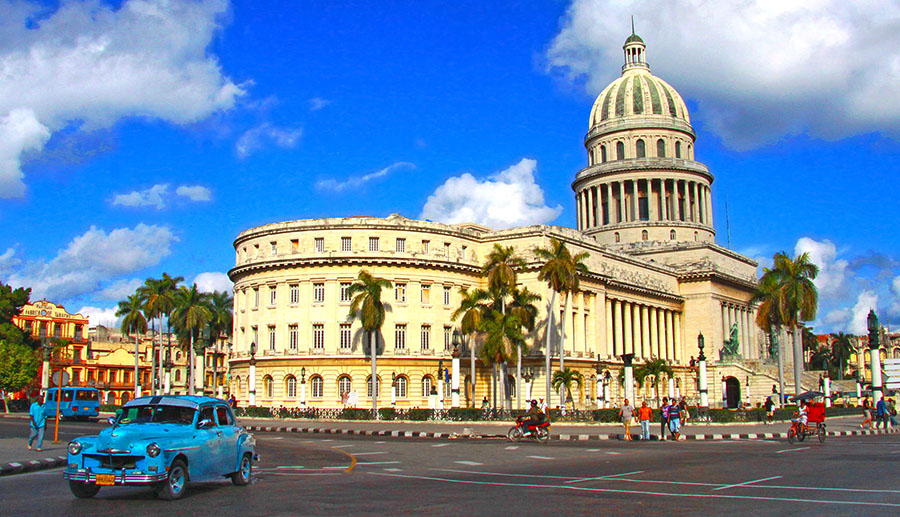 ---
Facts of Cuba (CU)
Name conventional long form: Republic of Cuba, conventional short form: Cuba, local long form: Republica de Cuba, local short form: Cuba, etymology: name derives from the Taino Indian designation for the island "coabana" meaning "great place"
Codes: ISO; CU, Internet; .cu
Capital city: Havana
Language(s): Spanish (official language)
National holiday(s): Triumph of the Revolution (Liberation Day), 1 January (1959)
Motto: Patria o muerte, venceremos! (Homeland or Death, we shall overcome!)
Currency: Cuban peso (CUP), since 2004
GPS: 21 30 N, 80 00 W, Havana; 23 07 N 82 21 W
Location: Caribbean, island between the Caribbean Sea and the North Atlantic Ocean, 150 km south of Key West, Florida
Geography note: largest country in Caribbean and westernmost island of the Greater Antilles
Land boundaries: US Naval Base at Guantanamo Bay 28.5 km. Note: Guantanamo Naval Base is leased by the US and remains part of Cuba, total: 28.5 km
Maritime boundaries: Atlantic Ocean, Caribbean Sea, Gulf of Mexico
Coastline: 3,735 km
Area: total: 110,860 sq km; land: 109,820 sq km, water: 1,040 sq km (total 42 427,20 mi2), slightly smaller than Pennsylvania.
Roadways: total: 60,858 km, paved: 29,820 km (includes 639 km of expressways), unpaved: 31,038 km (2001)
Waterways: 240 km (almost all navigable inland waterways are near the mouths of rivers) (2011)
Local time (capital): UTC-5, same time as Washington DC during Standard Time
Note to the local time: Daylight saving time: +1hr begins second Sunday in March; ends first Sunday in November; note – Cuba has been known to alter the schedule of DST on short notice in an attempt to conserve electricity for lighting
Population in Cuba: 11 489 082
Population in Havana: 2 686 000 (including the metropolitan areas)
Urbanization: urban population: 77.1% of total population (2015)
Major urban areas population: HAVANA (capital) 2.137 million (2015)
Population growth rate: -0.3% (2016 estimate)
Birth rate: 10.8 births / 1,000 population (2016 estimate)
Death rate: 8.6 deaths / 1,000 population (2016 estimate)
Age structure: 0-14 years: 16.7% (male 960,832 / female 905,904) 15-24 years: 12.44% (male 721,390 / female 669,960) 25-54 years: 44.95% (male 2,526,467 / female 2,498,882) 55-64 years: 11.27% (male 610,190 / female 649,656) 65 years and over: 14.64% (male 751,621 / female 885,093) (2016 estimate)
Median age: total: 41.1 years; male: 40 years, female: 42.2 years (2016 estimate)
Ethnic groups: white 64.1%, mestizo 26.6%, black 9.3% (2012 estimate)
Religions: nominally Roman Catholic 85%, Protestant, Jehovah's Witnesses, Jewish, Santeria. Note: prior to CASTRO assuming power
Government type: Unitary Marxist–Leninist Socialist state
Legal system: civil law system based on Spanish civil code
National anthem: Himno de Bayamo (La Bayamesa)
Known national hazards: the east coast is subject to hurricanes from August to November (in general, the country averages about one hurricane every other year); droughts are common
Major infectious diseases: The degree of risk(s): intermediatefood or waterborne diseases: bacterial diarrhea and hepatitis A vectorborne diseases: dengue fever. Note: active local transmission of Zika virus by Aedes species mosquitoes has been identified in this country (as of August 2016); it poses an important risk (a large number of cases possible) among US citizens if bitten by an infective mosquito; other less common ways to get Zika are through sex, via blood transfusion, or during pregnancy, in which the pregnant woman passes Zika virus to her fetus (2016)
Land use: agricultural land: 60.3%; arable land 33.8%; permanent crops 3.6%; permanent pasture 22.9%; forest: 27.3%; other: 12.4% (2011 estimate)
Agricultural products: sugar, tobacco, citrus, coffee, rice, potatoes, beans; livestock
Industries: petroleum, nickel, cobalt, pharmaceuticals, tobacco, construction, steel, cement, agricultural machinery, sugar
Export commodities: petroleum, nickel, medical products, sugar, tobacco, fish, citrus, coffee
Main export partners: Canada 17.7%, Venezuela 13.8%, China 13%, Netherlands 6.4%, Spain 5.4%, Belize 4.7% (2015)
Import commodities: petroleum, food, machinery and equipment, chemicals
Main import partners: Venezuela 31.8%, China 17.6%, Spain 10%, Brazil 4.8% (2015)
Navigate the countries in Central America and the Caribbean faster and easier while driving, use the interactive Google maps for your driving directions. The continuously updated database contains over 220 countries and territories digitally mapped, hundreds of millions of businesses and places around the world positioned on the map.
Get fresh GPS navigation, traffic, and transit information – no matter what part of Cuba, Havana, any other city and country in America, or the world you're in.
Do you like this Cuba information page? Please don't forget to share it with others! Thank you.