Venezuela Google maps and Driving Directions
Get free driving directions, Google maps, traffic information for Venezuela, and Caracas (GPS: 10 29 N 66 52 W), the capital city of the country located in (the) Northern South America, bordering the Caribbean Sea and the North Atlantic Ocean, between Colombia and Guyana.
Find any address in Caracas on the Google map of Venezuela (VE) with ease or calculate your up to date itinerary to and from Venezuela or its neighboring counties like Brazil, Colombia, Guyana.
Sightseeing and exploring in America starts here, thanks to Google because its Earth Engine combines a multi-petabyte catalog of updated satellite imagery and geospatial datasets with planetary-scale analysis capabilities. Wonder the world, use the satellite map function of the Google maps to explore or see differences on the Earth's surface, inland, or the surrounding areas of Venezuela.
Google Maps Venezuela
Lying on the southern shores of the Caribbean, Venezuela was the first of Spain's colonies to seek independence. Despite large oil reserves, many Venezuelans still live in poverty.
Venezuela is Andes Mountains and Maracaibo Lowlands in northwest; central plains (llanos); Guiana Highlands in southeast.
The map above fully covers Venezuela with its road routes from cities to towns, road intersections in any region, provinces, prefectures, also with free driving directions in Caracas or to the neighboring towns and countries. To look at the detailed map about a particular quarter in Caracas, please click on the area and zoom to the place you are interested in the Google maps of Venezuela (VE).
Be creative, use the extras of this Google map; This is a detailed, clear, zoomable, large road map of Venezuela with its administrative divisions; 23 states (estados, singular – estado), 1 capital district* (distrito capital), and 1 federal dependency** (dependencia federal); Amazonas, Anzoategui, Apure, Aragua, Barinas, Bolivar, Carabobo, Cojedes, Delta Amacuro, Dependencias Federales (Federal Dependencies)**, Distrito Capital (Capital District)*, Falcon, Guarico, Lara, Merida, Miranda, Monagas, Nueva Esparta, Portuguesa, Sucre, Tachira, Trujillo, Vargas, Yaracuy, Zulia. Note: the federal dependency consists of 11 federally controlled island groups with a total of 72 individual islands.
The interactive map above is also may be used as the satellite map of Venezuela, or as a reverse search map for finding an address from its GPS coordinates.
Venezuela, a third larger than Texas, occupies most of the northern coast of South America on the Caribbean Sea. It is bordered by Colombia to the west, Guyana to the east, and Brazil to the south. Mountain systems break Venezuela into four distinct areas: (1) the Maracaibo lowlands (2) the mountainous region in the north and northwest (3) the Orinoco basin, with the llanos (vast grass-covered plains) on its northern border and great forest areas in the south and southeast and (4) the Guiana Highlands, south of the Orinoco, accounting for nearly half the national territory.
Venezuela (area: 912 050 sq km / 352 144,33 sq mi), where the official language is Spanish, lying in America and using the currency; Venezuelan bolívar (VEF), since 2008, set their clock to UTC-4. That means they are 1 hour ahead of Washington DC during Standard Time in Caracas, the capital. Note to the time difference: N/A.
The climate in Venezuela; Tropical. Hot and humid. Uplands are cooler. Orinoco plains are alternately parched or flooded.
Geography in a nutshell; Andes Mountains and the Maracaibo lowlands in the northwest. Central grassy plains are drained by the Orinoco River system. Forested Guiana Highlands in the southeast.
Click here for more detailed information about Venezuela.
Driving directions Venezuela
The Google maps and Google Satellite maps of Venezuela above showing the country, located next to Brazil, Colombia, Guyana. For your further reference, the latitude and longitude coordinates of Venezuela are 8 00 N, 66 00 W , while the capital, Caracas found at 10 29 N 66 52 W.
When you are traveling around Venezuela, Caracas, or its other cities, use this routing tool, providing up to date route planning service free of charge.
Look no further; get accurate driving directions in Venezuela, South America, by filling the route planner form below.
Since Google acquired and introduced its digitalized maps in 2004, you're probably familiar with its base functions, like finding an address or driving directions to locations. Still, Google maps also accommodate bicyclists, pedestrians, and also public transportation with special directions and customizable routes.
---
About Venezuela and the capital, Caracas
| | |
| --- | --- |
| | |
| The national flag of Venezuela | Borderline map of Venezuela |
| | |
| Flag description: three equal horizontal bands of yellow (top), blue, and red with the coat of arms on the hoist side of the yellow band and an arc of eight white five-pointed stars centered in the blue band; the flag retains the three equal horizontal bands and three main colors of the banner of Gran Colombia, the South American republic that broke up in 1830; yellow is interpreted as standing for the riches of the land, blue for the courage of its people, and red for the bloodshed in attaining independence; the seven stars on the original flag represented the seven provinces in Venezuela that united in the war of independence; in 2006, then President Hugo CHAVEZ ordered an eighth star added to the star arc – a decision that sparked much controversy – to conform with the flag proclaimed by Simon Bolivar in 1827 and to represent the historic province of Guayana. | Border length: total: 5,267 km. Border countries (total: 3): Brazil 2,137 km, Colombia 2,341 km, Guyana 789 km. |
About Caracas
With a well-deserved reputation for violence and danger, Caracas is a daunting city for many travelers. It is still one of the more cosmopolitan cities in Latin America, with vibrant business, social, and cultural scenes. Architecturally, Caracas is one of the most modern and distinctive cities in Latin America. Concrete and plate glass reign supreme, much of it showing the bold forms and sleek lines of the Art Deco and postmodern architectural currents of the last half of the 20th century. Aficionados will enjoy the works of Carlos Raúl Villanueva. This local architect often integrated into his designs large kinetic sculptures by such renowned figures as Alexander Calder and Jesús Soto.
Caracas, and the international airport in Maiquetía, is the de facto hub for travel to and around Venezuela. If you plan on visiting several destinations in the country, you will be passing through Caracas as part of your itinerary. You can quickly get a good feel for the city and its major attractions in a couple of days.
Did you know about Venezuela?
Venezuela was once part of the Spanish province of New Granada. It then joined Greater Colombia from 1819 until independence in 1830.
Venezuela's Angel Falls is the world's tallest waterfall, with a total drop of 3210 ft (979 m).
When Italian explorer Amerigo Vespucci first visited the area in 1499, he named the land Venezuela, or "Little Venice." Today it is a wealthy country due to its immense oil and mineral reserves, and is very urbanized, with 90 percent of its people living in cities.
Venezuela has four distinctive topographical regions: the Guiana Highlands in the south; the plains or Llanos drained by the Orinoco River to the north; the Maracaibo lowlands; and two mountain ranges, separated by the Maracaibo lowlands, called the Venezuelan Highlands. Over two-thirds of Venezuela forested, providing a home for animals such as anacondas and boa constrictors, crocodiles, ocelots, jaguars, monkeys, bears, deer, sloths, armadillos, and anteaters. Venezuela's economy built on its oilfields located in the Maracaibo region, but it also has other important mineral reserves.
Agricultural activities include cattle ranching and the rearing of pigs, sheep, and goats while crops include sugar cane, bananas, oranges, maize, sorghum, rice, plantains, coffee, and cassava. There are also rich fishing grounds around the coast and off Venezuela's 72 islands.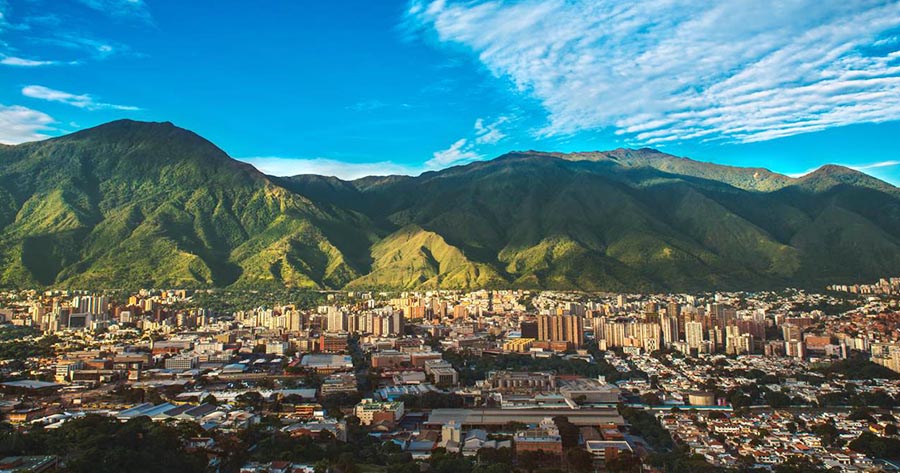 ---
Facts of Venezuela (VE)
Name conventional long form: Bolivarian Republic of Venezuela, conventional short form: Venezuela, local long form: Republica Bolivariana de Venezuela, local short form: Venezuela, etymology: native stilt-houses built on Lake Maracaibo reminded early explorers Alonso de OJEDA and Amerigo VESPUCCI in 1499 of buildings in Venice and so they named the region "Venezuola," which in Italian means "Little Venice"
Codes: ISO; VE, Internet; .ve
Capital city: Caracas
Language(s): Spanish (official language), numerous indigenous dialects
National holiday(s): Independence Day, 5 July (1811)
Motto: Dios y Federación
Currency: Venezuelan bolívar (VEF), since 2008
GPS: 8 00 N, 66 00 W, Caracas; 10 29 N 66 52 W
Location: Northern South America, bordering the Caribbean Sea and the North Atlantic Ocean, between Colombia and Guyana
Geography note: on major sea and air routes linking North and South America; Angel Falls in the Guiana Highlands is the world's highest waterfall
Land boundaries: Brazil 2,137 km, Colombia 2,341 km, Guyana 789 km, total: 5,267 km
Maritime boundaries: N/A
Coastline: 2,800 km
Area: total: 912,050 sq km; land: 882,050 sq km, water: 30,000 sq km (total 352 144,33 mi2), almost six times the size of Georgia; slightly more than twice the size of California.
Roadways: total: 96,189 km (2014)
Waterways: 7,100 km (Orinoco River (400 km) and Lake de Maracaibo navigable by oceangoing vessels) (2011)
Local time (capital): UTC-4, 1 hour ahead of Washington DC during Standard Time
Note to the local time: N/A
Population in Venezuela: 32 381 221
Population in Caracas: 3 242 000 (including the metropolitan areas)
Urbanization: urban population: 89% of total population (2015)
Major urban areas population: CARACAS (capital) 2.916 million; Maracaibo 2.196 million; Valencia 1.734 million; Maracay 1.166 million; Barquisimeto 1.039 million (2015)
Population growth rate: 1.28% (2016 estimate)
Birth rate: 19.2 births / 1,000 population (2016 estimate)
Death rate: 5.2 deaths / 1,000 population (2016 estimate)
Age structure: 0-14 years: 27.68% (male 4,385,415 / female 4,170,160) 15-24 years: 17.27% (male 2,709,359 / female 2,629,097) 25-54 years: 40.4% (male 6,182,604 / female 6,304,876) 55-64 years: 7.84% (male 1,162,400 / female 1,260,451) 65 years and over: 6.82% (male 952,627 / female 1,155,313) (2016 estimate)
Median age: total: 28 years; male: 27.3 years, female: 28.7 years (2016 estimate)
Ethnic groups: Spanish, Italian, Portuguese, Arab, German, African, indigenous people
Religions: nominally Roman Catholic 96%, Protestant 2%, other 2%
Government type: Federal presidential constitutional republic
Legal system: civil law system based on the Spanish civil code
National anthem: Gloria al Bravo Pueblo (Glory to the Brave People)
Known national hazards: subject to floods, rockslides, mudslides; periodic droughts
Major infectious diseases: The degree of risk(s): high food or waterborne diseases: bacterial diarrhea and hepatitis A vectorborne diseases: dengue fever and malaria. Note: active local transmission of Zika virus by Aedes species mosquitoes has been identified in this country (as of August 2016); it poses an important risk (a large number of cases possible) among US citizens if bitten by an infective mosquito; other less common ways to get Zika are through sex, via blood transfusion, or during pregnancy, in which the pregnant woman passes Zika virus to her fetus (2016)
Land use: agricultural land: 24.5%; arable land 3.1%; permanent crops 0.8%; permanent pasture 20.6%; forest: 52.1%; other: 23.4% (2011 estimate)
Agricultural products: corn, sorghum, sugarcane, rice, bananas, vegetables, coffee; beef, pork, milk, eggs; fish
Industries: agricultural products, livestock, raw materials, machinery and equipment, transport equipment, construction materials, medical equipment, pharmaceuticals, chemicals, iron and steel products, crude oil and petroleum products
Export commodities: petroleum and petroleum products, bauxite and aluminum, minerals, chemicals, agricultural products
Main export partners: US 26.6%, India 13.7%, China 11.7%, Cuba 6.4% (2015)
Import commodities: agricultural products, livestock, raw materials, machinery and equipment, transport equipment, construction materials, medical equipment, petroleum products, pharmaceuticals, chemicals, iron and steel products
Main import partners: US 18.4%, China 15.3%, Brazil 9.7%, Colombia 5.9%, Mexico 4.2% (2015)
Navigate the countries in South America faster and easier while driving, use the interactive Google maps for your driving directions. The continuously updated database contains over 220 countries and territories digitally mapped, hundreds of millions of businesses and places around the world positioned on the map.
Get fresh GPS navigation, traffic, and transit information – no matter what part of Venezuela, Caracas, any other city and country in America, or the world you're in.
Do you like this Venezuela information page? Please don't forget to share it with others! Thank you.