Costa Rica Google maps and Driving Directions
Get free driving directions, Google maps, traffic information for Costa Rica, and San José (GPS: 9 56 N 84 05 W), the capital city of the country located in (the) Central America, bordering both the Caribbean Sea and the North Pacific Ocean, between Nicaragua and Panama.
Find any address in San José on the Google map of Costa Rica (CR) with ease or calculate your up to date itinerary to and from Costa Rica or its neighboring counties like Nicaragua, Panama.
Sightseeing and exploring in America starts here, thanks to Google because its Earth Engine combines a multi-petabyte catalog of updated satellite imagery and geospatial datasets with planetary-scale analysis capabilities. Wonder the world, use the satellite map function of the Google maps to explore or see differences on the Earth's surface, inland, or the surrounding areas of Costa Rica.
Google Maps Costa Rica
Costa Rica, Central America's most stable country, is rich in pristine scenery and exotic wildlife. Its neutrality in foreign affairs is long-standing, but it has strong ties with the US.
Costa Rica is coastal plains separated by rugged mountains including over 100 volcanic cones, of which several are major active volcanoes.
The map above fully covers Costa Rica with its road routes from cities to towns, road intersections in any region, provinces, prefectures, also with free driving directions in San José or to the neighboring towns and countries. To look at the detailed map about a particular quarter in San Jose, please click on the area and zoom to the place you are interested in the Google maps of Costa Rica (CR).
Be creative, use the extras of this Google map; This is a detailed, clear, zoomable, large road map of Costa Rica with its administrative divisions; 7 provinces (provincias, singular – provincia); Alajuela, Cartago, Guanacaste, Heredia, Limon, Puntarenas, San Jose.
The interactive map above is also may be used as the satellite map of Costa Rica, or as a reverse search map for finding an address from its GPS coordinates.
This Central American country lies between Nicaragua to the north and Panama to the south. Its area slightly exceeds that of Vermont and New Hampshire combined. It has a narrow Pacific coastal region. Cocos Island (10 sq mi 26 sq km), about 300 mi (483 km) off the Pacific Coast, is under Costa Rican sovereignty.
Costa Rica (area: 51 100 sq km / 19 729,81 sq mi), where the official language is Spanish, lying in America and using the currency; Costa Rican colón (CRC), since 1896, set their clock to UTC-6. That means they are 1 hour behind Washington DC during Standard Time in San Jose, the capital. Note to the time difference: N/A.
The climate in Costa Rica; Hot and humid in coastal regions. Temperate central uplands. High annual rainfall.
Geography in a nutshell; Coastal plains of swamp and savanna rise to a fertile central plateau, which leads to a mountain range with active volcanic peaks.
Click here for more detailed information about Costa Rica.
Driving directions Costa Rica
The Google maps and Google Satellite maps of Costa Rica above showing the country, located next to Nicaragua, Panama. For your further reference, the latitude and longitude coordinates of Costa Rica are 10 00 N, 84 00 W , while the capital, San Jose found at 9 56 N 84 05 W.
When you are traveling around Costa Rica, San Jose, or its other cities, use this routing tool, providing up to date route planning service free of charge.
Look no further; get accurate driving directions in Costa Rica, Central America and the Caribbean, by filling the route planner form below.
Since Google acquired and introduced its digitalized maps in 2004, you're probably familiar with its base functions, like finding an address or driving directions to locations. Still, Google maps also accommodate bicyclists, pedestrians, and also public transportation with special directions and customizable routes.
---
About Costa Rica and the capital, San José
| | |
| --- | --- |
| | |
| The national flag of Costa Rica | Borderline map of Costa Rica |
| | |
| Flag description: five horizontal bands of blue (top), white, red (double width), white, and blue, with the coat of arms in a white elliptical disk placed toward the hoist side of the red band; Costa Rica retained the earlier blue-white-blue flag of Central America until 1848 when, in response to revolutionary activity in Europe, it was decided to incorporate the French colors into the national flag and a central red stripe was added; today the blue color is said to stand for the sky, opportunity, and perseverance, white denotes peace, happiness, and wisdom, while red represents the bloodshed for freedom, as well as the generosity and vibrancy of the people. Note: somewhat resembles the flag of North Korea; similar to the flag of Thailand but with the blue and red colors reversed. | Border length: total: 661 km. Border countries (total: 2): Nicaragua 313 km, Panama 348 km. |
About San José
To most, San José seems little more than a chaotic jumble of cars, buses, buildings, and people. The central downtown section exists in a near-constant state of gridlock. Antiquated buses spewing fumes and a lack of emission controls have created a brown cloud over the city. Sidewalks are poorly maintained and claustrophobic, and street crime is a severe problem. Most visitors seek the sanctuary of their hotel room and the first chance to escape the city.
Still, things have been improving. Mayor Johnny Araya (who was up for reelection in Dec 2010) has led ambitious and controversial campaigns to rid the sidewalks of impromptu and illegal vendors, to reduce the clutter of billboards and overhead signs, and to bury a good share of the city's electrical and phone cables. Moreover, as the country's only major city, San José offers a varied and active restaurant and nightlife scenes, several museums and galleries worth visiting, and a steady stream of theater, concerts, and other cultural events that you won't find elsewhere in the country.
At 1,125m (3,690 ft.) above sea level, San José enjoys springlike temperatures year-round. The mild climate, along with views of lush green mountainsides, makes San José a pleasant city to visit. And if the city's offerings aren't enough for you, you'll find that it's straightforward to get out into the countryside. Within an hour or two, you can climb a volcano, go white-water rafting, hike through a cloud forest, and stroll through a butterfly garden – among many other activities.
Did you know about Costa Rica?
Costa Rica was a signatory to the Declaration of Independence from Spain in 1821, joining the United Provinces of Central America.
Costa Rica's 1949 constitution bans a national army.
One of the richest countries in the region, Costa Rica was the first country in the region to grow coffee, which today is one of its main exports, as well as bananas.
Costa Rica is a small country bounded by Nicaragua to the north and Panama to the south. Three mountain ranges, including some active volcanoes, form the backbone of the land. The Meseta Central is a fertile plateau on the western side of the country where about half the population of three million people are concentrated. Agricultural activities – coffee, bananas, sugar, coconuts, and cattle ranching – along with some new manufacturing industries are the mainstay of the economy.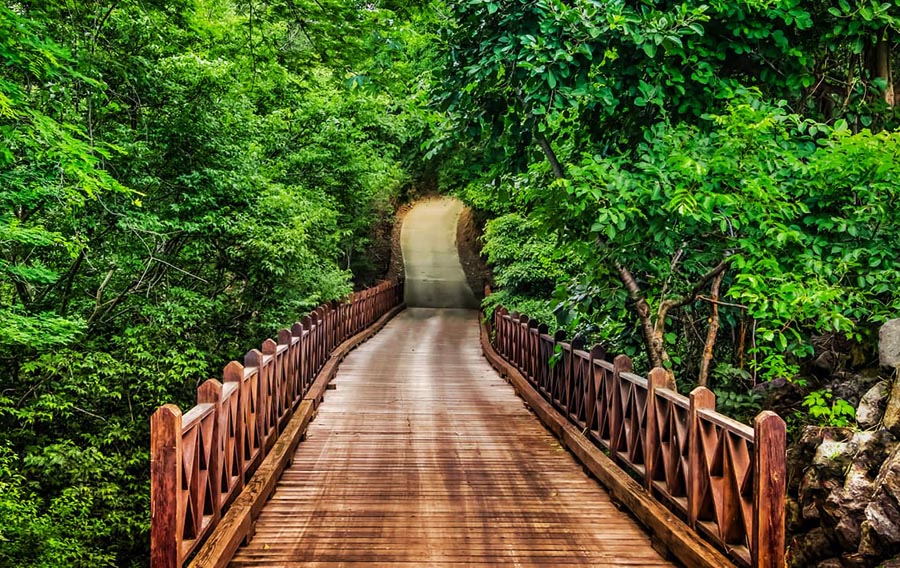 ---
Facts of Costa Rica (CR)
Name conventional long form: Republic of Costa Rica, conventional short form: Costa Rica, local long form: Republica de Costa Rica, local short form: Costa Rica, etymology: the name means "rich coast" in Spanish and was first applied in the early colonial period of the 16th century
Codes: ISO; CR, Internet; .cr
Capital city: San José
Language(s): Spanish (official language), English
National holiday(s): Independence Day, 15 September (1821)
Motto: Vivan siempre el trabajo y la paz!
Currency: Costa Rican colón (CRC), since 1896
GPS: 10 00 N, 84 00 W, San José; 9 56 N 84 05 W
Location: Central America, bordering both the Caribbean Sea and the North Pacific Ocean, between Nicaragua and Panama
Geography note: four volcanoes, two of them active, rise near the capital of San Jose in the center of the country; one of the volcanoes, Irazu, erupted destructively in 1963-65
Land boundaries: Nicaragua 313 km, Panama 348 km, total: 661 km
Maritime boundaries: N/A
Coastline: 1,290 km
Area: total: 51,100 sq km; land: 51,060 sq km, water: 40 sq km (total 19 729,81 mi2), slightly smaller than West Virginia.
Roadways: total: 39,018 km, paved: 10,133 km, unpaved: 28,885 km (2010)
Waterways: 730 km (seasonally navigable by small craft) (2011)
Local time (capital): UTC-6, 1 hour behind Washington DC during Standard Time
Note to the local time: N/A
Population in Costa Rica: 4 953 199
Population in San Jose: 1 527 300 (including the metropolitan areas)
Urbanization: urban population: 76.8% of total population (2015)
Major urban areas population: SAN JOSE (capital) 1.17 million (2015)
Population growth rate: 1.19% (2016 estimate)
Birth rate: 15.7 births / 1,000 population (2016 estimate)
Death rate: 4.6 deaths / 1,000 population (2016 estimate)
Age structure: 0-14 years: 22.82% (male 568,738 / female 543,312) 15-24 years: 16.75% (male 416,046 / female 399,931) 25-54 years: 43.99% (male 1,078,000 / female 1,065,327) 55-64 years: 8.9% (male 211,670 / female 222,183) 65 years and over: 7.54% (male 169,646 / female 197,690) (2016 estimate)
Median age: total: 30.9 years; male: 30.4 years, female: 31.3 years (2016 estimate)
Ethnic groups: white or mestizo 83.6%, mulato 6.7%, indigenous 2.4%, black of African descent 1.1%, other 1.1%, none 2.9%, unspecified 2.2% (2011 estimate)
Religions: Roman Catholic 76.3%, Evangelical 13.7%, Jehovah's Witness 1.3%, other Protestant 0.7%, other 4.8%, none 3.2%
Government type: Unitary presidential constitutional republic
Legal system: civil law system based on Spanish civil code; judicial review of legislative acts in the Supreme Court
National anthem: Noble patria, tu hermosa bandera (Noble motherland, your beautiful flag)
Known national hazards: occasional earthquakes, hurricanes along Atlantic coast; frequent flooding of lowlands at onset of rainy season and landslides; active volcanoesvolcanism: Arenal (elev. 1,670 m), which erupted in 2010, is the most active volcano in Costa Rica; a 1968 eruption destroyed the town of Tabacon; Irazu (elev. 3,432 m), situated just east of San Jose, has the potential to spew ash over the capital city as it did between 1963 and 1965; other historically active volcanoes include Miravalles, Poas, Rincon de la Vieja, and Turrialba
Major infectious diseases: The degree of risk(s): intermediatefood or waterborne diseases: bacterial diarrheavectorborne diseases: dengue fever. Note: active local transmission of Zika virus by Aedes species mosquitoes has been identified in this country (as of August 2016); it poses an important risk (a large number of cases possible) among US citizens if bitten by an infective mosquito; other less common ways to get Zika are through sex, via blood transfusion, or during pregnancy, in which the pregnant woman passes Zika virus to her fetus (2016)
Land use: agricultural land: 37.1%; arable land 4.9%; permanent crops 6.7%; permanent pasture 25.5%; forest: 51.5%; other: 11.4% (2011 estimate)
Agricultural products: bananas, pineapples, coffee, melons, ornamental plants, sugar, corn, rice, beans, potatoes; beef, poultry, dairy; timber
Industries: medical equipment, food processing, textiles and clothing, construction materials, fertilizer, plastic products
Export commodities: bananas, pineapples, coffee, melons, ornamental plants, sugar; beef; seafood; electronic components, medical equipment
Main export partners: US 33.6%, China 6.2%, Mexico 4.6%, Nicaragua 4.3%, Netherlands 4.2%, Guatemala 4% (2015)
Import commodities: raw materials, consumer goods, capital equipment, petroleum, construction materials
Main import partners: US 45.3%, China 9.8%, Mexico 7.1% (2015)
Navigate the countries in Central America and the Caribbean faster and easier while driving, use the interactive Google maps for your driving directions. The continuously updated database contains over 220 countries and territories digitally mapped, hundreds of millions of businesses and places around the world positioned on the map.
Get fresh GPS navigation, traffic, and transit information – no matter what part of Costa Rica, San José, any other city and country in America, or the world you're in.
Do you like this Costa Rica information page? Please don't forget to share it with others! Thank you.