Sweden Google maps and Driving Directions
Get free driving directions, Google maps, traffic information for Sweden, and Stockholm (GPS: 59 20 N 18 03 E), the capital city of the country located in (the) Northern Europe, bordering the Baltic Sea, Gulf of Bothnia, Kattegat, and Skagerrak, between Finland and Norway.
Find any address in Stockholm on the Google map of Sweden (SE) with ease or calculate your up to date itinerary to and from Sweden or its neighboring counties like Denmark, Finland, Norway.
Sightseeing and exploring in Europe starts here, thanks to Google because its Earth Engine combines a multi-petabyte catalog of updated satellite imagery and geospatial datasets with planetary-scale analysis capabilities. Wonder the world, use the satellite map function of the Google maps to explore or see differences on the Earth's surface, inland, or the surrounding areas of Sweden.
Google Maps Sweden
The largest Scandinavian country by both population and area, Sweden has one of the world's most extensive welfare systems and is among the leading proponents of equal rights for women.
Sweden is mostly flat or gently rolling lowlands; mountains in west.
The map above fully covers Sweden with its road routes from cities to towns, road intersections in any region, provinces, prefectures, also with free driving directions in Stockholm or to the neighboring towns and countries. To look at the detailed map about a particular quarter in Stockholn, please click on the area and zoom to the place you are interested in the Google maps of Sweden (SE).
Be creative, use the extras of this Google map; This is a detailed, clear, zoomable, large road map of Sweden with its administrative divisions; 21 counties (lan, singular and plural); Blekinge, Dalarna, Gavleborg, Gotland, Halland, Jamtland, Jonkoping, Kalmar, Kronoberg, Norrbotten, Orebro, Ostergotland, Skane, Sodermanland, Stockholm, Uppsala, Varmland, Vasterbotten, Vasternorrland, Vastmanland, Vastra Gotaland.
The interactive map above is also may be used as the satellite map of Sweden, or as a reverse search map for finding an address from its GPS coordinates.
Sweden, which occupies the eastern part of the Scandinavian Peninsula, is the fourth-largest country in Europe and is one-tenth larger than California. The country slopes eastward and southward from the Kjólen Mountains along the Norwegian border, where the peak elevation is Kebnekaise at 6,965 ft (2,123 m) in Lapland. In the north are mountains and many lakes. To the south and east are central lowlands and south of them are fertile areas of forest, valley, and plain. Along Sweden's rocky coast, chopped up by bays and inlets, are many islands, the largest of which are Gotland and Öland.
Sweden (area: 450 295 sq km / 173 859,80 sq mi), where the official language is Swedish, lying in Europe and using the currency; Swedish krona (SEK), since 1873, set their clock to UTC+1. That means they are 6 hours ahead of Washington DC during Standard Time in Stockholn, the capital. Note to the time difference: Daylight saving time: +1hr begins last Sunday in March; ends last Sunday in October.
The climate in Sweden; Southern coasts warmed by Gulf Stream. Northern areas have more extreme continental climate.
Geography in a nutshell; Heavily forested, with many lakes. Northern plateau extends beyond the Arctic Circle. Southern lowlands are widely cultivated.
Click here for more detailed information about Sweden.
Driving directions Sweden
The Google maps and Google Satellite maps of Sweden above showing the country, located next to Denmark, Finland, Norway. For your further reference, the latitude and longitude coordinates of Sweden are 62 00 N, 15 00 E , while the capital, Stockholn found at 59 20 N 18 03 E.
When you are traveling around Sweden, Stockholn, or its other cities, use this routing tool, providing up to date route planning service free of charge.
Look no further; get accurate driving directions in Sweden, Europe, by filling the route planner form below.
Since Google acquired and introduced its digitalized maps in 2004, you're probably familiar with its base functions, like finding an address or driving directions to locations. Still, Google maps also accommodate bicyclists, pedestrians, and also public transportation with special directions and customizable routes.
---
About Sweden and the capital, Stockholm
| | |
| --- | --- |
| | |
| The national flag of Sweden | Borderline map of Sweden |
| | |
| Flag description: blue with a golden yellow cross extending to the edges of the flag; the vertical part of the cross is shifted to the hoist side in the style of the Dannebrog (Danish flag); the colors reflect those of the Swedish coat of arms – three gold crowns on a blue field. | Border length: total: 2,211 km. Border countries (total: 2): Finland 545 km, Norway 1,666 km. |
About Stockholm
Stockholm is built on 14 islands in Lake Mälaren, marking the beginning of an archipelago of 24,000 islands, skerries, and islets that stretches to the Baltic Sea. It's a city of bridges and islands, towers and steeples, cobblestone squares and broad boulevards, Renaissance splendor, and steel-and-glass skyscrapers. The medieval walls of Gamla Stan (Old Town) no longer stand, but the winding streets preserved. You can even go fishing in downtown waterways, thanks to a long-ago decree from Queen Christina.
Once an ethnically homogeneous society, Stockholm has experienced a vast wave of immigration in the past several years. More than 10% of Sweden's residents are immigrants or children of immigrant parents, with most coming from other Scandinavian countries. Because of Sweden's firm stance on human rights, the country has also become a major destination for political and social refugees from Africa, the Middle East, and the former Yugoslavia as well.
An essential aspect of Stockholm today is a growing interest in cultural activities. Over the past quarter of a century, attendance at live concerts has grown, book sales are up, and more and more people are visiting museums.
Did you know about Sweden?
Until 1523, when King Gustav Vasa laid the foundation of Sweden as a separate state, the country was under the influence of Denmark.
Sweden has maintained a position of armed neutrality since 1815.
Each winter, the Torne River's frozen waters are used to make an ice hotel, which then melts during the spring thaw.
The Kingdom of Sweden occupies the larger and longer eastern section of the Scandinavian Peninsula and is a constitutional monarchy. It bordered by Norway in the west and northwest, and Finland in the northeast and its eastern and southern boundary formed by its long coastline. Apart from the larger inhabited islands of Oland and Gotland, many thousands of small islets line Sweden's western coast, particularly in the region of Stockholm, the country's capital.
Sweden is less mountainous than neighboring Norway although the great mountain ranges of the Scandinavian Peninsula extend across much of Sweden's western boundary and glaciers occur at higher levels. East of the mountains there is a plateau region with the land sloping gradually eastwards towards the sea. The southern part of Sweden consists mainly of lowland plains interrupted only by an isolated upland region, called the Smaland Highlands. The far north of Sweden lies within the Arctic Circle and contains the Swedish part of Lapland.
Among the most striking features of the Swedish landscape are the 96,000 lakes which are a relic of the last Ice Age. Lake Vánern is the most extensive and covers an area of 5,543 square kilometers or 2,140 square miles. The country also crossed by numerous rivers and streams, some of which provide hydroelectric power — about 60 percent of the country covered by natural forest. A large proportion of Sweden's forests and lakes have been affected by acid rain, and environmental concerns are high on the agenda of the Swedish government. Most people live in southern Sweden with the great majority in cities, towns or urban areas.
Most agricultural production is for the home market, and the important marine fishing industry also supplies mainly the domestic market. The country makes full use of its extensive forests to produce large quantities of cut timber for export and as a basis for wood pulp and paper industries. Iron ore, uranium silver, lead, copper, gold, and zinc are among the minerals that extracted, but Sweden lacks oil or coal reserves and is particularly dependent upon imported petroleum. It has, however, fully exploited its potential for hydroelectric power, which supplies about 47 percent of the country's electricity needs. A wide variety of manufactured goods produced from paper to stainless steel.
Sweden attracts many visitors each year who come to enjoy its beautiful scenery, opportunities for outdoor pursuits, such as sailing, fishing, cycling and walking, and many sites of historical and cultural interest. A wealthy country, Sweden has excellent road, rail, canal and ferry networks which make it easy for visitors to travel to even the more remote parts of the country.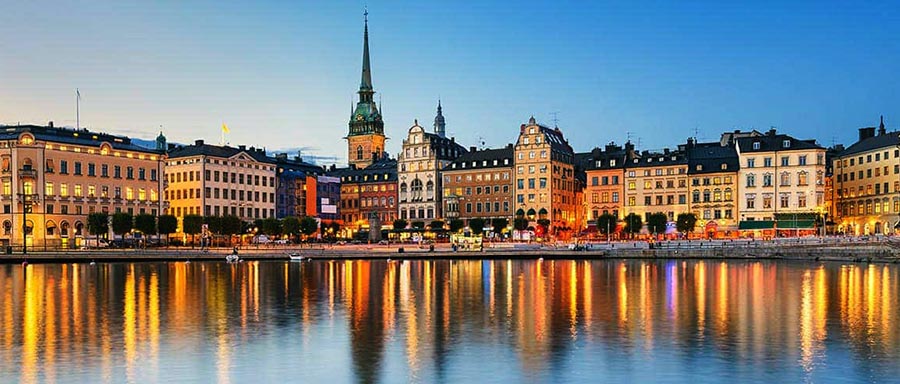 ---
Facts of Sweden (SE)
Name conventional long form: Kingdom of Sweden, conventional short form: Sweden, local long form: Konungariket Sverige, local short form: Sverige, etymology: name ultimately derives from the North Germanic Svear tribe, which inhabited central Sweden and is first mentioned in the first centuries A.D.
Codes: ISO; SE, Internet; .se
Capital city: Stockholm
Language(s): Swedish (official language), small Sami- and Finnish-speaking minorities
National holiday(s): National Day, 6 June (1983)
Motto: För Sverige i tiden (For Sweden, With the Times)
Currency: Swedish krona (SEK), since 1873
GPS: 62 00 N, 15 00 E, Stockholm; 59 20 N 18 03 E
Location: Northern Europe, bordering the Baltic Sea, Gulf of Bothnia, Kattegat, and Skagerrak, between Finland and Norway
Geography note: strategic location along Danish Straits linking Baltic and North Seas
Land boundaries: Finland 545 km, Norway 1,666 km, total: 2,211 km
Maritime boundaries: N/A
Coastline: 3,218 km
Area: total: 450,295 sq km; land: 410,335 sq km, water: 39,960 sq km (total 173 859,80 mi2), slightly larger than California.
Roadways: total: 579,564 km (includes 1,913 km of expressways), paved: 135,444 km, unpaved: 444,412 km, note: includes 104,705 km of state roads, 433,034 km of private roads, and 41,825 km of municipal roads (2010)
Waterways: 2,052 km (2010)
Local time (capital): UTC+1, 6 hours ahead of Washington DC during Standard Time
Note to the local time: Daylight saving time: +1hr begins last Sunday in March; ends last Sunday in October
Population in Sweden: 9 982 709
Population in Stockholn: 1 385 000 (including the metropolitan areas)
Urbanization: urban population: 85.8% of total population (2015)
Major urban areas population: STOCKHOLM (capital) 1.486 million (2015)
Population growth rate: 0.81% (2016 estimate)
Birth rate: 12 births / 1,000 population (2016 estimate)
Death rate: 9.4 deaths / 1,000 population (2016 estimate)
Age structure: 0-14 years: 17.28% (male 878,463 / female 829,266) 15-24 years: 11.63% (male 591,495 / female 557,229) 25-54 years: 39.38% (male 1,976,752 / female 1,914,623) 55-64 years: 11.58% (male 574,175 / female 570,424) 65 years and over: 20.12% (male 915,861 / female 1,072,316) (2016 estimate)
Median age: total: 41.2 years; male: 40.2 years, female: 42.2 years (2016 estimate)
Ethnic groups: indigenous population: Swedes with Finnish and Sami minorities; foreign-born or first-generation immigrants: Finns, Yugoslavs, Danes, Norwegians, Greeks, Turks
Religions: Lutheran 87%, other (includes Roman Catholic, Orthodox, Baptist, Muslim, Jewish, and Buddhist) 13%
Government type: Unitary parliamentary constitutional monarchy
Legal system: civil law system influenced by Roman-Germanic law and customary law
National anthem: Du gamla, du fria (Thou ancient, thou free)
Known national hazards: ice floes in the surrounding waters, especially in the Gulf of Bothnia, can interfere with maritime traffic
Major infectious diseases: N/A
Land use: agricultural land: 7.5%; arable land 6.4%; permanent crops 0%; permanent pasture 1.1%; forest: 68.7%; other: 23.8% (2011 estimate)
Agricultural products: barley, wheat, sugar beets; meat, milk
Industries: iron and steel, precision equipment (bearings, radio and telephone parts, armaments), wood pulp and paper products, processed foods, motor vehicles
Export commodities: machinery 35%, motor vehicles, paper products, pulp and wood, iron and steel products, chemicals (2012 estimate)
Main export partners: Norway 10.3%, Germany 10.3%, US 7.7%, UK 7.2%, Denmark 6.8%, Finland 6.7%, Netherlands 5.2%, Belgium 4.4%, France 4.2% (2015)
Import commodities: machinery, petroleum and petroleum products, chemicals, motor vehicles, iron and steel; foodstuffs, clothing
Main import partners: Germany 17.9%, Netherlands 8.1%, Norway 7.8%, Denmark 7.7%, China 6%, UK 5.5%, Finland 4.6%, France 4.3%, Belgium 4.3% (2015)
Navigate the countries in Europe faster and easier while driving, use the interactive Google maps for your driving directions. The continuously updated database contains over 220 countries and territories digitally mapped, hundreds of millions of businesses and places around the world positioned on the map.
Get fresh GPS navigation, traffic, and transit information – no matter what part of Sweden, Stockholm, any other city and country in Europe, or the world you're in.
Do you like this Sweden information page? Please don't forget to share it with others! Thank you.