Denmark Google maps and Driving Directions
Get free driving directions, Google maps, traffic information for Denmark, and Copenhagen (GPS: 55 40 N 12 35 E), the capital city of the country which located in (the) Northern Europe, bordering the Baltic Sea and the North Sea, on a peninsula north of Germany (Jutland); also includes several major islands (Sjaelland, Fyn, and Bornholm).
Find any address in Copenhagen on the Google map of Denmark (DK) with ease or calculate your up to date itinerary to and from Denmark or its neighboring counties like Germany, Sweden.
Sightseeing and exploring in Europe starts here thanks to Google because its Earth Engine combines a multi-petabyte catalog of updated satellite imagery and geospatial datasets with planetary-scale analysis capabilities. Wonder the world, use the satellite map function of the Google maps to explore or see differences on the Earth's surface, inland, or the surrounding areas of Denmark.
Google Maps Denmark
Denmark occupies the Jutland peninsula and over 400 islands in southern Scandinavia. Greenland and the Faeroe Islands are self-governing associated territories.
Denmark is low and flat to gently rolling plains.
The map above fully covers Denmark with its road routes from cities to towns, road intersections in any regions, provinces, prefectures, also with free driving directions in Copenhagen or to the neighboring cities and countries. To look at the detailed map about a particular quarter in Copenhagen, please click on the area and zoom to the place you are interested in the Google maps of Denmark (DK).
Be creative, use the extras of this Google map; This is a detailed, clear, zoomable, large road map of Denmark with its administrative divisions; metropolitan Denmark – 5 regions (regioner, singular – region); Hovedstaden (Capital), Midtjylland (Central Jutland), Nordjylland (North Jutland), Sjaelland (Zealand), Syddanmark (Southern Denmark). Note: an extensive local government reform merged 271 municipalities into 98 and 13 counties into five regions, effective 1 January 2007.
The interactive map above is also may be used as the satellite map of Denmark, or as a reverse search map for finding an address from its GPS coordinates.
Smallest of the Scandinavian countries (half the size of Maine), Denmark occupies the Jutland peninsula, a lowland area. The country also consists of several islands in the Baltic Sea the two largest are Sjaelland, the site of Copenhagen, and Fyn.
Denmark (area: 2 210 570 sq km / 853 505,50 sq mi), where the official language is Danish, lying in Europe and using the currency; Danish krone (DKK), since 1875, set their clock to UTC+1. That means they are 6 hours ahead of Washington DC during Standard Time in Copenhagen, the capital. Note to the time difference: Daylight saving time: +1hr begins last Sunday in March; ends last Sunday in October. Note: applies to continental Denmark only not to its North Atlantic components.
The climate in Denmark; Damp, temperate climate with mild summers and cold, wet winters. Rainfall is moderate.
Geography in a nutshell; Fertile farmland covers two-thirds of the terrain, which is among the flattest in the world. About 100 islands are inhabited.
Click here for more detailed information about Denmark.
Driving directions Denmark
The Google maps and Google Satellite maps of Denmark above showing the country, located next to Germany, Sweden. For your further reference, the latitude and longitude coordinates of Denmark are 56 00 N, 10 00 E while the capital, Copenhagen found at 55 40 N 12 35 E.
When you are traveling around Denmark, Copenhagen or its other cities, use this routing tool providing up to date route planning service for free of charge.
Look no further, get accurate driving directions in Denmark, Europe by filling the route planner form below.
Since Google acquired and introduced its digitalized maps in 2004, you're probably familiar with its base functions, like finding an address or driving directions to locations, but Google maps also accommodate bicyclists, pedestrians, and also public transportation with special directions and customizable routes.
---
About Denmark and the capital, Copenhagen
| | |
| --- | --- |
| | |
| The national flag of Denmark | Borderline map of Denmark |
| | |
| Flag description: red with a white cross that extends to the edges of the flag; the vertical part of the cross is shifted to the hoist side; the banner is referred to as the Dannebrog (Danish flag) and is one of the oldest national flags in the world; traditions as to the origin of the flag design vary, but the best known is a legend that the banner fell from the sky during an early-13th century battle; caught up by the Danish king before it ever touched the earth, this heavenly talisman inspired the royal army to victory; in actuality, the flag may derive from a crusade banner or ensign. Note: the shifted cross design element was subsequently adopted by the other Nordic countries of Finland, Iceland, Norway, and Sweden. | Border length: total: 140 km. Border countries (total: 1): Germany 140 km. |
Did you know about Denmark?
Denmark is Europe's oldest kingdom, dating backto the 10th century. The present queen rules under a constitution granted in 1953.
The Oresund bridge between Denmark and Sweden is the longest combined road-and-rail bridge in Europe.
The most southerly and smallest of the countries of Scandinavia, the Kingdom of Denmark is a constitutional monarchy in northern Europe. It comprises most of the Jutland Peninsula, which protrudes northwards from the North German Plain, and more than 500 islands, 100 of which are inhabited. The North Sea lies to the west of the Jutland Peninsula. The Faroe Islands in the Atlantic Ocean and Greenland off the coast of Canada are self-governing, dependent territories of Denmark.
Most of Denmark, including the islands, is low-lying with small hills found only in the central part of Jutland. Several fjords penetrate eastern Jutland from the Kattegat, and the most extensive of these, the Limfjorden, cuts right across the northernmost part of the peninsula, broadening in the west to form an extensive series of waterways. The western seaboard of Jutland is low with many dunes and sandbars cutting off lagoons and sandy beaches. The country intensively cultivated, so very little natural vegetation or wild areas remain.
Well-developed road, causeway, and ferry systems link the Danish islands to one another and the mainland and connect with the railway network. The Danish capital and largest city are Copenhagen, situated mainly on the island of Sjaelland but extending onto the nearby island of Amager. Denmark is a wealthy country, and the standard of living is high. About 85 percent of people live in the cities, towns or urban areas.
Agriculture has always been important to the Danish economy. The country produces a range of products for export, particularly bacon, butter, cheese, and pork. Danish beer and lager are famous throughout the world and are significant export products and important contributors to the economy. Denmark also has a large fishing fleet operating in international waters, catching mainly cod, herring and salmon. There are offshore reserves of oil and natural gas and land deposits of kaolin, lignite and some other minerals — most of the country's electricity generated from coal or oil-fired power stations. In addition to its food processing and brewing industries, Denmark also produces a wide range of products from iron and steel to porcelain. Denmark attracts many foreign tourists each year who visit not only the capital, Copenhagen but also the islands and the Jutland Peninsula.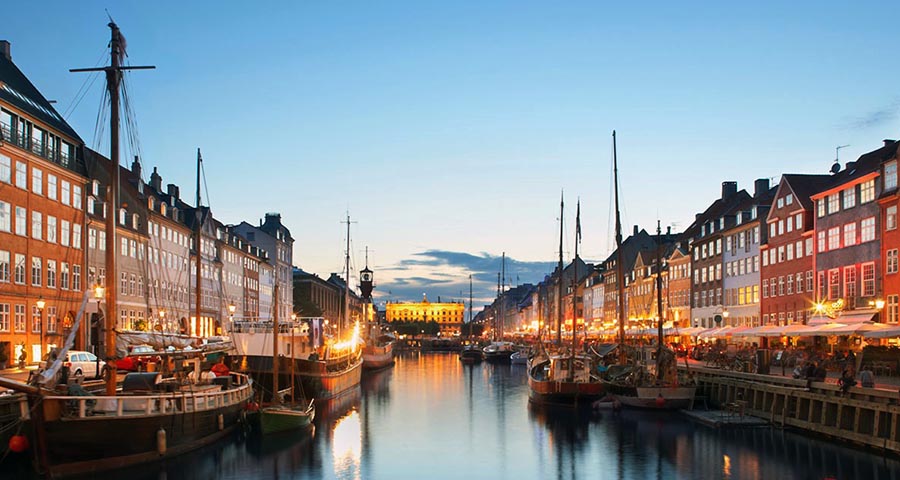 ---
Facts of Denmark (DK)
Name conventional long form: Kingdom of Denmark, conventional short form: Denmark, local long form: Kongeriget Danmark, local short form: Danmark, etymology: the name derives from the words "Dane(s)" and "mark"; the latter referring to a march (borderland) or forest
Codes: ISO; DK, Internet; .dk
Capital city: Copenhagen
Language(s): Danish, Faroese, Greenlandic (an Inuit dialect), German (small minority). Note: English is the predominant second language
National holiday(s): none designated; Constitution Day, 5 June (1849) is generally viewed as National Day
Motto: There is a lovely country
Currency: Danish krone (DKK), since 1875
GPS: 56 00 N, 10 00 E, Copenhagen; 55 40 N 12 35 E
Location: Northern Europe, bordering the Baltic Sea and the North Sea, on a peninsula north of Germany (Jutland); also includes several major islands (Sjaelland, Fyn, and Bornholm)
Geography note: controls Danish Straits (Skagerrak and Kattegat) linking Baltic and North Seas; about one-quarter of the population lives in greater Copenhagen
Land boundaries: Germany 140 km, total: 140 km
Maritime boundaries: N/A
Coastline: 7,314 km
Area: total: 43,094 sq km; land: 42,434 sq km, water: 660 sq km (total 853 505,50 mi2), slightly less than twice the size of Massachusetts.
Roadways: total: 74,497 km, paved: 74,497 km (includes 1,188 km of expressways) (2016)
Waterways: 400 km (2010)
Local time (capital): UTC+1, 6 hours ahead of Washington DC during Standard Time
Note to the local time: Daylight saving time: +1hr begins last Sunday in March; ends last Sunday in October. Note: applies to continental Denmark only not to its North Atlantic components
Population in Denmark: 5 754 356
Population in Copenhagen: 1 094 400 (including the metropolitan areas)
Urbanization: urban population: 87.7% of total population (2015)
Major urban areas population: COPENHAGEN (capital) 1.268 million (2015)
Population growth rate: 0.22% (2016 estimate)
Birth rate: 10.4 births / 1,000 population (2016 estimate)
Death rate: 10.3 deaths / 1,000 population (2016 estimate)
Age structure: 0-14 years: 16.58% (male 475,763 / female 451,557) 15-24 years: 13.12% (male 374,806 / female 359,344) 25-54 years: 38.88% (male 1,082,404 / female 1,092,672) 55-64 years: 12.45% (male 346,371 / female 350,093) 65 years and over: 18.96% (male 475,330 / female 585,445) (2016 estimate)
Median age: total: 42 years; male: 41.1 years, female: 43 years (2016 estimate)
Ethnic groups: Scandinavian, Inuit, Faroese, German, Turkish, Iranian, Somali
Religions: Evangelical Lutheran (official) 80%, Muslim 4%, other (denominations of less than 1% each, includes Roman Catholic, Jehovah's Witness, Serbian Orthodox Christian, Jewish, Baptist, and Buddhist) 16% (2012 estimate)
Government type: Unitary parliamentary constitutional monarchy
Legal system: civil law; judicial review of legislative acts
National anthem: King Christian stood by the lofty mast
Known national hazards: flooding is a threat in some areas of the country (e.g., parts of Jutland, along the southern coast of the island of Lolland) that are protected from the sea by a system of dikes
Major infectious diseases: N/A
Land use: agricultural land: 63.4%; arable land 58.9%; permanent crops 0.1%; permanent pasture 4.4%; forest: 12.9%; other: 23.7%note: highest percentage of arable land for any country in the world (2011 estimate)
Agricultural products: barley, wheat, potatoes, sugar beets; pork, dairy products; fish
Industries: iron, steel, nonferrous metals, chemicals, food processing, machinery and transportation equipment, textiles and clothing, electronics, construction, furniture and other wood products, shipbuilding and refurbishment, windmills, pharmaceuticals, medical eq
Export commodities: machinery and instruments, meat and meat products, dairy products, fish, pharmaceuticals, furniture, windmills
Main export partners: Germany 17.8%, Sweden 11.6%, US 8.4%, Norway 6.3%, UK 6.3%, Netherlands 4.4%, China 4.2% (2015)
Import commodities: machinery and equipment, raw materials and semimanufactures for industry, chemicals, grain and foodstuffs, consumer goods
Main import partners: Germany 20.4%, Sweden 12.3%, Netherlands 8.1%, China 7.3%, Norway 6.1%, UK 4.4% (2015)
Navigate the countries in Europe faster and easier while driving, use the interactive Google maps for your driving directions. The continuously updated database contains over 220 countries and territories digitally mapped, hundreds of millions of businesses and places around the world positioned on the map.
Get fresh GPS navigation, traffic, and transit information – no matter what part of Denmark, Copenhagen, any other city and country in Europe, or the world you're in.
Do you like this Denmark information page? Please don't forget to share it with others! Thank you.