Norway Google maps and Driving Directions
Get free driving directions, Google maps, traffic information for Norway, and Oslo (GPS: 59 55 N 10 45 E), the capital city of the country located in (the) Northern Europe, bordering the North Sea and the North Atlantic Ocean, west of Sweden.
Find any address in Oslo on the Google map of Norway (NO) with ease or calculate your up to date itinerary to and from Norway or its neighboring counties like Finland, Russia, Sweden.
Sightseeing and exploring in Europe starts here, thanks to Google because its Earth Engine combines a multi-petabyte catalog of updated satellite imagery and geospatial datasets with planetary-scale analysis capabilities. Wonder the world, use the satellite map function of the Google maps to explore or see differences on the Earth's surface, inland, or the surrounding areas of Norway.
Google Maps Norway
The Kingdom of Norway traces the rugged western coast of Scandinavia. Settlements are largely restricted to southern and coastal areas. Vast oil and natural gas revenues bring prosperity.
Norway is glaciated; mostly high plateaus and rugged mountains broken by fertile valleys; small, scattered plains; coastline deeply indented by fjords; arctic tundra in north.
The map above fully covers Norway with its road routes from cities to towns, road intersections in any region, provinces, prefectures, also with free driving directions in Oslo or to the neighboring towns and countries. To look at the detailed map about a particular quarter in Oslo, please click on the area and zoom to the place you are interested in the Google maps of Norway (NO).
Be creative, use the extras of this Google map; This is a detailed, clear, zoomable, large road map of Norway with its administrative divisions; 19 counties (fylker, singular – fylke); Akershus, Aust-Agder, Buskerud, Finnmark, Hedmark, Hordaland, More og Romsdal, Nordland, Nord-Trondelag, Oppland, Oslo, Ostfold, Rogaland, Sogn og Fjordane, Sor-Trondelag, Telemark, Troms, Vest-Agder, Vestfold.
The interactive map above is also may be used as the satellite map of Norway, or as a reverse search map for finding an address from its GPS coordinates.
Norway is situated in the western part of the Scandinavian peninsula. It extends about 1,100 mi (1,770 km) from the North Sea along the Norwegian Sea to more than 300 mi (483 km) above the Arctic Circle, the farthest north of any European country. It is slightly larger than New Mexico. Nearly 70% of Norway is uninhabitable and covered by mountains, glaciers, moors, and rivers. The hundreds of deep fjords that cut into the coastline give Norway an overall oceanfront of more than 12,000 mi (19,312 km). Galdho Peak, at 8,100 ft (2,469 m), is Norway's highest point and the Glama (Glomma) is the principal river, at 372 mi (598 km) long.
Norway (area: 323 782 sq km / 125 012,88 sq mi), where the official language is Norwegian, lying in Europe and using the currency; Norwegian krone (NOK), since 1905, set their clock to UTC+1. That means they are 6 hours ahead of Washington DC during Standard Time in Oslo, the capital. Note to the time difference: Daylight saving time: +1hr begins last Sunday in March; ends last Sunday in October.
The climate in Norway; Mild coastal climate. Inland, the weather is more extreme, with warmer summers and cold, snowy winters.
Geography in a nutshell; The western coast is indented with numerous fjords and features tens of thousands of islands. Mountains and plateaus cover most of the country.
Click here for more detailed information about Norway.
Driving directions Norway
The Google maps and Google Satellite maps of Norway above showing the country, located next to Finland, Russia, Sweden. For your further reference, the latitude and longitude coordinates of Norway are 62 00 N, 10 00 E , while the capital, Oslo found at 59 55 N 10 45 E.
When you are traveling around Norway, Oslo, or its other cities, use this routing tool, providing up to date route planning service free of charge.
Look no further; get accurate driving directions in Norway, Europe, by filling the route planner form below.
Since Google acquired and introduced its digitalized maps in 2004, you're probably familiar with its base functions, like finding an address or driving directions to locations. Still, Google maps also accommodate bicyclists, pedestrians, and also public transportation with special directions and customizable routes.
---
About Norway and the capital, Oslo
| | |
| --- | --- |
| | |
| The national flag of Norway | Borderline map of Norway |
| | |
| Flag description: red with a blue cross outlined in white that extends to the edges of the flag; the vertical part of the cross is shifted to the hoist side in the style of the Dannebrog (Danish flag); the colors recall Norway's past political unions with Denmark (red and white) and Sweden (blue). | Border length: total: 2,566 km. Border countries (total: 3): Finland 709 km, Sweden 1,666 km, Russia 191 km. |
About Oslo
After World War II, Oslo grew to 450 sq. km (174 sq. miles), making it one of the ten largest capitals in the world in the sheer area, if not in the urban buildup. The city is one of the most heavily forested on earth, and fewer than half a million Norwegians live and work here.
One of the oldest Scandinavian capital cities, founded in the mid–11th century, Oslo has never been a mainstream tourist site. But the city is culturally rich with many diversions – enough to fill at least 3 or 4 busy days. It's also the center for many accessible excursions along the Oslofjord or to towns and villages in its environs, both north and south.
In recent years Oslo has grown from what even the Scandinavians viewed as a Nordic backwater to one of Europe's happening cities. Restaurants, nightclubs, cafes, shopping complexes, and other venues keep on opening. A kind of Nordic joie de vivre permeates the town; the only drawback is that all this fun is going to cost you—Oslo ranks as one of Europe's most expensive cities.
Did you know about Norway?
Ruled by Denmark from 1397, Norway passed to Sweden in 1814. It gained independence in 1905, when its union with Sweden was dissolved.
Near Narvik, mainland Norway is only 4 miles (7 km) wide.
Norway's mountainous countryside is ideal for producing hydroelectricity, while North Sea oil makes the country self-sufficient in fuel.
The Kingdom of Norway is a constitutional monarchy occupying the western part of the Scandinavian Peninsula. It is a sparsely populated and very mountainous country with hundreds of fjords along the whole length of its western coast. Most of Norway's eastern border shared with Sweden, but in the northeast, the border is with Finland and Russia. Its northwestern, western and southern boundary formed by its long coastline. Scattered close to the mainland throughout most of the length of the coastline are hundreds of islands known as the Skerryguard. The Jan Mayen and Svalbard Islands in the Arctic Ocean, northeast of Iceland, and Bouvet Island in the South Atlantic are also Norwegian territories.
Mainland Norway consists of a series of high plateaux, called vidder, from which rise mountain peaks permanently covered in snow and ice, including, in the far north, the most extensive glaciers in Europe. Extending into the Arctic Circle, the far north of Norway is also home to the Saami or Lapp people. The country has many lakes and drained by numerous rivers and streams. About half the population lives in the southeast, a quarter live in Oslo, the capital, and the rest live in other towns, villages or urban areas.
Agriculture is a small-scale enterprise in Norway since only 3 percent of the land can be cultivated. However, about a quarter of Norway is forested, and the country has an important wood pulp and paper industry. Fishing has always been an important part of the Norwegian economy, and Norway's fishing fleet operates as far afield as the waters off Newfoundland. Norway has also established many fish farms.
Norway has modest reserves of lead, iron, coal, copper, and zinc and oil and natural gas discovered in Norwegian waters during the 1970s. The country has exploited its abundant potential for hydroelectric power to the full, and the availability of cheap electricity has enabled it to develop a major metallurgical industry. Other manufactured goods include wood products and processed foods. Norway is a popular tourist destination, with visitors coming to enjoy the country's spectacular and beautiful scenery, outdoor sports and rich historical and cultural heritage.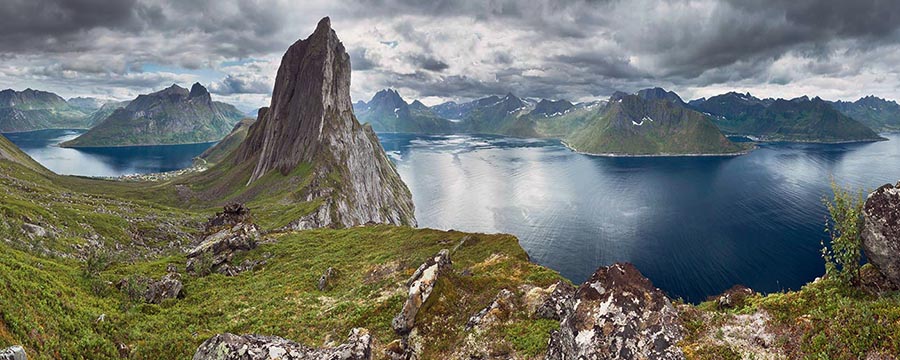 ---
Facts of Norway (NO)
Name conventional long form: Kingdom of Norway, conventional short form: Norway, local long form: Kongeriket Norge, local short form: Norge, etymology: derives from the Old Norse words "nordr" and "vegr" meaning "northern way" and refers to the long coastline of western Norway
Codes: ISO; NO, Internet; .no
Capital city: Oslo
Language(s): Bokmal Norwegian (official language), Nynorsk Norwegian (official language), small Sami- and Finnish-speaking minorities. Note: Sami is an official language language in nine municipalities
National holiday(s): Constitution Day, 17 May (1814)
Motto: Alt for Norge (Yes, we love this country)
Currency: Norwegian krone (NOK), since 1905
GPS: 62 00 N, 10 00 E, Oslo; 59 55 N 10 45 E
Location: Northern Europe, bordering the North Sea and the North Atlantic Ocean, west of Sweden
Geography note: about two-thirds mountains; some 50,000 islands off its much-indented coastline; strategic location adjacent to sea lanes and air routes in North Atlantic; one of the most rugged and longest coastlines in the world
Land boundaries: Finland 709 km, Sweden 1,666 km, Russia 191 km, total: 2,566 km
Maritime boundaries: N/A
Coastline: 25,148 km (includes mainland 2,650 km, as well as long fjords, numerous small islands, and minor indentations 22,498 km; length of island coastlines 58,133 km)
Area: total: 323,802 sq km; land: 304,282 sq km, water: 19,520 sq km (total 125 012,88 mi2), slightly larger than twice the size of Georgia; slightly larger than New Mexico.
Roadways: total: 93,870 km (includes 393 km of expressways), paved: 75,754 km, unpaved: 18,116 km (2013)
Waterways: 1,577 km (2010)
Local time (capital): UTC+1, 6 hours ahead of Washington DC during Standard Time
Note to the local time: Daylight saving time: +1hr begins last Sunday in March; ends last Sunday in October
Population in Norway: 5 353 363
Population in Oslo: 791 500 (including the metropolitan areas)
Urbanization: urban population: 80.5% of total population (2015)
Major urban areas population: OSLO (capital) 986,000 (2015)
Population growth rate: 1.07% (2016 estimate)
Birth rate: 12.2 births / 1,000 population (2016 estimate)
Death rate: 8.1 deaths / 1,000 population (2016 estimate)
Age structure: 0-14 years: 18.02% (male 486,408 / female 462,178) 15-24 years: 12.8% (male 345,785 / female 327,969) 25-54 years: 40.98% (male 1,112,006 / female 1,045,791) 55-64 years: 11.7% (male 311,528 / female 304,267) 65 years and over: 16.51% (male 398,203 / female 471,023) (2016 estimate)
Median age: total: 39.1 years; male: 38.4 years, female: 40 years (2016 estimate)
Ethnic groups: Norwegian 94.4% (includes Sami, about 60,000), other European 3.6%, other 2% (2007 estimate)
Religions: Church of Norway (Evangelical Lutheran – official) 82.1%, other Christian 3.9%, Muslim 2.3%, Roman Catholic 1.8%, other 2.4%, unspecified 7.5% (2011 estimate)
Government type: Unitary parliamentary constitutional monarchy
Legal system: mixed legal system of civil, common, and customary law; Supreme Court can advise on legislative acts
National anthem: Ja, vi elsker dette landet
Known national hazards: rockslides, avalanchesvolcanism: Beerenberg (elev. 2,227 m) on Jan Mayen Island in the Norwegian Sea is the country's only active volcano
Major infectious diseases: N/A
Land use: agricultural land: 2.7%; arable land 2.2%; permanent crops 0%; permanent pasture 0.5%; forest: 27.8%; other: 69.5% (2011 estimate)
Agricultural products: barley, wheat, potatoes; pork, beef, veal, milk; fish
Industries: petroleum and gas, shipping, fishing, aquaculture, food processing, shipbuilding, pulp and paper products, metals, chemicals, timber, mining, textiles
Export commodities: petroleum and petroleum products, machinery and equipment, metals, chemicals, ships, fish
Main export partners: UK 22.2%, Germany 17.9%, Netherlands 10.2%, France 6.6%, Sweden 6.1%, Belgium 5%, US 4.5% (2015)
Import commodities: machinery and equipment, chemicals, metals, foodstuffs
Main import partners: Sweden 12%, Germany 11.8%, China 10.9%, UK 6.7%, US 6.6%, Denmark 6% (2015)
Navigate the countries in Europe faster and easier while driving, use the interactive Google maps for your driving directions. The continuously updated database contains over 220 countries and territories digitally mapped, hundreds of millions of businesses and places around the world positioned on the map.
Get fresh GPS navigation, traffic, and transit information – no matter what part of Norway, Oslo, any other city and country in Europe, or the world you're in.
Do you like this Norway information page? Please don't forget to share it with others! Thank you.