Belgium Google maps and Driving Directions
Get free driving directions, Google maps, traffic information for Belgium, and Brussels (GPS: 50 50 N 4 20 E), the capital city of the country located in (the) Western Europe, bordering the North Sea, between France and the Netherlands.
Find any address in Brussels on the Google map of Belgium (BE) with ease or calculate your up to date itinerary to and from Belgium or its neighboring counties like France, Germany, Luxembourg, Netherlands.
Sightseeing and exploring in Europe starts here, thanks to Google because its Earth Engine combines a multi-petabyte catalog of updated satellite imagery and geospatial datasets with planetary-scale analysis capabilities. Wonder the world, use the satellite map function of the Google maps to explore or see differences on the Earth's surface, inland, or the surrounding areas of Belgium.
Google Maps Belgium
Belgium lies in northwestern Europe. Its history has been marked by tensions between the majority Dutch-speaking (Flemish) and minority French-speaking (Walloon) communities.
Belgium is flat coastal plains in northwest, central rolling hills, rugged mountains of Ardennes Forest in southeast.
The map above fully covers Belgium with its road routes from cities to towns, road intersections in any region, provinces, prefectures, also with free driving directions in Brussels or to the neighboring towns and countries. To look at the detailed map about a particular quarter in Brussels, please click on the area and zoom to the place you are interested in the Google maps of Belgium (BE).
Be creative, use the extras of this Google map; This is a detailed, clear, zoomable, large road map of Belgium with its administrative divisions; 3 regions (French: regions, singular – region; Dutch: gewesten, singular – gewest); Brussels-Capital Region, also known as Brussels Hoofdstedelijk Gewest (Dutch), Region de Bruxelles-Capitale (French long form), Bruxelles-Capitale (French short form); Flemish Region (Flanders), also known as Vlaams Gewest (Dutch long form), Vlaanderen (Dutch short form), Region Flamande (French long form), Flandre (French short form); Walloon Region (Wallonia), also known as Region Wallone (French long form), Wallonie (French short form), Waals Gewest (Dutch long form), Wallonie (Dutch short form). Note: as a result of the 1993 constitutional revision that furthered devolution into a federal state, there are now three levels of government (federal, regional, and linguistic community) with a complex division of responsibilities; the 2012 sixth state reform transferred additional competencies from the federal state to the regions and linguistic communities.
The interactive map above is also may be used as the satellite map of Belgium, or as a reverse search map for finding an address from its GPS coordinates.
Located in western Europe, Belgium has about 40 mi of seacoast on the North Sea, at the Strait of Dover, and is approximately the size of Maryland. The Meuse and the Schelde, Belgium's principal rivers, are important commercial arteries.
Belgium (area: 30 528 sq km / 11 786,92 sq mi), where the official language is Dutch, French, German, lying in Europe and using the currency; Euro (EUR), since 1999, set their clock to UTC+1. That means they are 6 hours ahead of Washington DC during Standard Time in Brussels, the capital. Note to the time difference: Daylight saving time: +1hr begins last Sunday in March; ends last Sunday in October.
The climate in Belgium; Maritime climate with Gulf Stream influences. Temperatures are mild, with heavy cloud cover and rain. More rainfall and weather fluctuations at the coast.
Geography in a nutshell; Low-lying coastal plain covers two-thirds of the country. Land becomes hilly and forested in the southeast (Ardennes) region.
Click here for more detailed information about Belgium.
Driving directions Belgium
The Google maps and Google Satellite maps of Belgium above showing the country, located next to France, Germany, Luxembourg, Netherlands. For your further reference, the latitude and longitude coordinates of Belgium are 50 50 N, 4 00 E , while the capital, Brussels found at 50 50 N 4 20 E.
When you are traveling around Belgium, Brussels, or its other cities, use this routing tool, providing up to date route planning service free of charge.
Look no further; get accurate driving directions in Belgium, Europe, by filling the route planner form below.
Since Google acquired and introduced its digitalized maps in 2004, you're probably familiar with its base functions, like finding an address or driving directions to locations. Still, Google maps also accommodate bicyclists, pedestrians, and also public transportation with special directions and customizable routes.
---
About Belgium and the capital, Brussels
| | |
| --- | --- |
| | |
| The national flag of Belgium | Borderline map of Belgium |
| | |
| Flag description: three equal vertical bands of black (hoist side), yellow, and red; the vertical design was based on the flag of France; the colors are those of the arms of the duchy of Brabant (yellow lion with red claws and tongue on a black field). | Border length: total: 1,297 km. Border countries (total: 4): France 556 km, Germany 133 km, Luxembourg 130 km, Netherlands 478 km. |
About Brussels
As the headquarters city of the European Union, Brussels both symbolizes the Continent's vision of unity. It is a bastion of officialdom, a breeding ground for the regulations that govern and often exasperate the rest of Europe. Bruxellois have ambivalent feelings about their city's transformation into a power center. At first, the waves of Eurocrats brought a new cosmopolitan air, but as old neighborhoods leveled to make way for office towers, people wondered whether Brussels was losing its soul.
After all, this city is not just about politics and business. It inspired surrealism and Art Nouveau, worships comic strips, prides itself on handmade lace and chocolate, and serves each one of its craft beers in its unique glass. Fortunately, not all of Brussels's individuality lost. The city's spirit survives in traditional cafes, bars, bistros, and restaurants. Whether elegantly Art Nouveau or eccentrically festooned with posters, curios and decorations, such centuries-old establishments provide a warm, pleasant ambiance that is peculiarly Belgian.
Did you know about Belgium?
Following centuries of foreign domination, Belgium finally gained international recognition as an independent kingdom in 1830.
The Ardennes region, in the southeast of the country, is famous for its forests, lakes, and cuisine.
The Belgian capital, Brussels, is a truly international city since it is also capital of the EU.
Belgium is a small country with three topographical regions: the elevated and forested Ardennes Plateau situated in the southeast near the border with France, Luxembourg, and Germany; the rolling, central fertile plains; and the coastal plain. The Ardennes Plateau is an area of moorland, woodlands, and forests, valued for recreational purposes as well as forestry. The central plains are a fertile agricultural region crossed by Belgium's principal rivers, the Schelde and Meuse. The coastal plain is low-lying, reaching only about 20 meters or 65 feet above sea level at its highest point.
Belgium has a highly developed transport system with one of the highest densities of railway lines in the world. A well-used canal network links the main rivers, many of which can be used by large boats. About 97 percent of Belgians live in cities or urban areas, with the greatest number in the capital, Brussels. The country is poor in mineral reserves, and two-thirds of its electricity needs supplying by nuclear power. One of the major industrialized countries of Europe, it produces a great range and quantity of manufactured goods.
About 45 percent of the land area of Belgium used for agriculture, and much of it farmed intensively, but its foresty and fishing industries are fairly small. Belgium is renowned for its lace, damask fine lawn, and chcocolates.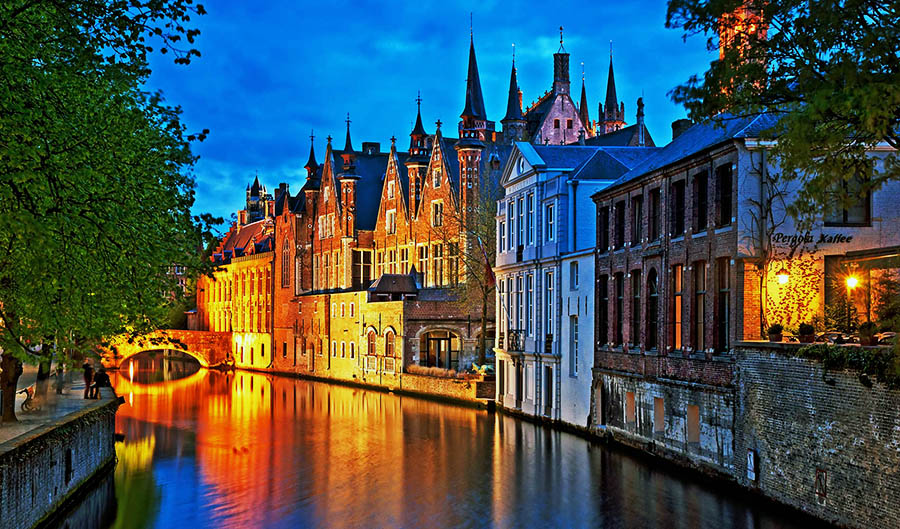 ---
Facts of Belgium (BE)
Name conventional long form: Kingdom of Belgium, conventional short form: Belgium, local long form: Royaume de Belgique (French)/Koninkrijk Belgie (Dutch)/Koenigreich Belgien (German), local short form: Belgique/Belgie/Belgien, etymology: the name derives from the Belgae, an ancient Celtic tribal confederation that inhabited an area between the English Channel and the west bank of the Rhine in the first centuries B.C.
Codes: ISO; BE, Internet; .be
Capital city: Brussels
Language(s): Dutch (official language) 60%, French (official language) 40%, German (official language) less than 1%
National holiday(s): 21 July (1831) Ascension Day (ascension to the throne of King LEOPOLD I)
Motto: L'union fait la force – Eendracht maakt macht – Einigkeit macht stark (Unity makes Strength)
Currency: Euro (EUR), since 1999
GPS: 50 50 N, 4 00 E, Brussels; 50 50 N 4 20 E
Location: Western Europe, bordering the North Sea, between France and the Netherlands
Geography note: crossroads of Western Europe; most West European capitals are within 1,000 km of Brussels, the seat of both the European Union and NATO
Land boundaries: France 556 km, Germany 133 km, Luxembourg 130 km, Netherlands 478 km, total: 1,297 km
Maritime boundaries: N/A
Coastline: 66.5 km
Area: total: 30,528 sq km; land: 30,278 sq km, water: 250 sq km (total 11 786,92 mi2), about the size of Maryland.
Roadways: total: 154,012 km, paved: 120,514 km (includes 1,756 km of expressways), unpaved: 33,498 km (2010)
Waterways: 2,043 km (1,528 km in regular commercial use) (2012)
Local time (capital): UTC+1, 6 hours ahead of Washington DC during Standard Time
Note to the local time: Daylight saving time: +1hr begins last Sunday in March; ends last Sunday in October
Population in Belgium: 11 498 519
Population in Brussels: 1 750 600 (including the metropolitan areas)
Urbanization: urban population: 97.9% of total population (2015)
Major urban areas population: BRUSSELS (capital) 2.045 million; Antwerp 994,000 (2015)
Population growth rate: 0.73% (2016 estimate)
Birth rate: 11.4 births / 1,000 population (2016 estimate)
Death rate: 9.7 deaths / 1,000 population (2016 estimate)
Age structure: 0-14 years: 17.12% (male 1,000,155 / female 952,529) 15-24 years: 11.47% (male 667,760 / female 640,364) 25-54 years: 40.25% (male 2,315,256 / female 2,277,308) 55-64 years: 12.76% (male 720,823 / female 735,225) 65 years and over: 18.4% (male 911,199 / female 1,188,458) (2016 estimate)
Median age: total: 41.4 years; male: 40.2 years, female: 42.7 years (2016 estimate)
Ethnic groups: Flemish 58%, Walloon 31%, mixed or other 11%
Religions: Roman Catholic 75%, other (includes Protestant) 25%
Government type: Federal parliamentary constitutional monarchy
Legal system: civil law system based on the French Civil Code; note – Belgian law continues to be modified in conformance with the legislative norms mandated by the European Union; judicial review of legislative acts
National anthem: La Brabançonne
Known national hazards: flooding is a threat along rivers and in areas of reclaimed coastal land, protected from the sea by concrete dikes
Major infectious diseases: N/A
Land use: agricultural land: 44.1%; arable land 27.2%; permanent crops 0.8%; permanent pasture 16.1%; forest: 22.4%; other: 33.5% (2011 estimate)
Agricultural products: sugar beets, fresh vegetables, fruits, grain, tobacco; beef, veal, pork, milk
Industries: engineering and metal products, motor vehicle assembly, transportation equipment, scientific instruments, processed food and beverages, chemicals, base metals, textiles, glass, petroleum
Export commodities: chemicals, machinery and equipment, finished diamonds, metals and metal products, foodstuffs
Main export partners: Germany 16.9%, France 15.5%, Netherlands 11.4%, UK 8.8%, US 6%, Italy 5% (2015)
Import commodities: raw materials, machinery and equipment, chemicals, raw diamonds, pharmaceuticals, foodstuffs, transportation equipment, oil products
Main import partners: Netherlands 16.7%, Germany 12.7%, France 9.6%, US 8.7%, UK 5.1%, Ireland 4.7%, China 4.3% (2015)
Navigate the countries in Europe faster and easier while driving, use the interactive Google maps for your driving directions. The continuously updated database contains over 220 countries and territories digitally mapped, hundreds of millions of businesses and places around the world positioned on the map.
Get fresh GPS navigation, traffic, and transit information – no matter what part of Belgium, Brussels, any other city and country in Europe, or the world you're in.
Do you like this Belgium information page? Please don't forget to share it with others! Thank you.