Switzerland Google maps and Driving Directions
Get free driving directions, Google maps, traffic information for Switzerland, and Bern (GPS: 46 55 N 7 28 E), the capital city of the country located in (the) Central Europe, east of France, north of Italy.
Find any address in Bern on the Google map of Switzerland (CH) with ease or calculate your up to date itinerary to and from Switzerland or its neighboring counties like Austria, France, Germany, Italy, Liechtenstein.
Sightseeing and exploring in Europe starts here, thanks to Google because its Earth Engine combines a multi-petabyte catalog of updated satellite imagery and geospatial datasets with planetary-scale analysis capabilities. Wonder the world, use the satellite map function of the Google maps to explore or see differences on the Earth's surface, inland, or the surrounding areas of Switzerland.
Google Maps Switzerland
One of the world's most prosperous countries, Switzerland sits at the center of Europe. It has retained its neutral status through every major European conflict since 1815.
Switzerland is mostly mountains (Alps in south, Jura in northwest) with a central plateau of rolling hills, plains, and large lakes.
The map above fully covers Switzerland with its road routes from cities to towns, road intersections in any region, provinces, prefectures, also with free driving directions in Bern or to the neighboring towns and countries. To look at the detailed map about a particular quarter in Bern, please click on the area and zoom to the place you are interested in the Google maps of Switzerland (CH).
Be creative, use the extras of this Google map; This is a detailed, clear, zoomable, large road map of Switzerland with its administrative divisions; 26 cantons (cantons, singular – canton in French; cantoni, singular – cantone in Italian; Kantone, singular – Kanton in German); Aargau, Appenzell Ausserrhoden, Appenzell Innerrhoden, Basel-Landschaft, Basel-Stadt, Berne/Bern, Fribourg/Freiburg, Geneve, Glarus, Graubuenden/Grigioni/Grischun, Jura, Luzern, Neuchatel, Nidwalden, Obwalden, Sankt Gallen, Schaffhausen, Schwyz, Solothurn, Thurgau, Ticino, Uri, Valais/Wallis, Vaud, Zug, Zuerich. Note: 6 of the cantons – Appenzell Ausserrhoden, Appenzell Innerrhoden, Basel-Landschaft, Basel-Stadt, Nidwalden, Obwalden – are referred to as half cantons because they elect only one member to the Council of States and, in popular referendums where a majority of popular votes and a majority of cantonal votes are required, these six cantons only have a half vote.
The interactive map above is also may be used as the satellite map of Switzerland, or as a reverse search map for finding an address from its GPS coordinates.
Switzerland, in central Europe, is the land of the Alps. Its tallest peak is the Dufourspitze at 15,203 ft (4,634 m) on the Swiss side of the Italian border, one of 10 summits of the Monte Rosa massif. The tallest peak in all of the Alps, Mont Blanc (15,771 ft 4,807 m), is actually in France. Most of Switzerland is composed of a mountainous plateau bordered by the great bulk of the Alps on the south and by the Jura Mountains on the northwest. The country's largest lakes—Geneva, Constance (Bodensee), and Maggiore—straddle the French, German-Austrian, and Italian borders, respectively. The Rhine, navigable from Basel to the North Sea, is the principal inland waterway.
Switzerland (area: 41 277 sq km / 15 937,13 sq mi), where the official language is French, German, Italian, Romansh, lying in Europe and using the currency; Swiss franc (CHF), set their clock to UTC+1. That means they are 6 hours ahead of Washington DC during Standard Time in Bern, the capital. Note to the time difference: Daylight saving time: +1hr begins last Sunday in March; ends last Sunday in October.
The climate in Switzerland; Most rain falls in the warm summer months. Winters are snowy, but milder and foggy away from the mountains. Avalanches are a problem.
Geography in a nutshell; Mostly mountainous, with river valleys. The Alps cover 60% of its area; the Jura in the west cover 10%. Lowlands lie along the east–west axis.
Click here for more detailed information about Switzerland.
Driving directions Switzerland
The Google maps and Google Satellite maps of Switzerland above showing the country, located next to Austria, France, Germany, Italy, Liechtenstein. For your further reference, the latitude and longitude coordinates of Switzerland are 47 00 N, 8 00 E , while the capital, Bern found at 46 55 N 7 28 E.
When you are traveling around Switzerland, Bern, or its other cities, use this routing tool, providing up to date route planning service free of charge.
Look no further; get accurate driving directions in Switzerland, Europe, by filling the route planner form below.
Since Google acquired and introduced its digitalized maps in 2004, you're probably familiar with its base functions, like finding an address or driving directions to locations. Still, Google maps also accommodate bicyclists, pedestrians, and also public transportation with special directions and customizable routes.
---
About Switzerland and the capital, Bern
| | |
| --- | --- |
| | |
| The national flag of Switzerland | Borderline map of Switzerland |
| | |
| Flag description: red square with a bold, equilateral white cross in the center that does not extend to the edges of the flag; various medieval legends purport to describe the origin of the flag; a white cross used as identification for troops of the Swiss Confederation is first attested at the Battle of Laupen (1339). | Border length: total: 1,770 km. Border countries (total: 5): Austria 158 km, France 525 km, Italy 698 km, Liechtenstein 41 km, Germany 348 km. |
About Bern
As the Swiss capital, Bern, with a relatively small population of only 130,000, is an essential city of diplomats and the site of many international organizations and meetings. It's one of the oldest and loveliest cities in Europe, with origins going back to the 12th century. Since much of its medieval architecture remains today, Bern evokes the feeling of a large provincial town rather than a city. In 1983 the United Nations declared it a World Cultural Heritage.
The best center for exploring the Bernese Oberland is Interlaken (p. 1028), a popular summer resort. Summer and winter playgrounds are Gstaad, Grindelwald, Kandersteg, and Mürren. You can ski in the mountains in winter, and surf, sail, and water-ski on Lake Thun in summer.
About Geneva
Many patriotic French feel this French-speaking city of elegance and charm should belong in France. It does indeed sit on the doorstep of France. But in some respects, Geneva is international, belonging to the world with its 250 international organizations based here, the most important being the European headquarters for the United Nations, the World Health Organization, and the International Red Cross.
It's the most orderly and serene of all major European cities (or most sterile, in the view of those who'd like more local color, nightlife, and excitement). As one local and a very wealthy lady told us, "Geneva is one of the few places on the planet I can walk around in my white sable without fear I'll be hit by a rotten tomato by an animal rights fanatic, or else have it stolen from me by some poor wretched down and out." She actually said that.
Surrounded by French territory, Geneva is connected to Switzerland only by the lake and a narrow corridor. The city's strong French influence shows in its mansard roofs, iron balconies, sidewalk cafes, and French signs.
Did you know about Switzerland?
In 1291, a small confederation formed to resist Austrian rule, beginning modern Switzerland. More cantons joined up to 1815.
Famed for its neutrality, Switzerland only joined the UN in 2002, and remains outside the EU.
Timepieces are a major export industry for the Swiss, who are renowned for their precision engineering.
The beautiful mountainous country of Switzerland is dominated by the Alps, which occupy over 60 percent of the total land area. A second lower mountain range, the Jura, occurs in the west of the country and between them lies a plateau region around 48 kilometers or 30 miles wide at the height of about 396 meters or 1,300 feet above sea level. Switzerland has many spectacular lakes, most of them nestling at the foot of the mountains and some quite large. They include Lake Geneva (Lac Léman), Lake Lugano and Lake Constance.
In all, about a quarter of the total land area is forested, and timber is a valuable natural resource although some woodlands have been adversely affected by air pollution. Much of Switzerland is unsuitable for agriculture, and most farms are fairly small, family-run enterprises that receive government subsidies. Emmenthal and Gruyére cheese and chocolate are valuable export products.
Switzerland has few mineral resources, but its lakes and rivers enable it to generate abundant hydroelectric power. Most raw materials and food have to be imported, but Switzerland is an affluent country whose people enjoy a high standard of living. It is renowned for the excellent quality of its manufacturing, particularly of watches and clocks, precision tools and machines and engineering products. Pharmaceuticals, textiles, hand-crafted products, service industries, and tourism are other important areas of the economy. However, it is as a premier center for international banking that Switzerland is perhaps most respected and renowned, with Zürich being the main city involved in this activity.
Zürich
Zürich situated beside the Lake of Zürich beneath a backdrop of snow-capped peaks. It is the largest city in Switzerland and an important center for trading in gold, business and finance and the manufacture of a wide range of goods. Zürich has always played a significant part in the history of Switzerland, becoming an important ecclesiastical center by ad 800 and seeing the start of the Reformation in the early 16th century. Industry and cultural activities continued to flourish in the 18th and 19th centuries, providing the foundation for the modern city of today. Zürich itself has many fine buildings and numerous attractions for visitors.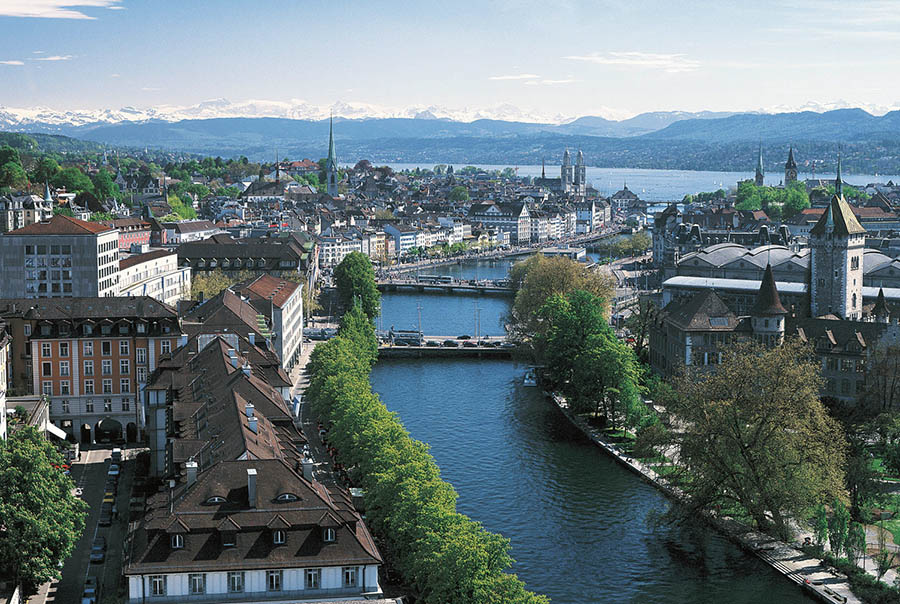 ---
Facts of Switzerland (CH)
Name conventional long form: Swiss Confederation, conventional short form: Switzerland, local long form: Schweizerische Eidgenossenschaft (German); Confederation Suisse (French); Confederazione Svizzera (Italian); Confederaziun Svizra (Romansh), local short form: Schweiz (German); Suisse (French); Svizzera (Italian); Svizra (Romansh), etymology: name derives from the canton of Schwyz, one of the founding cantons of the Old Swiss Confederacy that formed in the 14th century
Codes: ISO; CH, Internet; .ch
Capital city: Bern
Language(s): German (official language) 63.5%, French (official language) 22.5%, Italian (official language) 8.1%, English 4.4%, Portuguese 3.4%, Albanian 3.1%, Serbo-Croatian 2.5%, Spanish 2.2%, Romansch (official language) 0.5%, other 6.6%. Note: German, French, Italian, and Romansch are all national and official language languages; totals more than 100% because some respondents indicated more than one main language (2013 estimate)
National holiday(s): Founding of the Swiss Confederation in 1291
Motto: Unus pro omnibus, omnes pro uno (One for all, all for one)
Currency: Swiss franc (CHF)
GPS: 47 00 N, 8 00 E, Bern; 46 55 N 7 28 E
Location: Central Europe, east of France, north of Italy
Geography note: landlocked country; crossroads of northern and southern Europe; along with southeastern France, northern Italy, and southwestern Austria, has the highest elevations in the Alps
Land boundaries: Austria 158 km, France 525 km, Italy 698 km, Liechtenstein 41 km, Germany 348 km, total: 1,770 km
Maritime boundaries: N/A
Coastline: 0 km (landlocked country)
Area: total: 41,277 sq km; land: 39,997 sq km, water: 1,280 sq km (total 15 937,13 mi2), slightly less than twice the size of New Jersey.
Roadways: total: 71,464 km, paved: 71,464 km (includes 1,415 of expressways) (2011)
Waterways: 1,292 km (there are 1,227 km of waterways on lakes and rivers for public transport and 65 km on the Rhine River between Basel-Rheinfelden and Schaffhausen-Bodensee for commercial goods transport) (2010)
Local time (capital): UTC+1, 6 hours ahead of Washington DC during Standard Time
Note to the local time: Daylight saving time: +1hr begins last Sunday in March; ends last Sunday in October
Population in Switzerland: 8 544 034
Population in Bern: 353 000 (including the metropolitan areas)
Urbanization: urban population: 73.9% of total population (2015)
Major urban areas population: Zurich 1.246 million; BERN (capital) 358,000 (2015)
Population growth rate: 0.7% (2016 estimate)
Birth rate: 10.5 births / 1,000 population (2016 estimate)
Death rate: 8.2 deaths / 1,000 population (2016 estimate)
Age structure: 0-14 years: 15.1% (male 635,840 / female 599,255) 15-24 years: 11.11% (male 463,953 / female 444,500) 25-54 years: 43.46% (male 1,783,071 / female 1,771,590) 55-64 years: 12.37% (male 506,010 / female 506,103) 65 years and over: 17.96% (male 645,225 / female 823,747) (2016 estimate)
Median age: total: 42.2 years; male: 41.3 years, female: 43.2 years (2016 estimate)
Ethnic groups: German 65%, French 18%, Italian 10%, Romansch 1%, other 6%
Religions: Roman Catholic 38.2%, Protestant 26.9%, other Christian 5.6%, Muslim 5%, other 1.6%, none 21.4%, unspecified 1.3% (2013 estimate)
Government type: Federal semi-direct democracy
Legal system: civil law system; judicial review of legislative acts, except for federal decrees of a general obligatory character
National anthem: Swiss Psalm
Known national hazards: avalanches, landslides; flash floods
Major infectious diseases: N/A
Land use: agricultural land: 38.7%; arable land 10.2%; permanent crops 0.6%; permanent pasture 27.9%; forest: 31.5%; other: 29.8% (2011 estimate)
Agricultural products: grains, fruits, vegetables; meat, eggs
Industries: machinery, chemicals, watches, textiles, precision instruments, tourism, banking, insurance
Export commodities: machinery, chemicals, metals, watches, agricultural products
Main export partners: Germany 14.2%, US 10.6%, Hong Kong 8.7%, India 7.3%, China 6.9%, France 6.1%, Italy 5.4%, UK 4.8% (2015)
Import commodities: machinery, chemicals, vehicles, metals; agricultural products, textiles
Main import partners: Germany 20.7%, UK 12.8%, US 8.1%, Italy 7.8%, France 6.7%, China 5.1% (2015)
Navigate the countries in Europe faster and easier while driving, use the interactive Google maps for your driving directions. The continuously updated database contains over 220 countries and territories digitally mapped, hundreds of millions of businesses and places around the world positioned on the map.
Get fresh GPS navigation, traffic, and transit information – no matter what part of Switzerland, Bern, any other city and country in Europe, or the world you're in.
Do you like this Switzerland information page? Please don't forget to share it with others! Thank you.