Latvia Google maps and Driving Directions
Get free driving directions, Google maps, traffic information for Latvia, and Riga (GPS: 56 57 N 24 06 E), the capital city of the country located in (the) Eastern Europe, bordering the Baltic Sea, between Estonia and Lithuania.
Find any address in Riga on the Google map of Latvia (LV) with ease or calculate your up to date itinerary to and from Latvia or its neighboring counties like Belarus, Estonia, Lithuania, Russia.
Sightseeing and exploring in Europe starts here, thanks to Google because its Earth Engine combines a multi-petabyte catalog of updated satellite imagery and geospatial datasets with planetary-scale analysis capabilities. Wonder the world, use the satellite map function of the Google maps to explore or see differences on the Earth's surface, inland, or the surrounding areas of Latvia.
Google Maps Latvia
Latvia lies on the east coast of the Baltic Sea. Like its Baltic neighbors, it regained independence from Moscow in 1991, and joined the EU and NATO in 2004.
Latvia is low plain.
The map above fully covers Latvia with its road routes from cities to towns, road intersections in any region, provinces, prefectures, also with free driving directions in Riga or to the neighboring towns and countries. To look at the detailed map about a particular quarter in Riga, please click on the area and zoom to the place you are interested in the Google maps of Latvia (LV).
Be creative, use the extras of this Google map; This is a detailed, clear, zoomable, large road map of Latvia with its administrative divisions; 110 municipalities (novadi, singular – novads) and 9 citiesmunicipalities: Adazu Novads, Aglonas Novads, Aizkraukles Novads, Aizputes Novads, Aknistes Novads, Alojas Novads, Alsungas Novads, Aluksnes Novads, Amatas Novads, Apes Novads, Auces Novads, Babites Novads, Baldones Novads, Baltinavas Novads, Balvu Novads, Bauskas Novads, Beverinas Novads, Brocenu Novads, Burtnieku Novads, Carnikavas Novads, Cesu Novads, Cesvaines Novads, Ciblas Novads, Dagdas Novads, Daugavpils Novads, Dobeles Novads, Dundagas Novads, Durbes Novads, Engures Novads, Erglu Novads, Garkalnes Novads, Grobinas Novads, Gulbenes Novads, Iecavas Novads, Ikskiles Novads, Ilukstes Novads, Incukalna Novads, Jaunjelgavas Novads, Jaunpiebalgas Novads, Jaunpils Novads, Jekabpils Novads, Jelgavas Novads, Kandavas Novads, Karsavas Novads, Keguma Novads, Kekavas Novads, Kocenu Novads, Kokneses Novads, Kraslavas Novads, Krimuldas Novads, Krustpils Novads, Kuldigas Novads, Lielvardes Novads, Ligatnes Novads, Limbazu Novads, Livanu Novads, Lubanas Novads, Ludzas Novads, Madonas Novads, Malpils Novads, Marupes Novads, Mazsalacas Novads, Mersraga Novads, Nauksenu Novads, Neretas Novads, Nicas Novads, Ogres Novads, Olaines Novads, Ozolnieku Novads, Pargaujas Novads, Pavilostas Novads, Plavinu Novads, Preilu Novads, Priekules Novads, Priekulu Novads, Raunas Novads, Rezeknes Novads, Riebinu Novads, Rojas Novads, Ropazu Novads, Rucavas Novads, Rugaju Novads, Rujienas Novads, Rundales Novads, Salacgrivas Novads, Salas Novads, Salaspils Novads, Saldus Novads, Saulkrastu Novads, Sejas Novads, Siguldas Novads, Skriveru Novads, Skrundas Novads, Smiltenes Novads, Stopinu Novads, Strencu Novads, Talsu Novads, Tervetes Novads, Tukuma Novads, Vainodes Novads, Valkas Novads, Varaklanu Novads, Varkavas Novads, Vecpiebalgas Novads, Vecumnieku Novads, Ventspils Novads, Viesites Novads, Vilakas Novads, Vilanu Novads, Zilupes Novadscities: Daugavpils, Jekabpils, Jelgava, Jurmala, Liepaja, Rezekne, Riga, Valmiera, Ventspils.
The interactive map above is also may be used as the satellite map of Latvia, or as a reverse search map for finding an address from its GPS coordinates.
Latvia borders Estonia in the north, Lithuania in the south, the Baltic Sea with the Gulf of Riga in the west, Russia in the east, and Belarus in the southeast. Latvia is largely a fertile lowland with numerous lakes and hills to the east.
Latvia (area: 64 559 sq km / 24 926,36 sq mi), where the official language is Latviana, lying in Europe and using the currency; Euro (EUR), since 2014, set their clock to UTC+2. That means they are 7 hours ahead of Washington DC during Standard Time in Riga, the capital. Note to the time difference: Daylight saving time: +1hr begins last Sunday in March; ends last Sunday in October.
The climate in Latvia; Temperate, with warm summers and cold winters. There is steady rainfall throughout the year.
Geography in a nutshell; A flat coastal plain which is deeply indented by the Gulf of Riga. Poor drainage creates many bogs and swamps in the forested interior.
Click here for more detailed information about Latvia.
Driving directions Latvia
The Google maps and Google Satellite maps of Latvia above showing the country, located next to Belarus, Estonia, Lithuania, Russia. For your further reference, the latitude and longitude coordinates of Latvia are 57 00 N, 25 00 E , while the capital, Riga found at 56 57 N 24 06 E.
When you are traveling around Latvia, Riga, or its other cities, use this routing tool, providing up to date route planning service free of charge.
Look no further; get accurate driving directions in Latvia, Europe, by filling the route planner form below.
Since Google acquired and introduced its digitalized maps in 2004, you're probably familiar with its base functions, like finding an address or driving directions to locations. Still, Google maps also accommodate bicyclists, pedestrians, and also public transportation with special directions and customizable routes.
---
About Latvia and the capital, Riga
| | |
| --- | --- |
| | |
| The national flag of Latvia | Borderline map of Latvia |
| | |
| Flag description: three horizontal bands of maroon (top), white (half-width), and maroon; the flag is one of the older banners in the world; a medieval chronicle mentions a red standard with a white stripe being used by Latvian tribes in about 1280. | Border length: total: 1,370 km. Border countries (total: 4): Belarus 161 km, Estonia 333 km, Lithuania 544 km, Russia 332 km. |
About Riga
Riga is the largest, liveliest and most cosmopolitan of the Baltic capitals, with a great selection of accommodation to suit any budget and a wide variety of world cuisine. A heady mixture of the medieval and the contemporary, the city has much to offer architecture and history enthusiasts in the narrow cobbled streets of Old Rīga and the wide boulevards of the New Town, where beautiful examples of Art Nouveau architecture line Strēlnieku iela and Alberta iela. The city also has all the trappings of a modern capital, with excellent shopping, and a notoriously exuberant nightlife.
Did you know about Latvia?
Over the centuries, Latvia has been invaded by Swedes, Poles, and Russians. It became independent from the Soviet Union in 1991.
Ethnic Latvians are outnumbered by Russians in Riga.
Fertile soils and a flat landscape make Latvia ideal for farming, particularly dairy cattle and pigs.
A former constituent republic of the USSR, Latvia is a republic in northeastern Europe that shares borders with Estonia, Russia, Belarus, and Lithuania. It is bounded on the west by the Baltic Sea and the Gulf of Riga, a large inlet of the sea. Most of the country consists of a wooded lowland plain with numerous marshy areas and lakes. Inland and eastwards, there is some more hilly, forested country and towards the eastern border, there are more marshes, woodlands, and lakes. Latvia crossed by numerous rivers and streams. Woodlands, which cover about a quarter of Latvia, consist of both coniferous and deciduous trees and the republic is home to a variety of wild animals and birds.
Riga, a large and important Baltic port, is Latvia's capital city and home to a third of its people. About 70 percent of people live in cities, towns or urban areas, and there are numerous villages spread throughout the country. Agriculture is an important part of the Latvian economy and employs about 20 percent of the workforce. The country also has a large marine fishing industry operating out of its Baltic Sea ports while its forests provide a valuable timber resource.
Latvia has abundant deposits of peat and gypsum but lacks other fossil fuels and minerals, and although hydroelectric plants can supply over half the country's electricity, it is still dependent upon imports of oil, gas, and electricity. Latvia has a well-developed industrial base.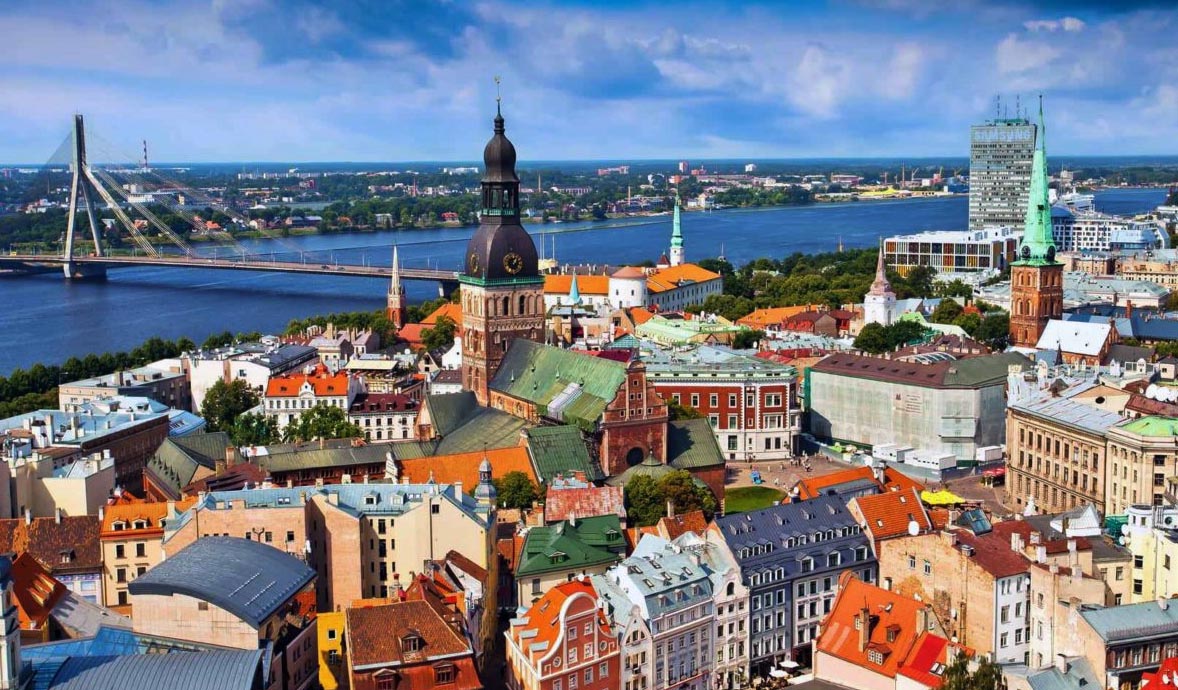 ---
Facts of Latvia (LV)
Name conventional long form: Republic of Latvia, conventional short form: Latvia, local long form: Latvijas Republika, local short form: Latvija, former: Latvian Soviet Socialist Republic, etymology: the name "Latvia" originates from the ancient Latgalians, one of four eastern Baltic tribes that formed the ethnic core of the Latvian people (ca. 8th-12th centuries A.D.)
Codes: ISO; LV, Internet; .lv
Capital city: Riga
Language(s): Latvian (official language) 56.3%, Russian 33.8%, other 0.6% (includes Polish, Ukrainian, and Belarusian), unspecified 9.4%. Note: represents lanugage usually spoken at home (2011 estimate)
National holiday(s): Independence Day, 18 November (1918)
Motto: N/A
Currency: Euro (EUR), since 2014
GPS: 57 00 N, 25 00 E, Riga; 56 57 N 24 06 E
Location: Eastern Europe, bordering the Baltic Sea, between Estonia and Lithuania
Geography note: most of the country is composed of fertile low-lying plains with some hills in the east
Land boundaries: Belarus 161 km, Estonia 333 km, Lithuania 544 km, Russia 332 km, total: 1,370 km
Maritime boundaries: Baltic Sea
Coastline: 498 km
Area: total: 64,589 sq km; land: 62,249 sq km, water: 2,340 sq km (total 24 926,36 mi2), slightly larger than West Virginia.
Roadways: total: 72,440 km, paved: 14,707 km, unpaved: 57,733 km (2013)
Waterways: 300 km (navigable year round) (2010)
Local time (capital): UTC+2, 7 hours ahead of Washington DC during Standard Time
Note to the local time: Daylight saving time: +1hr begins last Sunday in March; ends last Sunday in October
Population in Latvia: 1 929 938
Population in Riga: 867 700 (including the metropolitan areas)
Urbanization: urban population: 67.4% of total population (2015)
Major urban areas population: RIGA (capital) 621,000 (2015)
Population growth rate: -1.07% (2016 estimate)
Birth rate: 9.9 births / 1,000 population (2016 estimate)
Death rate: 14.4 deaths / 1,000 population (2016 estimate)
Age structure: 0-14 years: 15.01% (male 151,290 / female 143,710) 15-24 years: 9.9% (male 100,416 / female 94,244) 25-54 years: 42.07% (male 409,921 / female 417,074) 55-64 years: 13.77% (male 119,844 / female 150,860) 65 years and over: 19.25% (male 123,467 / female 254,860) (2016 estimate)
Median age: total: 43.3 years; male: 39.5 years, female: 46.6 years (2016 estimate)
Ethnic groups: Latvian 61.1%, Russian 26.2%, Belarusian 3.5%, Ukrainian 2.3%, Polish 2.2%, Lithuanian 1.3%, other 3.4% (2013 estimate)
Religions: Lutheran 19.6%, Orthodox 15.3%, other Christian 1%, other 0.4%, unspecified 63.7% (2006)
Government type: Unitary parliamentary constitutional republic
Legal system: civil law system with traces of socialist legal traditions and practices
National anthem: Dievs, Sveti Latviju (God Bless Latvia)
Known national hazards: N/A
Major infectious diseases: The degree of risk(s): intermediatevectorborne diseases: tickborne encephalitis (2016)
Land use: agricultural land: 29.2%; arable land 18.6%; permanent crops 0.1%; permanent pasture 10.5%; forest: 54.1%; other: 16.7% (2011 estimate)
Agricultural products: grain, rapeseed, potatoes, vegetables; pork, poultry, milk, eggs; fish
Industries: processed foods, processed wood products, textiles, processed metals, pharmaceuticals, railroad cars, synthetic fibers, electronics
Export commodities: foodstuffs, wood and wood products, metals, machinery and equipment, textiles
Main export partners: Lithuania 17.8%, Russia 11.5%, Estonia 11.1%, Germany 6.3%, Poland 5.6%, Sweden 5.2%, UK 5%, Denmark 4% (2015)
Import commodities: machinery and equipment, consumer goods, chemicals, fuels, vehicles
Main import partners: Lithuania 16.9%, Germany 11.2%, Poland 10.5%, Russia 8.1%, Estonia 7.7%, Finland 5.2%, Netherlands 4% (2015)
Navigate the countries in Europe faster and easier while driving, use the interactive Google maps for your driving directions. The continuously updated database contains over 220 countries and territories digitally mapped, hundreds of millions of businesses and places around the world positioned on the map.
Get fresh GPS navigation, traffic, and transit information – no matter what part of Latvia, Riga, any other city and country in Europe, or the world you're in.
Do you like this Latvia information page? Please don't forget to share it with others! Thank you.