Croatia Google maps and Driving Directions
Get free driving directions, Google maps, traffic information for Croatia, and Zagreb (GPS: 45 48 N 16 00 E), the capital city of the country located in (the) Southeastern Europe, bordering the Adriatic Sea, between Bosnia and Herzegovina and Slovenia.
Find any address in Zagreb on the Google map of Croatia (HR) with ease or calculate your up to date itinerary to and from Croatia or its neighboring counties like Bosnia and Herzegovina, Hungary, Montenegro, Serbia, Slovenia.
Sightseeing and exploring in Europe starts here, thanks to Google because its Earth Engine combines a multi-petabyte catalog of updated satellite imagery and geospatial datasets with planetary-scale analysis capabilities. Wonder the world, use the satellite map function of the Google maps to explore or see differences on the Earth's surface, inland, or the surrounding areas of Croatia.
Google Maps Croatia
Though it was controlled by Hungary from medieval times and was a part of the Yugoslav state for much of the 20th century, Croatia has a very strong national identity.
Croatia is geographically diverse; flat plains along Hungarian border, low mountains and highlands near Adriatic coastline and islands.
The map above fully covers Croatia with its road routes from cities to towns, road intersections in any region, provinces, prefectures, also with free driving directions in Zagreb or to the neighboring towns and countries. To look at the detailed map about a particular quarter in Zagreb, please click on the area and zoom to the place you are interested in the Google maps of Croatia (HR).
Be creative, use the extras of this Google map; This is a detailed, clear, zoomable, large road map of Croatia with its administrative divisions; 20 counties (zupanije, zupanija – singular) and 1 city* (grad – singular) with special county status; Bjelovarsko-Bilogorska(Bjelovar-Bilogora), Brodsko-Posavska (Brod-Posavina), Dubrovacko-Neretvanska (Dubrovnik-Neretva), Istarska (Istria), Karlovacka (Karlovac), Koprivnicko-Krizevacka (Koprivnica-Krizevci), Krapinsko-Zagorska (Krapina-Zagorje), Licko-Senjska (Lika-Senj), Medimurska (Medimurje), Osjecko-Baranjska (Osijek-Baranja), Pozesko-Slavonska (Pozega-Slavonia), Primorsko-Goranska (Primorje-Gorski Kotar), Sibensko-Kninska (Sibenik-Knin), Sisacko-Moslavacka (Sisak-Moslavina), Splitsko-Dalmatinska (Split-Dalmatia), Varazdinska (Varazdin), Viroviticko-Podravska (Virovitica-Podravina), Vukovarsko-Srijemska (Vukovar-Syrmia), Zadarska (Zadar), Zagreb*, Zagrebacka (Zagreb county).
The interactive map above is also may be used as the satellite map of Croatia, or as a reverse search map for finding an address from its GPS coordinates.
Croatia is a former Yugoslav republic on the Adriatic Sea. It is about the size of West Virginia. Part of Croatia is a barren, rocky region lying in the Dinaric Alps. The Zagorje region north of the capital, Zagreb, is a land of rolling hills, and the fertile agricultural region of the Pannonian Plain is bordered by the Drava, Danube, and Sava Rivers in the east. Over one-third of Croatia is forested.
Croatia (area: 56 594 sq km / 21 851,06 sq mi), where the official language is Croatian, lying in Europe and using the currency; Croatian kuna (HRK), since 1994, set their clock to UTC+1. That means they are 6 hours ahead of Washington DC during Standard Time in Zagreb, the capital. Note to the time difference: Daylight saving time: +1hr begins last Sunday in March; ends last Sunday in October.
The climate in Croatia; The interior has a temperate continental climate. Mediterranean climate along the Adriatic coast.
Geography in a nutshell; Rocky, mountainous Adriatic coastline is dotted with islands. Interior is a mixture of wooded mountains and broad valleys.
Click here for more detailed information about Croatia.
Driving directions Croatia
The Google maps and Google Satellite maps of Croatia above showing the country, located next to Bosnia and Herzegovina, Hungary, Montenegro, Serbia, Slovenia. For your further reference, the latitude and longitude coordinates of Croatia are 45 10 N, 15 30 E , while the capital, Zagreb found at 45 48 N 16 00 E.
When you are traveling around Croatia, Zagreb, or its other cities, use this routing tool, providing up to date route planning service free of charge.
Look no further; get accurate driving directions in Croatia, Europe, by filling the route planner form below.
Since Google acquired and introduced its digitalized maps in 2004, you're probably familiar with its base functions, like finding an address or driving directions to locations. Still, Google maps also accommodate bicyclists, pedestrians, and also public transportation with special directions and customizable routes.
---
About Croatia and the capital, Zagreb
| | |
| --- | --- |
| | |
| The national flag of Croatia | Borderline map of Croatia |
| | |
| Flag description: three equal horizontal bands of red (top), white, and blue – the Pan-Slav colors – superimposed by the Croatian coat of arms; the coat of arms consists of one main shield (a checkerboard of 13 red and 12 silver (white) fields) surmounted by five smaller shields that form a crown over the main shield; the five small shields represent five historic regions (from left to right): Croatia, Dubrovnik, Dalmatia, Istria, and Slavonia. Note: the Pan-Slav colors were inspired by the 19th-century flag of Russia. | Border length: total: 2,237 km. Border countries (total: 5): Bosnia and Herzegovina 956 km, Hungary 348 km, Montenegro 19 km, Serbia 314 km, Slovenia 600 km. |
About Zagreb
Croatian capital Zagreb is very much Central Europe's surprise package. This city challenges preconceptions and combines the gritty urban culture of northern Europe with the laidback vibe of the Mediterranean south. It has long been a quirky and creative place with a thriving alternative music scene, edgy fashions, creative clubbing, and addictively eccentric bars. However, Adriatic-bound travelers paid it little attention until recently.
Zagreb is currently enjoying something of a moment, with a rapid increase in the number of things that make a city purr – more enjoyable places to eat, more enjoyable places to drink, and a festival driven sense that things are happening in the arts.
Did you know about Croatia?
For much of its existence, Croatia was under Austrian rule. It joined Yugoslavia in 1919, but declared independence on June 25, 1991.
Croatia only regained control of Serb-occupied Eastern Slavonia, around Vukovar, in 1998.
The Adriatic coastline of Croatia contains many old towns, such as Dubrovnik, popular with tourists and sailors.
Croatia folded on two of its sides around neighboring Bosnia-Herzegovina. The country has a broad northern region and a long strip of land along the Adriatic coast. The region behind the Adriatic coast is mainly mountainous and includes the Dinaric Alps. Dalmatia is a lower-lying region located along the Adriatic coast. Considerable areas are forested and wild animals include bears, wolves, wild cats, and wild boars.
Croatia has various mineral resources including coal, petroleum, iron ore, and bauxite. Before the outbreak of war in 1991, Croatia was a fairly prosperous republic of the former Yugoslavia, surpassed in productivity only by Slovenia and accounting for one-quarter of Yugoslavia's national wealth. However, the fighting in the region has devastated the country's land, economy, and infrastructure, and recovery is likely to be a slow process. Croatia's capital, Zagreb, is situated fairly centrally in the northern region.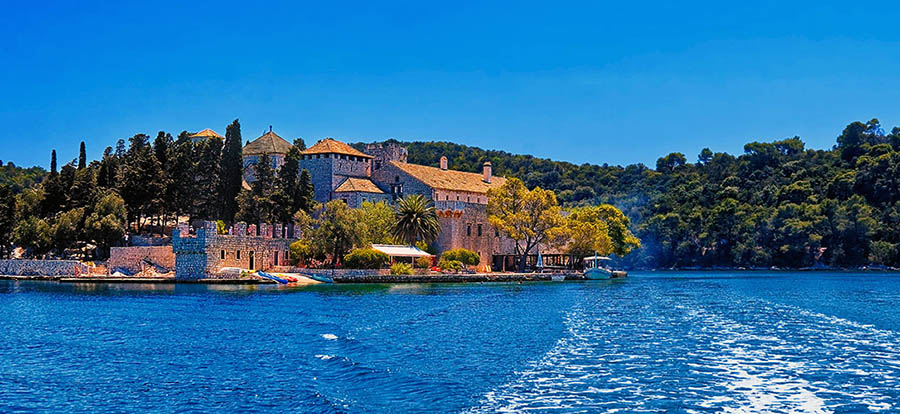 ---
Facts of Croatia (HR)
Name conventional long form: Republic of Croatia, conventional short form: Croatia, local long form: Republika Hrvatska, local short form: Hrvatska, former: People's Republic of Croatia, Socialist Republic of Croatia, etymology: name derives from the Croats, a Slavic tribe who migrated to the Balkans in the 7th century A.D.
Codes: ISO; HR, Internet; .hr
Capital city: Zagreb
Language(s): Croatian (official language) 95.6%, Serbian 1.2%, other 3% (including Hungarian, Czech, Slovak, and Albanian), unspecified 0.2% (2011 estimate)
National holiday(s): Independence Day, 8 October (1991) and Statehood Day, 25 June (1991) Community to solve the Yugoslav crisis peacefully, parliament adopted a decision on 8 October 1991 to sever constitutional relations with Yugoslavia
Motto: N/A
Currency: Croatian kuna (HRK), since 1994
GPS: 45 10 N, 15 30 E, Zagreb; 45 48 N 16 00 E
Location: Southeastern Europe, bordering the Adriatic Sea, between Bosnia and Herzegovina and Slovenia
Geography note: controls most land routes from Western Europe to Aegean Sea and Turkish Straits; most Adriatic Sea islands lie off the coast of Croatia – some 1,200 islands, islets, ridges, and rocks
Land boundaries: Bosnia and Herzegovina 956 km, Hungary 348 km, Montenegro 19 km, Serbia 314 km, Slovenia 600 km, total: 2,237 km
Maritime boundaries: Adriatic Sea
Coastline: 5,835 km (mainland 1,777 km, islands 4,058 km)
Area: total: 56,594 sq km; land: 55,974 sq km, water: 620 sq km (total 21 851,06 mi2), slightly smaller than West Virginia.
Roadways: total: 26,958 km (includes 1,416 km of expressways) (2015)
Waterways: 785 km (2009)
Local time (capital): UTC+1, 6 hours ahead of Washington DC during Standard Time
Note to the local time: Daylight saving time: +1hr begins last Sunday in March; ends last Sunday in October
Population in Croatia: 4 164 783
Population in Zagreb: 685 500 (including the metropolitan areas)
Urbanization: urban population: 59% of total population (2015)
Major urban areas population: ZAGREB (capital) 687,000 (2015)
Population growth rate: -0.5% (2016 estimate)
Birth rate: 9 births / 1,000 population (2016 estimate)
Death rate: 12.1 deaths / 1,000 population (2016 estimate)
Age structure: 0-14 years: 14.22% (male 315,971 / female 297,339) 15-24 years: 11.4% (male 252,285 / female 239,634) 25-54 years: 40.75% (male 878,971 / female 878,707) 55-64 years: 14.83% (male 312,621 / female 326,929) 65 years and over: 18.81% (male 320,418 / female 490,832) (2016 estimate)
Median age: total: 42.7 years; male: 40.8 years, female: 44.8 years (2016 estimate)
Ethnic groups: Croat 90.4%, Serb 4.4%, other 4.4% (including Bosniak, Hungarian, Slovene, Czech, and Roma), unspecified 0.8% (2011 estimate)
Religions: Roman Catholic 86.3%, Orthodox 4.4%, Muslim 1.5%, other 1.5%, unspecified 2.5%, not religious or atheist 3.8% (2011 estimate)
Government type: Unitary parliamentary constitutional republic
Legal system: civil law system influenced by legal heritage of Austria–Hungary; note – Croatian law was fully harmonized with the European Community acquis as of the June 2010 completion of EU accession negotiations
National anthem: Lijepa nasa domovino (Our Beautiful Homeland)
Known national hazards: destructive earthquakes
Major infectious diseases: The degree of risk(s): intermediatevectorborne diseases: tickborne encephalitis (2016)
Land use: agricultural land: 23.7%; arable land 16%; permanent crops 1.5%; permanent pasture 6.2%; forest: 34.4%; other: 41.9% (2011 estimate)
Agricultural products: arable crops (wheat, corn, barley, sugar beet, sunflower, rapeseed, alfalfa, clover); vegetables (potatoes, cabbage, onion, tomato, pepper); fruits (apples, plum, mandarins, olives), grapes for wine; livestock (cattle, cows, pigs); dairy products
Industries: chemicals and plastics, machine tools, fabricated metal, electronics, pig iron and rolled steel products, aluminum, paper, wood products, construction materials, textiles, shipbuilding, petroleum and petroleum refining, food and beverages, tourism
Export commodities: transport equipment, machinery, textiles, chemicals, foodstuffs, fuels
Main export partners: Italy 13.4%, Slovenia 12.5%, Germany 11.4%, Bosnia and Herzegovina 9.9%, Austria 6.6%, Serbia 4.9% (2015)
Import commodities: machinery, transport and electrical equipment; chemicals, fuels and lubricants; foodstuffs
Main import partners: Germany 15.5%, Italy 13.1%, Slovenia 10.7%, Austria 9.2%, Hungary 7.8% (2015)
Navigate the countries in Europe faster and easier while driving, use the interactive Google maps for your driving directions. The continuously updated database contains over 220 countries and territories digitally mapped, hundreds of millions of businesses and places around the world positioned on the map.
Get fresh GPS navigation, traffic, and transit information – no matter what part of Croatia, Zagreb, any other city and country in Europe, or the world you're in.
Do you like this Croatia information page? Please don't forget to share it with others! Thank you.