Nicaragua Google maps and Driving Directions
Get free driving directions, Google maps, traffic information for Nicaragua, and Managua (GPS: 12 08 N 86 15 W), the capital city of the country located in (the) Central America, bordering both the Caribbean Sea and the North Pacific Ocean, between Costa Rica and Honduras.
Find any address in Managua on the Google map of Nicaragua (NI) with ease or calculate your up to date itinerary to and from Nicaragua or its neighboring counties like Costa Rica, Honduras.
Sightseeing and exploring in America starts here, thanks to Google because its Earth Engine combines a multi-petabyte catalog of updated satellite imagery and geospatial datasets with planetary-scale analysis capabilities. Wonder the world, use the satellite map function of the Google maps to explore or see differences on the Earth's surface, inland, or the surrounding areas of Nicaragua.
Google Maps Nicaragua
Nicaragua lies at the heart of Central America. The Sandinista revolution of 1978 led to 11 years of civil war between the left-wing Sandinistas and the right-wing US-backed Contras.
Nicaragua is extensive Atlantic coastal plains rising to central interior mountains; narrow Pacific coastal plain interrupted by volcanoes.
The map above fully covers Nicaragua with its road routes from cities to towns, road intersections in any region, provinces, prefectures, also with free driving directions in Managua or to the neighboring towns and countries. To look at the detailed map about a particular quarter in Managua, please click on the area and zoom to the place you are interested in the Google maps of Nicaragua (NI).
Be creative, use the extras of this Google map; This is a detailed, clear, zoomable, large road map of Nicaragua with its administrative divisions; 15 departments (departamentos, singular – departamento) and 2 autonomous regions* (regiones autonomistas, singular – region autonoma); Boaco, Carazo, Chinandega, Chontales, Costa Caribe Norte*, Costa Caribe Sur*, Esteli, Granada, Jinotega, Leon, Madriz, Managua, Masaya, Matagalpa, Nueva Segovia, Rio San Juan, Rivas.
The interactive map above is also may be used as the satellite map of Nicaragua, or as a reverse search map for finding an address from its GPS coordinates.
Largest but most sparsely populated of the Central American nations, Nicaragua borders Honduras to the north and Costa Rica to the south. It is slightly larger than New York State. Nicaragua is mountainous in the west, with fertile valleys. Two big lakes, Nicaragua and Managua, are connected by the Tipitapa River. The Pacific coast is volcanic and very fertile. The swampy Caribbean coast is aptly called the "Mosquito Coast."
Nicaragua (area: 130 373 sq km / 50 337,28 sq mi), where the official language is Spanish, lying in America and using the currency; Nicaraguan córdoba (NIO), since 1990, set their clock to UTC-6. That means they are 1 hour behind Washington DC during Standard Time in Managua, the capital. Note to the time difference: N/A.
The climate in Nicaragua; Tropical. The lowlands are hot all year round. The mountains are cooler. Prone to occasional hurricanes.
Geography in a nutshell; Extensive forested plains in the east. Central mountain region with many active volcanoes. The Pacific coastlands are dominated by lakes.
Click here for more detailed information about Nicaragua.
Driving directions Nicaragua
The Google maps and Google Satellite maps of Nicaragua above showing the country, located next to Costa Rica, Honduras. For your further reference, the latitude and longitude coordinates of Nicaragua are 13 00 N, 85 00 W , while the capital, Managua found at 12 08 N 86 15 W.
When you are traveling around Nicaragua, Managua, or its other cities, use this routing tool, providing up to date route planning service free of charge.
Look no further; get accurate driving directions in Nicaragua, Central America and the Caribbean, by filling the route planner form below.
Since Google acquired and introduced its digitalized maps in 2004, you're probably familiar with its base functions, like finding an address or driving directions to locations. Still, Google maps also accommodate bicyclists, pedestrians, and also public transportation with special directions and customizable routes.
---
About Nicaragua and the capital, Managua
| | |
| --- | --- |
| | |
| The national flag of Nicaragua | Borderline map of Nicaragua |
| | |
| Flag description: three equal horizontal bands of blue (top), white, and blue with the national coat of arms centered in the white band; the coat of arms features a triangle encircled by the words REPUBLICA DE NICARAGUA on the top and AMERICA CENTRAL on the bottom; the banner is based on the former blue-white-blue flag of the Federal Republic of Central America; the blue bands symbolize the Pacific Ocean and the Caribbean Sea, while the white band represents the land between the two bodies of water. Note: similar to the flag of El Salvador, which features a round emblem encircled by the words REPUBLICA DE EL SALVADOR EN LA AMERICA CENTRAL centered in the white band; also similar to the flag of Honduras, which has five blue stars arranged in an X pattern centered in the white band. | Border length: total: 1,253 km. Border countries (total: 2): Costa Rica 313 km, Honduras 940 km. |
About Managua
Managua is a strange place. It has an eerie ghost-downtown surrounded by anonymous neighborhoods pockmarked with volcanic craters and crisscrossed with streets that lack character as well as names. Amid this are sprawling markets, slick malls, chaotic bus terminals, tacky theme bars, and boisterous dance clubs. The city is a frustrating, bewildering place and easily the least-accessible, hardest-to-negotiate, and toughest-to-discover capital city in Central America.
If the city seems like one big accident, that's because it is. Originally it was a proud indigenous fishing village on the shores of Lago Xolotlán – proud enough to fend off the somewhat surprised and vengeful Spanish. But the small town found itself the country's capital when León and Granada reached a compromise to end their vicious 19th-century rivalry and chose Managua. It's been rough going since. A devastating earthquake in 1931 caused havoc, as did fire several years later. The city experienced a brief boom in the 1950s and 1960s and, for a while, was one of the region's most advanced metropolises. All that changed on December 23, 1972, when another earthquake hit, and eight sq. km (3 sq. miles) of the city flattened and 10,000 people killed. Revolution followed, and its leaders bombed the city. The wealthy elite fled to Miami, and the city stagnated under the Sandinistas. It is only in recent years that Managua has finally begun to emerge from the rubble.
Once you figure out how to negotiate and get around this beautiful city of 1.5 million souls, you'll see that it has a lot to offer. Despite the chaos and heat, it is, after all, the cultural, political, economic, and academic engine of the country. You also can't avoid Managua, as all international flights land here. Whether you stay or not, it is up to you. Stay long enough, and you can dance on volcanic rims, eat-in tropical courtyards, listen to poetic folklore, experience a vibrant art scene, peek into crumbling cathedrals, and, ultimately, understand Nicaragua all the more.
Did you know about Nicaragua?
Nicaragua declared independence from Spain in 1821. It was a member of the United Provinces of Central America from 1823 to 1838.
Lake Nicaragua is the only freshwater lake in the world to contain marine animals.
The fertile volcanic soil along the Pacific coastline forms the main farming region in Nicaragua. Corn, beans, and sorghum are harvested twice a year while coffee, cotton, and bananas are grown for export.
Nicaragua, sandwiched between Honduras to the north and Costa Rica to the south, is the largest of the Central American countries. The dense forests and sandy beaches of the Mosquito Coast in the eastern part of the country are home to a variety of wildlife including jaguars, monkeys, pumas, and crocodiles. The land rises inland to become mountainous interspersed with fertile valleys. In the southwest, there is large basin that contains two vast lakes, Nicaragua in the south and Managua in the north. These are bordered in the north by volcanoes, many of which are still active.
Most of Nicaragua's four and a half million people live in the region of the lakes or towards the Pacific coast in the west. Coffee, cotton, bananas, and sugar cane are grown, with cattle ranching in some of the upland areas. Nicaragua is subject to earthquakes and the capital, Managua, was severely damaged by tremors in 1931 and 1972.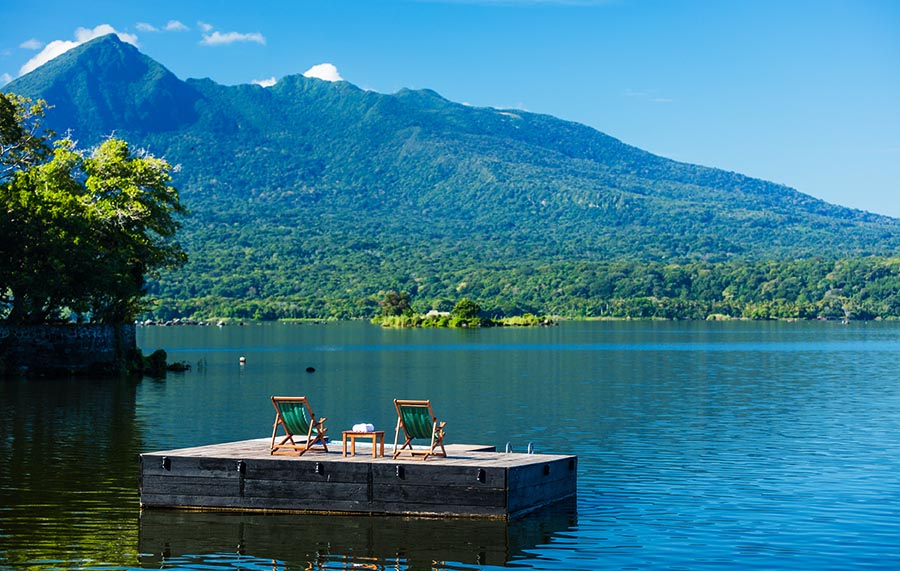 ---
Facts of Nicaragua (NI)
Name conventional long form: Republic of Nicaragua, conventional short form: Nicaragua, local long form: Republica de Nicaragua, local short form: Nicaragua, etymology: Nicarao was the name of the largest indigenous settlement at the time of Spanish arrival; conquistador Gil GONZALEZ Davila, who explored the area (1622-23), combined the name of the community with the Spanish word "agua" (water), referring to the two large lakes in the west of the country (Lake Managua and Lake Nicaragua)
Codes: ISO; NI, Internet; .ni
Capital city: Managua
Language(s): Spanish (official language) 95.3%, Miskito 2.2%, Mestizo of the Caribbean coast 2%, other 0.5%. Note: English and indigenous languages found on the Caribbean coast (2005 estimate)
National holiday(s): Independence Day, 15 September (1821)
Motto: En Dios confiamos (In God We Trust)
Currency: Nicaraguan córdoba (NIO), since 1990
GPS: 13 00 N, 85 00 W, Managua; 12 08 N 86 15 W
Location: Central America, bordering both the Caribbean Sea and the North Pacific Ocean, between Costa Rica and Honduras
Geography note: largest country in Central America; contains the largest freshwater body in Central America, Lago de Nicaragua
Land boundaries: Costa Rica 313 km, Honduras 940 km, total: 1,253 km
Maritime boundaries: N/A
Coastline: 910 km
Area: total: 130,370 sq km; land: 119,990 sq km, water: 10,380 sq km (total 50 337,28 mi2), slightly larger than Pennsylvania; slightly smaller than New York state.
Roadways: total: 23,897 km, paved: 3,346 km, unpaved: 20,551 km (2014)
Waterways: 2,220 km (navigable waterways as well as the use of the large Lake Managua and Lake Nicaragua; rivers serve only the sparsely populated eastern part of the country) (2011)
Local time (capital): UTC-6, 1 hour behind Washington DC during Standard Time
Note to the local time: N/A
Population in Nicaragua: 6 284 757
Population in Managua: 1 390 500 (including the metropolitan areas)
Urbanization: urban population: 58.8% of total population (2015)
Major urban areas population: MANAGUA (capital) 956,000 (2015)
Population growth rate: 0.99% (2016 estimate)
Birth rate: 17.9 births / 1,000 population (2016 estimate)
Death rate: 5.1 deaths / 1,000 population (2016 estimate)
Age structure: 0-14 years: 27.88% (male 848,537 / female 815,032) 15-24 years: 21.78% (male 653,113 / female 646,497) 25-54 years: 39.42% (male 1,113,772 / female 1,238,550) 55-64 years: 5.79% (male 160,165 / female 185,385) 65 years and over: 5.12% (male 136,661 / female 169,086) (2016 estimate)
Median age: total: 25.2 years; male: 24.3 years, female: 26 years (2016 estimate)
Ethnic groups: mestizo (mixed Amerindian and white) 69%, white 17%, black 9%, Amerindian 5%
Religions: Roman Catholic 58.5%, Protestant 23.2% (Evangelical 21.6%, Moravian 1.6%), Jehovah's Witnesses 0.9%, other 1.6%, none 15.7% (2005 estimate)
Government type: Unitary presidential constitutional republic
Legal system: civil law system; Supreme Court may review administrative acts
National anthem: Salve a ti, Nicaragua (Hail to Thee, Nicaragua)
Known national hazards: destructive earthquakes; volcanoes; landslides; extremely susceptible to hurricanesvolcanism: significant volcanic activity; Cerro Negro (elev. 728 m), which last erupted in 1999, is one of Nicaragua's most active volcanoes; its lava flows and ash have been known to cause significant damage to farmland and buildings; other historically active volcanoes include Concepcion, Cosiguina, Las Pilas, Masaya, Momotombo, San Cristobal, and Telica
Major infectious diseases: The degree of risk(s): high food or waterborne diseases: bacterial diarrhea, hepatitis A, and typhoid fever vectorborne disease: dengue fever and malaria. Note: active local transmission of Zika virus by Aedes species mosquitoes has been identified in this country (as of August 2016); it poses an important risk (a large number of cases possible) among US citizens if bitten by an infective mosquito; other less common ways to get Zika are through sex, via blood transfusion, or during pregnancy, in which the pregnant woman passes Zika virus to her fetus (2016)
Land use: agricultural land: 42.2%; arable land 12.5%; permanent crops 2.5%; permanent pasture 27.2%; forest: 25.3%; other: 32.5% (2011 estimate)
Agricultural products: coffee, bananas, sugarcane, rice, corn, tobacco, cotton, sesame, soya, beans; beef, veal, pork, poultry, dairy products; shrimp, lobsters
Industries: food processing, chemicals, machinery and metal products, knit and woven apparel, petroleum refining and distribution, beverages, footwear, wood, electric wire harness manufacturing, mining
Export commodities: coffee, beef, gold, sugar, peanuts, shrimp and lobster, tobacco, cigars, automobile wiring harnesses, textiles, apparel, cotton
Main export partners: US 56.5%, Mexico 10.7%, Venezuela 5.4%, El Salvador 4.3% (2015)
Import commodities: consumer goods, machinery and equipment, raw materials, petroleum products
Main import partners: US 19.9%, Mexico 14.9%, China 10.6%, Venezuela 7%, Costa Rica 7%, El Salvador 5.7%, Guatemala 5.6%, Netherlands Antilles 5.5% (2015)
Navigate the countries in Central America and the Caribbean faster and easier while driving, use the interactive Google maps for your driving directions. The continuously updated database contains over 220 countries and territories digitally mapped, hundreds of millions of businesses and places around the world positioned on the map.
Get fresh GPS navigation, traffic, and transit information – no matter what part of Nicaragua, Managua, any other city and country in America, or the world you're in.
Do you like this Nicaragua information page? Please don't forget to share it with others! Thank you.