El Salvador Google maps and Driving Directions
Get free driving directions, Google maps, traffic information for El Salvador, and San Salvador (GPS: 13 42 N 89 12 W), the capital city of the country located in (the) Central America, bordering the North Pacific Ocean, between Guatemala and Honduras.
Find any address in San Salvador on the Google map of El Salvador (SV) with ease or calculate your up to date itinerary to and from El Salvador or its neighboring counties like Guatemala, Honduras.
Sightseeing and exploring in America starts here, thanks to Google because its Earth Engine combines a multi-petabyte catalog of updated satellite imagery and geospatial datasets with planetary-scale analysis capabilities. Wonder the world, use the satellite map function of the Google maps to explore or see differences on the Earth's surface, inland, or the surrounding areas of El Salvador.
Google Maps El Salvador
El Salvador is Central America's smallest and most densely populated country. Already struggling to recover from a civil war in the 1980s, it was badly struck by earthquakes in 2001.
El Salvador is mostly mountains with narrow coastal belt and central plateau.
The map above fully covers El Salvador with its road routes from cities to towns, road intersections in any region, provinces, prefectures, also with free driving directions in San Salvador or to the neighboring towns and countries. To look at the detailed map about a particular quarter in San Salvador, please click on the area and zoom to the place you are interested in the Google maps of El Salvador (SV).
Be creative, use the extras of this Google map; This is a detailed, clear, zoomable, large road map of El Salvador with its administrative divisions; 14 departments (departamentos, singular – departamento); Ahuachapan, Cabanas, Chalatenango, Cuscatlan, La Libertad, La Paz, La Union, Morazan, San Miguel, San Salvador, San Vicente, Santa Ana, Sonsonate, Usulutan.
The interactive map above is also may be used as the satellite map of El Salvador, or as a reverse search map for finding an address from its GPS coordinates.
Situated on the Pacific coast of Central America, El Salvador has Guatemala to the west and Honduras to the north and east. It is the smallest of the Central American countries, with an area equal to that of Massachusetts, and it is the only one without an Atlantic coastline. Most of the country is on a fertile volcanic plateau about 2,000 ft (607 m) high.
El Salvador (area: 21 041 sq km / 8 123,97 sq mi), where the official language is Spanish, lying in America and using the currency; United States dollar (USD), set their clock to UTC-6. That means they are 1 hour behind Washington DC during Standard Time in San Salvador, the capital. Note to the time difference: N/A.
The climate in El Salvador; Tropical coastal belt is very hot, with seasonal rains. Cooler, temperate climate in highlands.
Geography in a nutshell; El Salvador is a narrow coastal belt backed by two mountain ranges. There is a central plateau. The country is located within a seismic zone, and there are more than 20 volcanic peaks.
Click here for more detailed information about El Salvador.
Driving directions El Salvador
The Google maps and Google Satellite maps of El Salvador above showing the country, located next to Guatemala, Honduras. For your further reference, the latitude and longitude coordinates of El Salvador are 13 50 N, 88 55 W , while the capital, San Salvador found at 13 42 N 89 12 W.
When you are traveling around El Salvador, San Salvador, or its other cities, use this routing tool, providing up to date route planning service free of charge.
Look no further; get accurate driving directions in El Salvador, Central America and the Caribbean, by filling the route planner form below.
Since Google acquired and introduced its digitalized maps in 2004, you're probably familiar with its base functions, like finding an address or driving directions to locations. Still, Google maps also accommodate bicyclists, pedestrians, and also public transportation with special directions and customizable routes.
---
About El Salvador and the capital, San Salvador
| | |
| --- | --- |
| | |
| The national flag of El Salvador | Borderline map of El Salvador |
| | |
| Flag description: three equal horizontal bands of blue (top), white, and blue with the national coat of arms centered in the white band; the coat of arms features a round emblem encircled by the words REPUBLICA DE EL SALVADOR EN LA AMERICA CENTRAL; the banner is based on the former blue-white-blue flag of the Federal Republic of Central America; the blue bands symbolize the Pacific Ocean and the Caribbean Sea, while the white band represents the land between the two bodies of water, as well as peace and prosperity. Note: similar to the flag of Nicaragua, which has a different coat of arms centered in the white band – it features a triangle encircled by the words REPUBLICA DE NICARAGUA on top and AMERICA CENTRAL on the bottom; also similar to the flag of Honduras, which has five blue stars arranged in an X pattern centered in the white band. | Border length: total: 590 km. Border countries (total: 2): Guatemala 199 km, Honduras 391 km. |
About San Salvador
When Mayor-elect Norman Quijano announced in 2010 he was going to clean up San Salvador, nobody believed him. El Salvador's capital is a typical Central American city that suffers from pollution and heavy traffic, and there is a great divide between the rich and the poor, which means there are some unsafe, crime-ridden neighborhoods. Volcanoes and hills surround a bowl-shaped city with the more exceptional areas sitting on the slopes, and the historical center is one large market with ugly stalls blocking the sidewalks. Earthquake damage has taken its toll on older buildings, and the city –  which is Central America's second-most-populated behind Guatemala City -lacks any grand vistas. Instead of beautiful architecture, San Salvador seems to have the highest concentration of fast-food restaurants in the world; Burger King, Wendy's, and Pizza Hut are on practically every corner. Yet the mayor has kept his promise; the streets are piece by piece cleared, and there is an air of revitalization in the air.
San Salvador is a frenetic, modern, international city in which travelers will find examples of the best and the worst in Central America. On the plus side, the nation's capital offers one of the region's most diverse collections of international restaurants. You can sample fusion, Italian, Asian, Brazilian, and other cuisines at restaurants with top-notch service and, at least by North American and European standards, reasonable prices. You can also lay your head on the fluffy pillows of high-end luxury hotels such as Hilton, Sheraton, and InterContinental Real, and shop at an international collection of designer stores in sparkling new malls such as the Multiplaza and Gran Via. Besides, the city boasts a world-class art museum, a historic center (El Centro), a nearby international airport, and beach resorts within 1 hour's drive. It's a city with a lot going for it.
If you have limited time in El Salvador, my advice is to skip San Salvador and base yourself in laid-back Suchitoto or on a nearby beach resort. Like many big cities, San Salvador takes a while to seduce a newcomer, so if you do have the time, by all means, linger and experience the heart of Salvadoran urban culture.
Did you know about El Salvador?
El Salvador's flag recalls the colors of the United Provinces of Central America, used following independence from Spain in 1823.
El Salvador is named after Jesus Christ, "the savior" of Christians".
The smallest and most densely populated of the Central American republics, El Salvador lies on the Pacific coast and grows coffee and other crops for export.
El Salvador lies along the Pacific Ocean and is bounded inland by Guatemala and Honduras. It is the smallest of the Central American countries with a population of about five and a half million people. Most of the central region occupied by a range of volcanic peaks, some of which are still active. Past eruptions have deposited a fertile layer of material on a high, central plain providing excellent conditions for coffee plantations. Coffee is El Salvador's main crop, but tobacco, maize, beans, rice, and sugar also grown.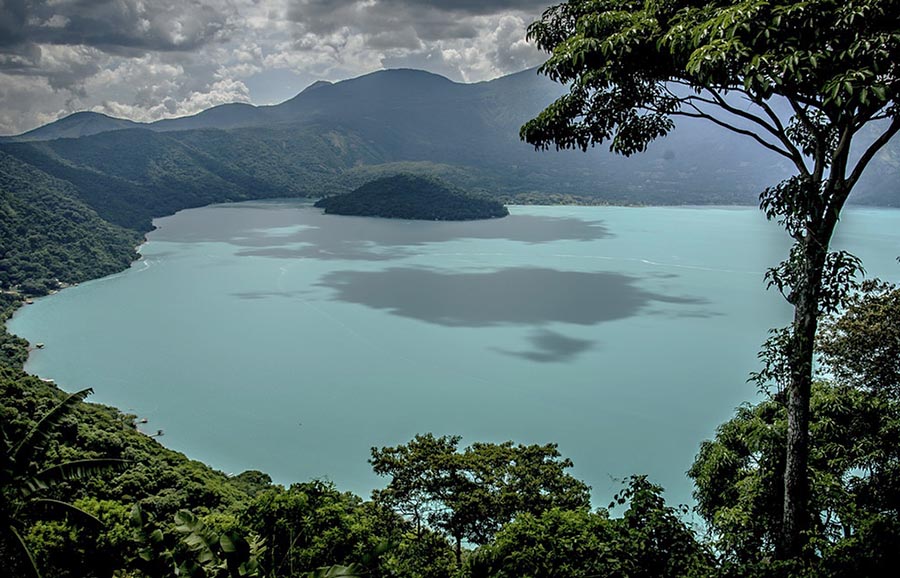 ---
Facts of El Salvador (SV)
Name conventional long form: Republic of El Salvador, conventional short form: El Salvador, local long form: Republica de El Salvador, local short form: El Salvador, etymology: name is an abbreviation of the original Spanish conquistador designation for the area "Provincia de Nuestro Senor Jesus Cristo, el Salvador del Mundo" (Province of Our Lord Jesus Christ, the Saviour of the World), which became simply "El Salvador" (The Savior)
Codes: ISO; SV, Internet; .sv
Capital city: San Salvador
Language(s): Spanish (official language), Nawat (among some Amerindians)
National holiday(s): Independence Day, 15 September (1821)
Motto: Dios, Unión, Libertad (God, Unity, Freedom)
Currency: United States dollar (USD)
GPS: 13 50 N, 88 55 W, San Salvador; 13 42 N 89 12 W
Location: Central America, bordering the North Pacific Ocean, between Guatemala and Honduras
Geography note: smallest Central American country and only one without a coastline on Caribbean Sea
Land boundaries: Guatemala 199 km, Honduras 391 km, total: 590 km
Maritime boundaries: N/A
Coastline: 307 km
Area: total: 21,041 sq km; land: 20,721 sq km, water: 320 sq km (total 8 123,97 mi2), about the same size as New Jersey.
Roadways: total: 6,918 km, paved: 3,247 km (includes 341 km of expressways), unpaved: 3,671 km (2010)
Waterways: (Rio Lempa is partially navigable by small craft) (2011)
Local time (capital): UTC-6, 1 hour behind Washington DC during Standard Time
Note to the local time: N/A
Population in El Salvador: 6 411 558
Population in San Salvador: 1 791 700 (including the metropolitan areas)
Urbanization: urban population: 66.7% of total population (2015)
Major urban areas population: SAN SALVADOR (capital) 1.098 million (2015)
Population growth rate: 0.25% (2016 estimate)
Birth rate: 16.3 births / 1,000 population (2016 estimate)
Death rate: 5.7 deaths / 1,000 population (2016 estimate)
Age structure: 0-14 years: 26.58% (male 839,392 / female 797,323) 15-24 years: 20.51% (male 635,100 / female 627,648) 25-54 years: 38.66% (male 1,098,619 / female 1,281,822) 55-64 years: 6.96% (male 190,386 / female 238,206) 65 years and over: 7.28% (male 197,945 / female 250,229) (2016 estimate)
Median age: total: 26.6 years; male: 25.1 years, female: 28.1 years (2016 estimate)
Ethnic groups: mestizo 86.3%, white 12.7%, Amerindian 0.2% (includes Lenca, Kakawira, Nahua-Pipil), black 0.1%, other 0.6% (2007 estimate)
Religions: Roman Catholic 57.1%, Protestant 21.2%, Jehovah's Witnesses 1.9%, Mormon 0.7%, other religions 2.3%, none 16.8% (2003 estimate)
Government type: Unitary presidential constitutional republic
Legal system: civil law system with minor common law influence; judicial review of legislative acts in the Supreme Court
National anthem: Himno Nacional de El Salvador (National Anthem of El Salvador)
Known national hazards: known as the Land of Volcanoes; frequent and sometimes destructive earthquakes and volcanic activity; extremely susceptible to hurricanesvolcanism: significant volcanic activity; San Salvador (elev. 1,893 m), which last erupted in 1917, has the potential to cause major harm to the country's capital, which lies just below the volcano's slopes; San Miguel (elev. 2,130 m), which last erupted in 2002, is one of the most active volcanoes in the country; other historically active volcanoes include Conchaguita, Ilopango, Izalco, and Santa Ana
Major infectious diseases: The degree of risk(s): high food or waterborne diseases: bacterial and protozoal diarrheavectorborne diseases: dengue fever. Note: active local transmission of Zika virus by Aedes species mosquitoes has been identified in this country (as of August 2016); it poses an important risk (a large number of cases possible) among US citizens if bitten by an infective mosquito; other less common ways to get Zika are through sex, via blood transfusion, or during pregnancy, in which the pregnant woman passes Zika virus to her fetus (2016)
Land use: agricultural land: 74.7%; arable land 33.1%; permanent crops 10.9%; permanent pasture 30.7%; forest: 13.6%; other: 11.7% (2011 estimate)
Agricultural products: coffee, sugar, corn, rice, beans, oilseed, cotton, sorghum; beef, dairy products
Industries: food processing, beverages, petroleum, chemicals, fertilizer, textiles, furniture, light metals
Export commodities: offshore assembly exports, coffee, sugar, textiles and apparel, gold, ethanol, chemicals, electricity, iron and steel manufactures
Main export partners: US 47.1%, Honduras 13.9%, Guatemala 13.6%, Nicaragua 6.6%, Costa Rica 4.5% (2015)
Import commodities: raw materials, consumer goods, capital goods, fuels, foodstuffs, petroleum, electricity
Main import partners: US 39.4%, Guatemala 9.6%, China 8.1%, Mexico 7.4%, Honduras 5.7% (2015)
Navigate the countries in Central America and the Caribbean faster and easier while driving, use the interactive Google maps for your driving directions. The continuously updated database contains over 220 countries and territories digitally mapped, hundreds of millions of businesses and places around the world positioned on the map.
Get fresh GPS navigation, traffic, and transit information – no matter what part of El Salvador, San Salvador, any other city and country in America, or the world you're in.
Do you like this El Salvador information page? Please don't forget to share it with others! Thank you.