Malta Google maps and Driving Directions
Get free driving directions, Google maps, traffic information for Malta, and Valletta (GPS: 35 53 N 14 30 E), the capital city of the country located in (the) Southern Europe, islands in the Mediterranean Sea, south of Sicily (Italy).
Find any address in Valletta on the Google map of Malta (MT) with ease or calculate your up to date itinerary to and from Malta or its neighboring counties like N/A.
Sightseeing and exploring in Europe starts here, thanks to Google because its Earth Engine combines a multi-petabyte catalog of updated satellite imagery and geospatial datasets with planetary-scale analysis capabilities. Wonder the world, use the satellite map function of the Google maps to explore or see differences on the Earth's surface, inland, or the surrounding areas of Malta.
Google Maps Malta
The densely populated Maltese archipelago lies between Africa and Europe. Controlled throughout its history by successive colonial powers, it gained independence from the UK in 1964.
Malta is mostly low, rocky, flat to dissected plains; many coastal cliffs.
The map above fully covers Malta with its road routes from cities to towns, road intersections in any region, provinces, prefectures, also with free driving directions in Valletta or to the neighboring towns and countries. To look at the detailed map about a particular quarter in Valletta, please click on the area and zoom to the place you are interested in the Google maps of Malta (MT).
Be creative, use the extras of this Google map; This is a detailed, clear, zoomable, large road map of Malta with its administrative divisions; 68 localities (Il-lokalita); Attard, Balzan, Birgu, Birkirkara, Birzebbuga, Bormla, Dingli, Fgura, Floriana, Fontana, Ghajnsielem, Gharb, Gharghur, Ghasri, Ghaxaq, Gudja, Gzira, Hamrun, Iklin, Imdina, Imgarr, Imqabba, Imsida, Imtarfa, Isla, Kalkara, Kercem, Kirkop, Lija, Luqa, Marsa, Marsaskala, Marsaxlokk, Mellieha, Mosta, Munxar, Nadur, Naxxar, Paola, Pembroke, Pieta, Qala, Qormi, Qrendi, Rabat, Rabat (Ghawdex), Safi, San Giljan/Saint Julian, San Gwann/Saint John, San Lawrenz/Saint Lawrence, Sannat, San Pawl il-Bahar/Saint Paul's Bay, Santa Lucija/Saint Lucia, Santa Venera/Saint Venera, Siggiewi, Sliema, Swieqi, Tarxien, Ta' Xbiex, Valletta, Xaghra, Xewkija, Xghajra, Zabbar, Zebbug, Zebbug (Ghawdex), Zejtun, Zurrieq.
The interactive map above is also may be used as the satellite map of Malta, or as a reverse search map for finding an address from its GPS coordinates.
The five Maltese islands—Malta, Gozo, Comino, Comminotto, and Filflawith—have a combined land area smaller than Philadelphia. Malta is located in the Mediterranean Sea, about 60 mi (97 km) south of the southeast tip of Sicily.
Malta (area: 316 sq km / 122,01 sq mi), where the official language is English, Maltese, lying in Europe and using the currency; Euro (EUR), since 2008, set their clock to UTC+1. That means they are 6 hours ahead of Washington DC during Standard Time in Valletta, the capital. Note to the time difference: Daylight saving time: +1hr begins last Sunday in March; ends last Sunday in October.
The climate in Malta; Mediterranean climate. There are many hours of sunshine all year round, with very little rainfall.
Geography in a nutshell; The main island of Malta has low hills and a ragged coastline with numerous harbors, bays, sandy beaches, and rocky coves. The island of Gozo is more densely vegetated.
Click here for more detailed information about Malta.
Driving directions Malta
The Google maps and Google Satellite maps of Malta above showing the country, located next to N/A. For your further reference, the latitude and longitude coordinates of Malta are 35 50 N, 14 35 E , while the capital, Valletta found at 35 53 N 14 30 E.
When you are traveling around Malta, Valletta, or its other cities, use this routing tool, providing up to date route planning service free of charge.
Look no further; get accurate driving directions in Malta, Europe, by filling the route planner form below.
Since Google acquired and introduced its digitalized maps in 2004, you're probably familiar with its base functions, like finding an address or driving directions to locations. Still, Google maps also accommodate bicyclists, pedestrians, and also public transportation with special directions and customizable routes.
---
About Malta and the capital, Valletta
| | |
| --- | --- |
| | |
| The national flag of Malta | Borderline map of Malta |
| | |
| Flag description: two equal vertical bands of white (hoist side) and red; in the upper hoist-side corner is a representation of the George Cross, edged in red; according to legend, the colors are taken from the red and white checkered banner of Count Roger of Sicily who removed a bi-colored corner and granted it to Malta in 1091; an uncontested explanation is that the colors are those of the Knights of Saint John who ruled Malta from 1530 to 1798; in 1942, King George VI of the UK awarded the George Cross to the islanders for their exceptional bravery and gallantry in World War II; since independence in 1964, the George Cross bordered in red has appeared directly on the white field. | Border length: 0 km. |
Did you know about Malta?
Malta ruled successively by the Knights of St. John of Jerusalem, by Napoleon, and by Britain. It became independent in 1964.
The Maltese language has Phoenician origins but features Arabic etymology and intonation.
Sitting at the narrowest point of the Mediterranean between Italy and North Africa, Malta is an important harbor for merchant and naval shipping.
Malta is an archipelago of three large inhabited islands and two small uninhabited ones, which situated in the Mediterranean Sea between North Africa and Sicily. Malta is the largest of the three inhabited islands, Gozo the second largest and Comino by far the smallest.
Comino is an idyllic island paradise with beautiful coves and bays, sparkling clear seas, just one hotel, and very few people. Tourism has expanded considerably in recent years, with many visitors attracted by Malta's coastal scenery, pleasant climate and rich archaeological and historical heritage.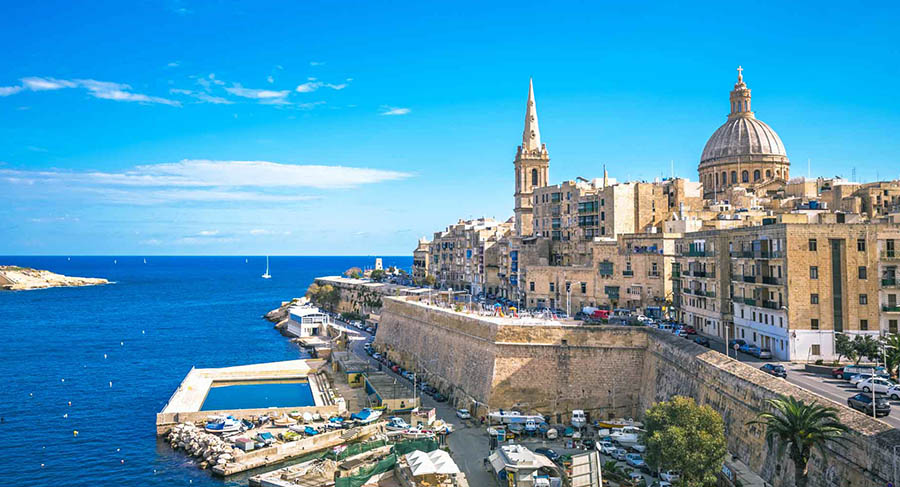 ---
Facts of Malta (MT)
Name conventional long form: Republic of Malta, conventional short form: Malta, local long form: Repubblika ta' Malta, local short form: Malta, etymology: the ancient Greeks called the island "Melite" meaning "honey-sweet" from the Greek word "meli" meaning "honey" and referring to the island's honey production
Codes: ISO; MT, Internet; .mt
Capital city: Valletta
Language(s): Maltese (official language) 90.1%, English (official language) 6%, multilingual 3%, other 0.9% (2005 estimate)
National holiday(s): Independence Day, 21 September (1964); Republic Day, 13 December (1974)
Motto: N/A
Currency: Euro (EUR), since 2008
GPS: 35 50 N, 14 35 E, Valletta; 35 53 N 14 30 E
Location: Southern Europe, islands in the Mediterranean Sea, south of Sicily (Italy)
Geography note: the country comprises an archipelago, with only the three largest islands (Malta, Ghawdex or Gozo, and Kemmuna or Comino) inhabited; numerous bays provide good harbors; Malta and Tunisia are discussing the commercial exploitation of the continental shelf between their countries, particularly for oil exploration
Land boundaries: N/A, 0 km
Maritime boundaries: Mediterranean Sea
Coastline: 196.8 km (excludes 56 km for the island of Gozo)
Area: total: 316 sq km; land: 316 sq km, water: 0 sq km (total 122,01 mi2), slightly less than twice the size of Washington, DC.
Roadways: total: 3,096 km, paved: 2,704 km, unpaved: 392 km (2008)
Waterways: N/A
Local time (capital): UTC+1, 6 hours ahead of Washington DC during Standard Time
Note to the local time: Daylight saving time: +1hr begins last Sunday in March; ends last Sunday in October
Population in Malta: 432 089
Population in Valletta: 194 200 (including the metropolitan areas)
Urbanization: urban population: 95.4% of total population (2015)
Major urban areas population: VALLETTA (capital) 197,000 (2014)
Population growth rate: 0.29% (2016 estimate)
Birth rate: 10.1 births / 1,000 population (2016 estimate)
Death rate: 9.2 deaths / 1,000 population (2016 estimate)
Age structure: 0-14 years: 15.01% (male 31,978 / female 30,361) 15-24 years: 11.84% (male 25,276 / female 23,890) 25-54 years: 40.1% (male 85,151 / female 81,346) 55-64 years: 13.98% (male 28,797 / female 29,251) 65 years and over: 19.06% (male 35,614 / female 43,532) (2016 estimate)
Median age: total: 41.5 years; male: 40.4 years, female: 42.7 years (2016 estimate)
Ethnic groups: Maltese (descendants of ancient Carthaginians and Phoenicians with strong elements of Italian and other Mediterranean stock)
Religions: Roman Catholic (official) more than 90% (2011 estimate)
Government type: Unitary parliamentary republic
Legal system: mixed legal system of English common law and civil law (based on the Roman and Napoleonic civil codes)
National anthem: L-Innu Malti (The Maltese Hymn)
Known national hazards: N/A
Major infectious diseases: N/A
Land use: agricultural land: 32.3%; arable land 28.4%; permanent crops 3.9%; permanent pasture 0%; forest: 0.9%; other: 66.8% (2011 estimate)
Agricultural products: potatoes, cauliflower, grapes, wheat, barley, tomatoes, citrus, cut flowers, green peppers; pork, milk, poultry, eggs
Industries: tourism, electronics, ship building and repair, construction, food and beverages, pharmaceuticals, footwear, clothing, tobacco, aviation services, financial services, information technology services
Export commodities: machinery and mechanical appliances; mineral fuels, oils and petroleum products; pharmaceutical products; books and newspapers; aircraft/spacecraft and parts; toys, games, and sports equipment
Main export partners: Germany 13.3%, France 10.2%, Hong Kong 7.4%, Singapore 7.3%, UK 6.4%, US 5.8%, Italy 5.6%, Japan 4.7% (2015)
Import commodities: mineral fuels, oils and products; electrical machinery; aircraft/spacecraft and parts thereof; machinery and mechanical appliances; plastic and other semi-manufactured goods; vehicles and parts
Main import partners: Italy 23%, Netherlands 8.4%, UK 7.5%, Germany 6.8%, Canada 6.1%, China 4.1%, France 4% (2015)
Navigate the countries in Europe faster and easier while driving, use the interactive Google maps for your driving directions. The continuously updated database contains over 220 countries and territories digitally mapped, hundreds of millions of businesses and places around the world positioned on the map.
Get fresh GPS navigation, traffic, and transit information – no matter what part of Malta, Valletta, any other city and country in Europe, or the world you're in.
Do you like this Malta information page? Please don't forget to share it with others! Thank you.