Ecuador Google maps and Driving Directions
Get free driving directions, Google maps, traffic information for Ecuador, and Quito (GPS: 0 13 S 78 30 W), the capital city of the country located in (the) Western South America, bordering the Pacific Ocean at the Equator, between Colombia and Peru.
Find any address in Quito on the Google map of Ecuador (EC) with ease or calculate your up to date itinerary to and from Ecuador or its neighboring counties like Colombia, Peru.
Sightseeing and exploring in America starts here, thanks to Google because its Earth Engine combines a multi-petabyte catalog of updated satellite imagery and geospatial datasets with planetary-scale analysis capabilities. Wonder the world, use the satellite map function of the Google maps to explore or see differences on the Earth's surface, inland, or the surrounding areas of Ecuador.
Google Maps Ecuador
Once part of the Inca heartland, Ecuador lies on the western coast of South America. Its territory includes the fascinating Galápagos Islands, 610 miles (970 km) to the west.
Ecuador is coastal plain (costa), inter-Andean central highlands (sierra), and flat to rolling eastern jungle (oriente).
The map above fully covers Ecuador with its road routes from cities to towns, road intersections in any region, provinces, prefectures, also with free driving directions in Quito or to the neighboring towns and countries. To look at the detailed map about a particular quarter in Quito, please click on the area and zoom to the place you are interested in the Google maps of Ecuador (EC).
Be creative, use the extras of this Google map; This is a detailed, clear, zoomable, large road map of Ecuador with its administrative divisions; 24 provinces (provincias, singular – provincia); Azuay, Bolivar, Canar, Carchi, Chimborazo, Cotopaxi, El Oro, Esmeraldas, Galapagos, Guayas, Imbabura, Loja, Los Rios, Manabi, Morona-Santiago, Napo, Orellana, Pastaza, Pichincha, Santa Elena, Santo Domingo de los Tsachilas, Sucumbios, Tungurahua, Zamora-Chinchipe.
The interactive map above is also may be used as the satellite map of Ecuador, or as a reverse search map for finding an address from its GPS coordinates.
Ecuador, about equal in area to Nevada, is in the northwest part of South America fronting on the Pacific. To the north is Colombia and to the east and south is Peru. Two high and parallel ranges of the Andes, traversing the country from north to south, are topped by tall volcanic peaks. The highest is Chimborazo at 20,577 ft (6,272 m). The Galápagos Islands (or Colón Archipelago: 3,029 sq mi 7,845 sq km), in the Pacific Ocean about 600 mi (966 km) west of the South American mainland, became part of Ecuador in 1832.
Ecuador (area: 256 369 sq km / 98 984,58 sq mi), where the official language is Kichwa, Shuar, Spanish, lying in America and using the currency; United States dollar (USD), since 2000, set their clock to UTC-5. That means they are same time as Washington DC during Standard Time in Quito, the capital. Note to the time difference: N/A.
The climate in Ecuador; The climate is hot and moist on the coast, cool in the Andes, and hot equatorial in the Amazon basin.
Geography in a nutshell; Broad coastal plain, inter-Andean central highlands, dense jungle in upper Amazon basin.
Click here for more detailed information about Ecuador.
Driving directions Ecuador
The Google maps and Google Satellite maps of Ecuador above showing the country, located next to Colombia, Peru. For your further reference, the latitude and longitude coordinates of Ecuador are 2 00 S, 77 30 W , while the capital, Quito found at 0 13 S 78 30 W.
When you are traveling around Ecuador, Quito, or its other cities, use this routing tool, providing up to date route planning service free of charge.
Look no further; get accurate driving directions in Ecuador, South America, by filling the route planner form below.
Since Google acquired and introduced its digitalized maps in 2004, you're probably familiar with its base functions, like finding an address or driving directions to locations. Still, Google maps also accommodate bicyclists, pedestrians, and also public transportation with special directions and customizable routes.
---
About Ecuador and the capital, Quito
| | |
| --- | --- |
| | |
| The national flag of Ecuador | Borderline map of Ecuador |
| | |
| Flag description: three horizontal bands of yellow (top, double width), blue, and red with the coat of arms superimposed at the center of the flag; the flag retains the three main colors of the banner of Gran Colombia, the South American republic that broke up in 1830; the yellow color represents sunshine, grain, and mineral wealth, blue the sky, sea, and rivers, and red the blood of patriots spilled in the struggle for freedom and justice. Note: similar to the flag of Colombia, which is shorter and does not bear a coat of arms. | Border length: total: 2,237 km. Border countries (total: 2): Colombia 708 km, Peru 1,529 km. |
About Quito
Quito, Ecuador's capital, sits on a long, level plateau in a valley between towering Andean peaks. It is a city of striking beauty and stark contrasts. Sebastián de Benalcázar founded Quito in 1534. If he were to walk the streets of Old Town today, he might still feel right at home. Many of the original colonial structures here magnificently preserved and restored. Quito was – and still is – a city of grand churches with detailed, hand-carved facades and altars. It is a place where 500-year old buildings, which have survived earthquakes and volcanic eruptions, open onto medieval-style courtyards, complete with columned archways and stone fountains. In 1978, Quito declared a UNESCO World Heritage Site, the first city to earn that designation.
But that's only one side of Quito. Quito is a place where you can travel to the past but still enjoy modern-day comforts. The living museum of Old Town nicely complements New Town's modern-art and archaeology museums, cosmopolitan restaurants, and hopping clubs. Spend a few days here, and you can enjoy the best of both worlds. You can also travel to colorful indigenous markets, a unique cloud forest, or the world's highest active volcano – all within 2 hours of the city.
Remember that at 2,850m (9,300 ft.) above sea level, Quito is one of the highest capital cities in the world, and the air is much thinner here. Many visitors quickly feel the effects of the high altitude. Drink plenty of water and do not overdo it as your body acclimates.
Did you know about Ecuador?
Ecuador, formerly a Spanish colony, joined the state of Greater Colombia in 1822. It seceded from the federation in 1830 to form a republic.
World's biggest banana exporter.
Named after the Equator, which cuts through it, Ecuador consists of coastal lowlands and the Amazon River basin, which are separated by the Andes Mountains. After a major economic crisis from 1998 to 1999, the country began using the U.S. dollar.
Ecuador means "Equator" in Spanish, and the Equator divides the country into a large southern region and a small northern portion. Although it is a relatively small country, Ecuador has great topographical and climatic variation. It rises inland from the coastal plain to form the Sierra or Central Highlands, consisting of the Western and Eastern Cordillera ranges of the Andes.
These are separated by a long, narrow valley forming a high plateau. Lying to the east of the Andes and comprising about one-third of the total land area is the region known as the Oriente. It is drained by rivers which form some of the headwaters of the mighty Amazon, this region covered by dense tropical rainforest and is well known for its biodiversity. The Galapagos Islands, which lie 965 kilometers or 600 miles west of the coast, are also part of Ecuador. Much of Ecuador's coastal plain has been cleared of forests to make way for the cultivation of bananas, sugar cane, coffee, rice, manioc, and maize.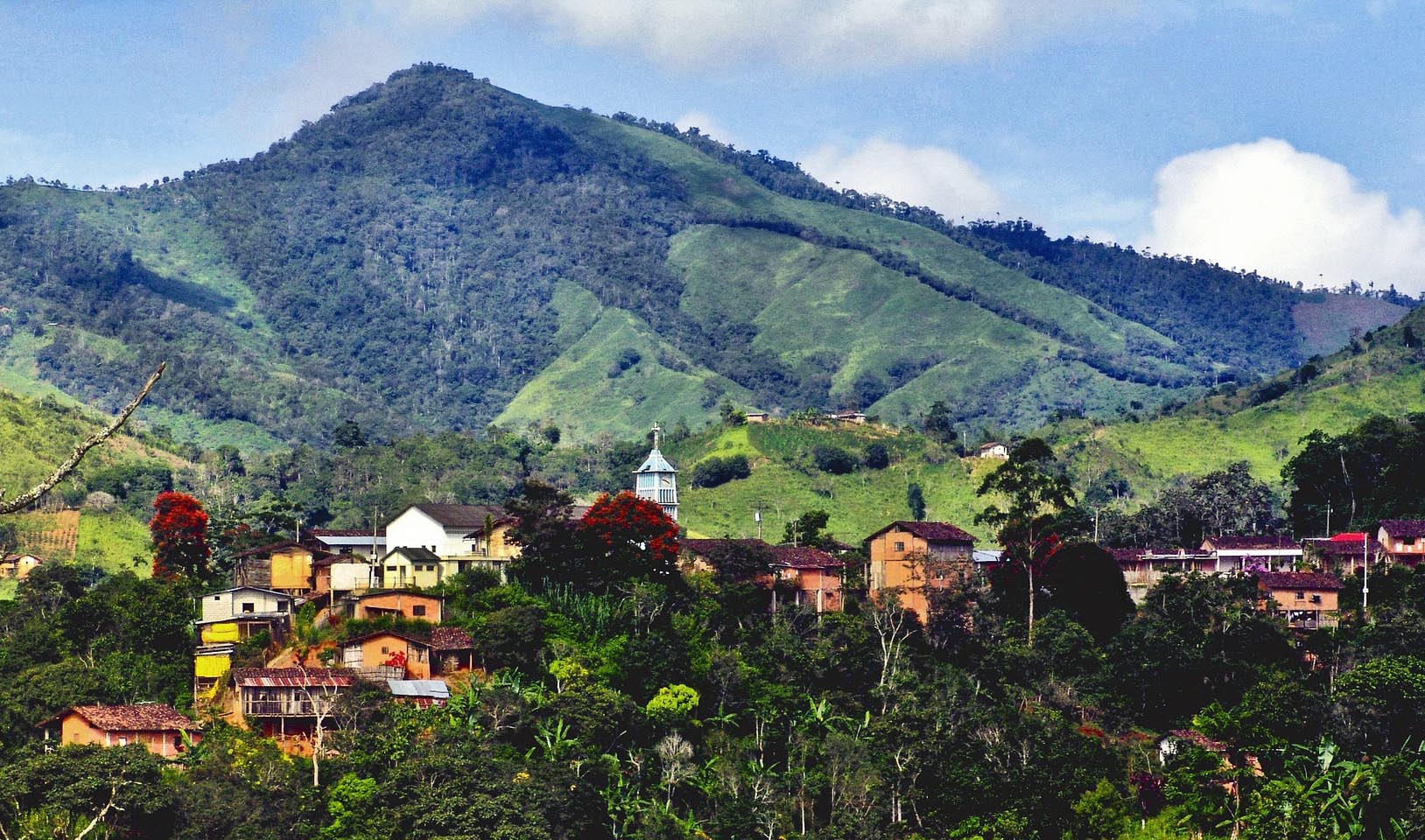 ---
Facts of Ecuador (EC)
Name conventional long form: Republic of Ecuador, conventional short form: Ecuador, local long form: Republica del Ecuador, local short form: Ecuador, etymology: the country's position on the globe, straddling the Equator, accounts for its Spanish name
Codes: ISO; EC, Internet; .ec
Capital city: Quito
Language(s): Spanish (Castilian) 93% (official language), Quechua 4.1%, other indigenous 0.7%, foreign 2.2%. Note: (Quechua and Shuar are official language languages of intercultural relations; other indigenous languages are in official language use by indigenous peoples in the areas they inhabit) (2010 estimate)
National holiday(s): Independence Day (independence of Quito), 10 August (1809)
Motto: Dios, Patria y Libertad (God, homeland and freedom)
Currency: United States dollar (USD), since 2000
GPS: 2 00 S, 77 30 W, Quito; 0 13 S 78 30 W
Location: Western South America, bordering the Pacific Ocean at the Equator, between Colombia and Peru
Geography note: Cotopaxi in Andes is highest active volcano in world
Land boundaries: Colombia 708 km, Peru 1,529 km, total: 2,237 km
Maritime boundaries: N/A
Coastline: 2,237 km
Area: total: 283,561 sq km; land: 276,841 sq km, water: 6,720 sq km (total 98 984,58 mi2), slightly smaller than Nevada.
Roadways: total: 43,670 km, paved: 6,472 km, unpaved: 37,198 km (2007)
Waterways: 1,500 km (most inaccessible) (2012)
Local time (capital): UTC-5, same time as Washington DC during Standard Time
Note to the local time: N/A
Population in Ecuador: 16 863 425
Population in Quito: 1 780 700 (including the metropolitan areas)
Urbanization: urban population: 63.7% of total population (2015)
Major urban areas population: Guayaquil 2.709 million; QUITO (capital) 1.726 million (2015)
Population growth rate: 1.31% (2016 estimate)
Birth rate: 18.2 births / 1,000 population (2016 estimate)
Death rate: 5.1 deaths / 1,000 population (2016 estimate)
Age structure: 0-14 years: 27.52% (male 2,257,535 / female 2,168,198) 15-24 years: 18.47% (male 1,508,341 / female 1,461,207) 25-54 years: 39.38% (male 3,086,599 / female 3,245,266) 55-64 years: 7.39% (male 581,560 / female 606,821) 65 years and over: 7.25% (male 554,371 / female 610,880) (2016 estimate)
Median age: total: 27.4 years; male: 26.7 years, female: 28.1 years (2016 estimate)
Ethnic groups: mestizo (mixed Amerindian and white) 71.9%, Montubio 7.4%, Amerindian 7%, white 6.1%, Afroecuadorian 4.3%, mulato 1.9%, black 1%, other 0.4% (2010 estimate)
Religions: Roman Catholic 74%, Evangelical 10.4%, Jehovah's Witness 1.2%, other 6.4% (includes Mormon Buddhist, Jewish, Spiritualist, Muslim, Hindu, indigenous religions, African American religions, Pentecostal), atheist 7.9%, agnostic 0.1%note: data represents persons at least 16 years of age from five Ecuadoran cities (2012 estimate)
Government type: Unitary presidential constitutional republic
Legal system: civil law based on the Chilean civil code with modifications; traditional law in indigenous communities
National anthem: Salve, oh patria! (Hail, Oh Homeland)
Known national hazards: frequent earthquakes; landslides; volcanic activity; floods; periodic droughtsvolcanism: volcanic activity concentrated along the Andes Mountains; Sangay (elev. 5,230 m), which erupted in 2010, is mainland Ecuador's most active volcano; other historically active volcanoes in the Andes include Antisana, Cayambe, Chacana, Cotopaxi, Guagua Pichincha, Reventador, Sumaco, and Tungurahua; Fernandina (elev. 1,476 m), a shield volcano that last erupted in 2009, is the most active of the many Galapagos volcanoes; other historically active Galapagos volcanoes include Wolf, Sierra Negra, Cerro Azul, Pinta, Marchena, and Santiago
Major infectious diseases: The degree of risk(s): high food or waterborne diseases: bacterial diarrhea, hepatitis A, and typhoid fever vectorborne diseases: dengue fever and malaria. Note: active local transmission of Zika virus by Aedes species mosquitoes has been identified in this country (as of August 2016); it poses an important risk (a large number of cases possible) among US citizens if bitten by an infective mosquito; other less common ways to get Zika are through sex, via blood transfusion, or during pregnancy, in which the pregnant woman passes Zika virus to her fetus (2016)
Land use: agricultural land: 29.7%; arable land 4.7%; permanent crops 5.6%; permanent pasture 19.4%; forest: 38.9%; other: 31.4% (2011 estimate)
Agricultural products: bananas, coffee, cocoa, rice, potatoes, cassava (manioc, tapioca), plantains, sugarcane; cattle, sheep, pigs, beef, pork, dairy products; fish, shrimp; balsa wood
Industries: petroleum, food processing, textiles, wood products, chemicals
Export commodities: petroleum, bananas, cut flowers, shrimp, cacao, coffee, wood, fish
Main export partners: US 39.5%, Chile 6.2%, Peru 5.1%, Vietnam 4.3%, Colombia 4.3% (2015)
Import commodities: industrial materials, fuels and lubricants, nondurable consumer goods
Main import partners: US 27.1%, China 15.3%, Colombia 8.3%, Panama 4.9% (2015)
Navigate the countries in South America faster and easier while driving, use the interactive Google maps for your driving directions. The continuously updated database contains over 220 countries and territories digitally mapped, hundreds of millions of businesses and places around the world positioned on the map.
Get fresh GPS navigation, traffic, and transit information – no matter what part of Ecuador, Quito, any other city and country in America, or the world you're in.
Do you like this Ecuador information page? Please don't forget to share it with others! Thank you.