Chile Google maps and Driving Directions
Get free driving directions, Google maps, traffic information for Chile, and Santiago (GPS: 33 27 S 70 40 W), the capital city of the country located in (the) Southern South America, bordering the South Pacific Ocean, between Argentina and Peru.
Find any address in Santiago on the Google map of Chile (CI) with ease or calculate your up to date itinerary to and from Chile or its neighboring counties like Argentina, Bolivia, Peru.
Sightseeing and exploring in America starts here, thanks to Google because its Earth Engine combines a multi-petabyte catalog of updated satellite imagery and geospatial datasets with planetary-scale analysis capabilities. Wonder the world, use the satellite map function of the Google maps to explore or see differences on the Earth's surface, inland, or the surrounding areas of Chile.
Google Maps Chile
Chile extends in a ribbon down the west coast of South America. It returned to elected civilian rule in 1989 after a referendum forced out military dictator General Pinochet.
Chile is low coastal mountains, fertile central valley, rugged Andes in east.
The map above fully covers Chile with its road routes from cities to towns, road intersections in any region, provinces, prefectures, also with free driving directions in Santiago or to the neighboring towns and countries. To look at the detailed map about a particular quarter in Santiago, please click on the area and zoom to the place you are interested in the Google maps of Chile (CI).
Be creative, use the extras of this Google map; This is a detailed, clear, zoomable, large road map of Chile with its administrative divisions; 15 regions (regiones, singular – region); Aysen, Antofagasta, Araucania, Arica y Parinacota, Atacama, Biobio, Coquimbo, Libertador General Bernardo O'Higgins, Los Lagos, Los Rios, Magallanes y de la Antartica Chilena, Maule, Region Metropolitana (Santiago), Tarapaca, Valparaiso. Note: the US does not recognize claims to Antarctica.
The interactive map above is also may be used as the satellite map of Chile, or as a reverse search map for finding an address from its GPS coordinates.
Chile is about twice the size of Montana. Situated south of Peru and west of Bolivia and Argentina, Chile fills a narrow 2,880-mi (4,506 km) strip between the Andes and the Pacific. One-third of Chile is covered by the towering ranges of the Andes. In the north is the driest place on Earth, the Atacama Desert, and in the center is a 700-mile-long (1,127 km) thickly populated valley with most of Chile's arable land. At the southern tip of Chile's mainland is Punta Arenas, the southernmost city in the world, and beyond that lies the Strait of Magellan and Tierra del Fuego, an island divided between Chile and Argentina. The southernmost point of South America is Cape Horn, a 1,390-foot (424 m) rock on Horn Island in the Wollaston group, which belongs to Chile. Chile also claims sovereignty over 482,628 sq mi (1,250,000 sq km) of Antarctic territory the Juan Fernández Islands, about 400 mi (644 km) west of the mainland and Easter Island, about 2,000 mi (3,219 km) west. Chile shares borders with three neighboring countries. In order of shared border length, these are: Argentina (4,158 km), Bolivia (585 km), and Peru (104 km).
Chile (area: 756 102 sq km / 291 932,49 sq mi), where the official language is Spanish, lying in America and using the currency; Chilean peso (CLP), since 1975, set their clock to UTC-3. That means they are 2 hours ahead of Washington DC during Standard Time in Santiago, the capital. Note to the time difference: N/A.
The climate in Chile; Arid in the north. Hot, dry summers and mild winters in the center. Higher Andean peaks have glaciers and year-round snow. Very wet and stormy in the south.
Geography in a nutshell; Fertile valleys in the center between the coast and the Andes. Atacama Desert in north. Deep-sea channels, lakes, and fjords in south.
Click here for more detailed information about Chile.
Driving directions Chile
The Google maps and Google Satellite maps of Chile above showing the country, located next to Argentina, Bolivia, Peru. For your further reference, the latitude and longitude coordinates of Chile are 30 00 S, 71 00 W , while the capital, Santiago found at 33 27 S 70 40 W.
When you are traveling around Chile, Santiago, or its other cities, use this routing tool, providing up to date route planning service free of charge.
Look no further; get accurate driving directions in Chile, South America, by filling the route planner form below.
Since Google acquired and introduced its digitalized maps in 2004, you're probably familiar with its base functions, like finding an address or driving directions to locations. Still, Google maps also accommodate bicyclists, pedestrians, and also public transportation with special directions and customizable routes.
---
About Chile and the capital, Santiago
| | |
| --- | --- |
| | |
| The national flag of Chile | Borderline map of Chile |
| | |
| Flag description: two equal horizontal bands of white (top) and red; a blue square the same height as the white band at the hoist-side end of the white band; the square bears a white five-pointed star in the center representing a guide to progress and honor; blue symbolizes the sky, white is for the snow-covered Andes, and red represents the blood spilled to achieve independence. Note: design was influenced by the US flag. | Border length: total: 7,801 km. Border countries (total: 3): Argentina 6,691 km, Bolivia 942 km, Peru 168 km. |
About Santiago
Santiago, one of South America's most sophisticated cities, is a thriving metropolis that's home to five million people, or nearly a third of Chile's entire population. Though it ranks third behind Miami and Sao Paulo for Latin American business travel, it is one of Chile's least popular tourist destinations, given the number of travelers who use Santiago only as a jumping-off point to locations such as Patagonia or the Lake District. You won't find the rich, vibrant culture that defines such cities as Rio de Janeiro or Buenos Aires or a wealth of things to do and see either. But that said, as the city booms economically and memories of the stifling Pinochet dictatorship fade, Santiago is reinventing itself. The arts, nightlife, and restaurant scenes have improved considerably as of late. As well, no other Latin American city has the proximity that Santiago has to such a diverse array of day attractions, including wineries, ski resorts, and beaches.
Santiago also boasts a one-of-a-kind location sprawled below some of the highest peaks of the Andes range, providing a breathtaking city backdrop when the air is clear, and the mountains dusted with snow. Unfortunately, smog and dust particles in the air often shroud the view, especially during the winter months. From December to late February, when Santiaguinos abandon the city for summer vacation and the city is blessed with breezier days, the smog abates substantially. These are the most pleasant months to tour Santiago.
Architecturally, Santiago's city planners have shown indifference to the continuity of design during the last century. Rather than look within for a style of their own, Chileans have instead copied the architecture of other continents: first Europe and now the U.S. Earthquakes and neglect eradicated most of Santiago's colonial-era buildings decades ago, and what 19-century architecture remains is in danger of demolition to make way for yet another glitzy skyscraper or one of the ubiquitous and monotonous apartment buildings so popular with residents here.
Did you know about Chile?
Chile freed from Spanish rule in 1818, largely through the efforts of José de San Martín, leader of the Army of the Andes.
Chile's Atacama Desert is the driest place on Earth.
Oddly shaped Chile is 2,610 miles (4,200km) long and only 112 miles (180km) wide. This elongated country has a hot desert in the north, glaciers in the south, and a Mediterranean-style climate in the center.
Chile is a long, narrow ribbon of a country on the western side of South America. It extends from Peru in the north right down to Cape Horn on the southern tip of Tierra del Fuego. The dominant topographical feature is the Andes mountain chain in the east, which runs the whole length of the country. The highest peaks are in the northern half of the country, and many are active volcanoes. A second, lower range of coastal mountains extends from north to south along the coast.
The two ranges are linked in the north by mountains running transversely from west to east to form a region of peaks and plateaux. This extremely arid land is occupied by the Atacama Desert. One of the world's driest places, the Atacama Desert is also rich in mineral resources.
South of the Atacama Desert lies a fertile, central valley, where grapes, tomatoes, apples, maize, sugar beet, wheat, potatoes, and other vegetables grown. There is a significant winemaking industry in this region. Farther south, a region of forests gives way to steppe-like grasslands.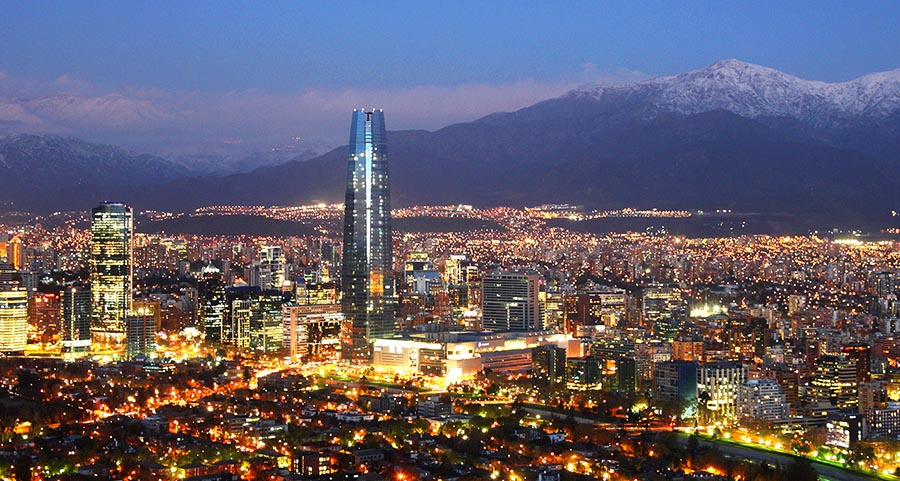 ---
Facts of Chile (CI)
Name conventional long form: Republic of Chile, conventional short form: Chile, local long form: Republica de Chile, local short form: Chile, etymology: derivation of the name is unclear, but it may come from the Mapuche word "chilli" meaning "limit of the earth" or from the Quechua "chiri" meaning "cold"
Codes: ISO; CI, Internet; .cl
Capital city: Santiago
Language(s): Spanish 99.5% (official language), English 10.2%, indigenous 1% (includes Mapudungun, Aymara, Quechua, Rapa Nui), other 2.3%, unspecified 0.2%. Note: shares sum to more than 100% because some respondents gave more than one answer on the census (2012 estimate)
National holiday(s): Independence Day, 18 September (1810)
Motto: Por la razón o la fuerza (By right or might)
Currency: Chilean peso (CLP), since 1975
GPS: 30 00 S, 71 00 W, Santiago; 33 27 S 70 40 W
Location: Southern South America, bordering the South Pacific Ocean, between Argentina and Peru
Geography note: the longest north-south trending country in the world, extending across 39 degrees of latitude; strategic location relative to sea lanes between the Atlantic and Pacific Oceans (Strait of Magellan, Beagle Channel, Drake Passage); Atacama Desert – the driest desert in the world – spreads across the northern part of the country; the crater lake of Ojos del Salado is the world's highest lake (at 6,390 m)
Land boundaries: Argentina 6,691 km, Bolivia 942 km, Peru 168 km, total: 7,801 km
Maritime boundaries: N/A
Coastline: 6,435 km
Area: total: 756,102 sq km; land: 743,812 sq km, water: 12,290 sq km (total 291 932,49 mi2), slightly smaller than twice the size of Montana.
Roadways: total: 77,764 km, paved: 18,119 km (includes 2,387 km of expressways), unpaved: 59,645 km (2010)
Waterways: N/A
Local time (capital): UTC-3, 2 hours ahead of Washington DC during Standard Time
Note to the local time: N/A
Population in Chile: 18 197 209
Population in Santiago: 5 333 100 (including the metropolitan areas)
Urbanization: urban population: 89.5% of total population (2015)
Major urban areas population: SANTIAGO (capital) 6.507 million; Valparaiso 907,000; Concepcion 816,000 (2015)
Population growth rate: 0.8% (2016 estimate)
Birth rate: 13.7 births / 1,000 population (2016 estimate)
Death rate: 6.1 deaths / 1,000 population (2016 estimate)
Age structure: 0-14 years: 20.27% (male 1,825,115 / female 1,751,977) 15-24 years: 15.45% (male 1,391,522 / female 1,335,933) 25-54 years: 43.17% (male 3,804,037 / female 3,816,114) 55-64 years: 10.6% (male 880,014 / female 990,969) 65 years and over: 10.51% (male 776,340 / female 1,078,093) (2016 estimate)
Median age: total: 34 years; male: 32.9 years, female: 35.2 years (2016 estimate)
Ethnic groups: white and non-indigenous 88.9%, Mapuche 9.1%, Aymara 0.7%, other indigenous groups 1% (includes Rapa Nui, Likan Antai, Quechua, Colla, Diaguita, Kawesqar, Yagan or Yamana), unspecified 0.3% (2012 estimate)
Religions: Roman Catholic 66.7%, Evangelical or Protestant 16.4%, Jehovah's Witnesses 1%, other 3.4%, none 11.5%, unspecified 1.1% (2012 estimate)
Government type: Unitary presidential constitutional republic
Legal system: civil law system influenced by several West European civil legal systems; judicial review of legislative acts by the Constitutional Tribunal
National anthem: Himno nacional de Chile
Known national hazards: severe earthquakes; active volcanism; tsunamisvolcanism: significant volcanic activity due to more than three-dozen active volcanoes along the Andes Mountains; Lascar (elev. 5,592 m), which last erupted in 2007, is the most active volcano in the northern Chilean Andes; Llaima (elev. 3,125 m) in central Chile, which last erupted in 2009, is another of the country's most active; Chaiten's 2008 eruption forced major evacuations; other notable historically active volcanoes include Cerro Hudson, Calbuco, Copahue, Guallatiri, Llullaillaco, Nevados de Chillan, Puyehue, San Pedro, and Villarrica
Major infectious diseases: N/A
Land use: agricultural land: 21.1%; arable land 1.7%; permanent crops 0.6%; permanent pasture 18.8%; forest: 21.9%; other: 57% (2011 estimate)
Agricultural products: grapes, apples, pears, onions, wheat, corn, oats, peaches, garlic, asparagus, beans; beef, poultry, wool; fish; timber
Industries: copper, lithium, other minerals, foodstuffs, fish processing, iron and steel, wood and wood products, transport equipment, cement, textiles
Export commodities: copper, fruit, fish products, paper and pulp, chemicals, wine
Main export partners: China 26.3%, US 13.2%, Japan 8.5%, South Korea 6.5%, Brazil 4.9% (2015)
Import commodities: petroleum and petroleum products, chemicals, electrical and telecommunications equipment, industrial machinery, vehicles, natural gas
Main import partners: China 23.4%, US 18.8%, Brazil 7.8%, Argentina 4% (2015)
Navigate the countries in South America faster and easier while driving, use the interactive Google maps for your driving directions. The continuously updated database contains over 220 countries and territories digitally mapped, hundreds of millions of businesses and places around the world positioned on the map.
Get fresh GPS navigation, traffic, and transit information – no matter what part of Chile, Santiago, any other city and country in America, or the world you're in.
Do you like this Chile information page? Please don't forget to share it with others! Thank you.