Luxembourg Google maps and Driving Directions
Get free driving directions, Google maps, traffic information for Luxembourg, and Luxembourg (GPS: 49 36 N 6 07 E), the capital city of the country located in (the) Western Europe, between France and Germany.
Find any address in Luxembourg on the Google map of Luxembourg (LU) with ease or calculate your up to date itinerary to and from Luxembourg or its neighboring counties like Belgium, France, Germany.
Sightseeing and exploring in Europe starts here, thanks to Google because its Earth Engine combines a multi-petabyte catalog of updated satellite imagery and geospatial datasets with planetary-scale analysis capabilities. Wonder the world, use the satellite map function of the Google maps to explore or see differences on the Earth's surface, inland, or the surrounding areas of Luxembourg.
Google Maps Luxembourg
Part of the plateau of the Ardennes in western Europe, Luxembourg is one of Europe's richest states. A tax haven and banking center, it is also home to key EU institutions.
Luxembourg is mostly gently rolling uplands with broad, shallow valleys; uplands to slightly mountainous in the north; steep slope down to Moselle flood plain in the southeast.
The map above fully covers Luxembourg with its road routes from cities to towns, road intersections in any region, provinces, prefectures, also with free driving directions in Luxembourg or to the neighboring towns and countries. To look at the detailed map about a particular quarter in Luxembourg, please click on the area and zoom to the place you are interested in the Google maps of Luxembourg (LU).
Be creative, use the extras of this Google map; This is a detailed, clear, zoomable, large road map of Luxembourg with its administrative divisions; 12 cantons (cantons, singular – canton); Capellen, Clervaux, Diekirch, Echternach, Esch-Sur-Alzette, Grevenmacher, Luxembourg, Mersch, Redange, Remich, Vianden, Wiltz.
The interactive map above is also may be used as the satellite map of Luxembourg, or as a reverse search map for finding an address from its GPS coordinates.
Luxembourg is about half the size of Delaware. The Ardennes Mountains extend from Belgium into the northern section of Luxembourg. The rolling plateau of the fertile Bon Pays is in the south.
Luxembourg (area: 2 586 sq km / 998,46 sq mi), where the official language is French, German, Luxembourgish, lying in Europe and using the currency; Euro (EUR), since 1999, set their clock to UTC+1. That means they are 6 hours ahead of Washington DC during Standard Time in Luxembourg, the capital. Note to the time difference: Daylight saving time: +1hr begins last Sunday in March; ends last Sunday in October.
The climate in Luxembourg; The climate is moist, with warm summers and mild winters. Snow is common only in the Ardennes.
Geography in a nutshell; Dense Ardennes forests in the north, with a low, open plateau to the south. Undulating terrain throughout.
Click here for more detailed information about Luxembourg.
Driving directions Luxembourg
The Google maps and Google Satellite maps of Luxembourg above showing the country, located next to Belgium, France, Germany. For your further reference, the latitude and longitude coordinates of Luxembourg are 49 45 N, 6 10 E , while the capital, Luxembourg found at 49 36 N 6 07 E.
When you are traveling around Luxembourg, Luxembourg, or its other cities, use this routing tool, providing up to date route planning service free of charge.
Look no further; get accurate driving directions in Luxembourg, Europe, by filling the route planner form below.
Since Google acquired and introduced its digitalized maps in 2004, you're probably familiar with its base functions, like finding an address or driving directions to locations. Still, Google maps also accommodate bicyclists, pedestrians, and also public transportation with special directions and customizable routes.
---
About Luxembourg and the capital, Luxembourg
| | |
| --- | --- |
| | |
| The national flag of Luxembourg | Borderline map of Luxembourg |
| | |
| Flag description: three equal horizontal bands of red (top), white, and light blue; similar to the flag of the Netherlands, which uses a darker blue and is shorter; the coloring derived from the Grand Duke's coat of arms (a red lion on a white and blue striped field). | Border length: total: 327 km. Border countries (total: 3): Belgium 130 km, France 69 km, Germany 128 km. |
Did you know about Luxembourg?
For most of the 19th century Luxembourg was part of the Netherlands. It gained independence in 1890 and is Europe's last independent duchy.
Luxembourg's capital is home to around 2000 investment funds and over 150 banks.
The tiny duchy of Luxembourg has three official languages-French, German, and Luxembourgish-and is a major international banking center.
The small Grand Duchy of Luxembourg is entirely landlocked, bounded by Belgium in the west, Germany in the east and France in the south. The northern part of the country is a continuation of the forested hills of the Ardennes Plateau while the southern two-thirds of the country consists of undulating wooded farmland.
Luxembourg is a wealthy and highly industrialized country whose citizens enjoy a very high standard of living. The capital, Luxembourg City, is the seat of the European Court of Justice.
Luxembourg has rich (although declining) deposits of iron ore, and the manufacture of iron and steel has traditionally been one of the two mainstays of the economy, the other being banking. Agriculture, insurance services and tourism are all important contributors to the economy.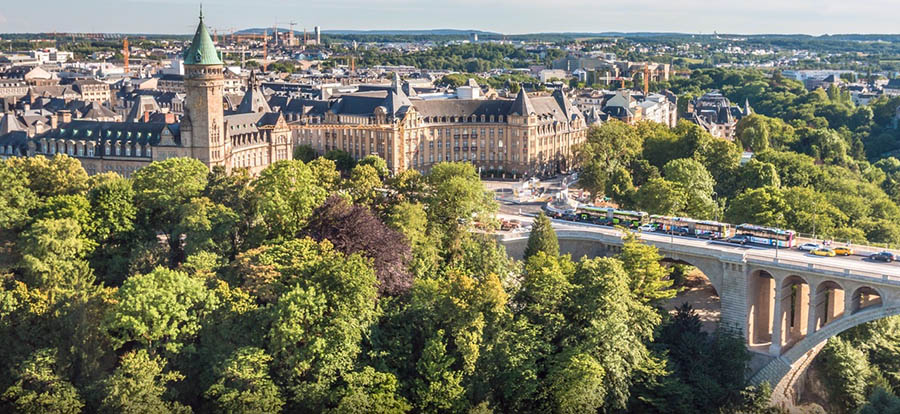 ---
Facts of Luxembourg (LU)
Name conventional long form: Grand Duchy of Luxembourg, conventional short form: Luxembourg, local long form: Grand Duchee de Luxembourg, local short form: Luxembourg, etymology: from the Celtic "lucilem" (little) and the German "burg" (castle or fortress) to produce the meaning of the "little castle"
Codes: ISO; LU, Internet; .lu
Capital city: Luxembourg
Language(s): Luxembourgish (official language administrative and judicial language and national language (spoken vernacular)) 88.8%, French (official language administrative, judicial, and legislative language) 4.2%, Portuguese 2.3%, German (official language administrative and judicial language) 1.1%, other 3.5% (2011 estimate)
National holiday(s): National Day (birthday of Grand Duke Henri) 23 June
Motto: Mir wëlle bleiwe wat mir sinn (We want to remain what we are)
Currency: Euro (EUR), since 1999
GPS: 49 45 N, 6 10 E, Luxembourg; 49 36 N 6 07 E
Location: Western Europe, between France and Germany
Geography note: landlocked country; the only grand duchy in the world
Land boundaries: Belgium 130 km, France 69 km, Germany 128 km, total: 327 km
Maritime boundaries: N/A
Coastline: 0 km (landlocked country)
Area: total: 2,586 sq km; land: 2,586 sq km, water: 0 sq km (total 998,46 mi2), slightly smaller than Rhode Island.
Roadways: total: 2,899 km, paved: 2,899 km (includes 152 km of expressways) (2011)
Waterways: 37 km (on Moselle River) (2010)
Local time (capital): UTC+1, 6 hours ahead of Washington DC during Standard Time
Note to the local time: Daylight saving time: +1hr begins last Sunday in March; ends last Sunday in October
Population in Luxembourg: 590 321
Population in Luxembourg: 78 800 (including the metropolitan areas)
Urbanization: urban population: 90.2% of total population (2015)
Major urban areas population: LUXEMBOURG (capital) 107,000 (2014)
Population growth rate: 2.05% (2016 estimate)
Birth rate: 11.4 births / 1,000 population (2016 estimate)
Death rate: 7.3 deaths / 1,000 population (2016 estimate)
Age structure: 0-14 years: 16.82% (male 50,445 / female 47,525) 15-24 years: 12.26% (male 36,578 / female 34,788) 25-54 years: 44.34% (male 132,434 / female 125,748) 55-64 years: 11.63% (male 34,321 / female 33,379) 65 years and over: 14.95% (male 38,614 / female 48,459) (2016 estimate)
Median age: total: 39.2 years; male: 38.6 years, female: 39.9 years (2016 estimate)
Ethnic groups: Luxembourger 54.1%, Portuguese 16.4%, French 7%, Italian 3.5%, Belgian 3.3%, German 2.3%, British 1.1%, other 12.3%note: represents population by nationality (2015 estimate)
Religions: Roman Catholic 87%, other (includes Protestant, Jewish, and Muslim) 13% (2000)
Government type: Unitary parliamentary constitutional monarchy
Legal system: civil law system
National anthem: Ons Heemecht (Our Homeland)
Known national hazards: N/A
Major infectious diseases: N/A
Land use: agricultural land: 50.7%; arable land 24%; permanent crops 0.6%; permanent pasture 26.1%; forest: 33.5%; other: 15.8% (2011 estimate)
Agricultural products: grapes, barley, oats, potatoes, wheat, fruits; dairy and livestock products
Industries: banking and financial services, construction, real estate services, iron, metals, and steel, information technology, telecommunications, cargo transportation and logistics, chemicals, engineering, tires, glass, aluminum, tourism, biotechnology
Export commodities: machinery and equipment, steel products, chemicals, rubber products, glass
Main export partners: Germany 22.1%, Belgium 16.7%, France 16.6%, UK 4.7%, Italy 4.6%, Netherlands 4% (2015)
Import commodities: commercial aircraft, minerals, chemicals, metals, foodstuffs, luxury consumer goods
Main import partners: Belgium 27.6%, Germany 22.9%, China 11.7%, France 9.5%, US 8.4%, Netherlands 4.2%, Mexico 4.1% (2015)
Navigate the countries in Europe faster and easier while driving, use the interactive Google maps for your driving directions. The continuously updated database contains over 220 countries and territories digitally mapped, hundreds of millions of businesses and places around the world positioned on the map.
Get fresh GPS navigation, traffic, and transit information – no matter what part of Luxembourg, Luxembourg, any other city and country in Europe, or the world you're in.
Do you like this Luxembourg information page? Please don't forget to share it with others! Thank you.