The Bahamas Google maps and Driving Directions
Get free driving directions, Google maps, traffic information for the Bahamas, and Nassau (GPS: 25 05 N 77 21 W), the capital city of the country located in (the) chain of islands in the North Atlantic Ocean, southeast of Florida, northeast of Cuba.
Find any address in Nassau on the Google map of the Bahamas (BS) with ease or calculate your up to date itinerary to and from the Bahamas or its neighboring counties like N/A.
Sightseeing and exploring in America starts here, thanks to Google because its Earth Engine combines a multi-petabyte catalog of updated satellite imagery and geospatial datasets with planetary-scale analysis capabilities. Wonder the world, use the satellite map function of the Google maps to explore or see differences on the Earth's surface, inland, or the surrounding areas of the Bahamas.
Google Maps Bahamas
Located off the Florida coast in the western Atlantic, the Bahamas comprises an archipelago of some 700 islands and 2400 cays, only around 30 of which are inhabited.
The Bahamas is long, flat coral formations with some low rounded hills.
The map above fully covers the Bahamas with its road routes from cities to towns, road intersections in any region, provinces, prefectures, also with free driving directions in Nassau or to the neighboring towns and countries. To look at the detailed map about a particular quarter in Nassau, please click on the area and zoom to the place you are interested in the Google maps of the Bahamas (BS).
Be creative, use the extras of this Google map; This is a detailed, clear, zoomable, large road map of the Bahamas with its administrative divisions; 31 districts; Acklins Islands, Berry Islands, Bimini, Black Point, Cat Island, Central Abaco, Central Andros, Central Eleuthera, City of Freeport, Crooked Island and Long Cay, East Grand Bahama, Exuma, Grand Cay, Harbour Island, Hope Town, Inagua, Long Island, Mangrove Cay, Mayaguana, Moore's Island, North Abaco, North Andros, North Eleuthera, Ragged Island, Rum Cay, San Salvador, South Abaco, South Andros, South Eleuthera, Spanish Wells, West Grand Bahama.
The interactive map above is also may be used as the satellite map of the Bahamas, or as a reverse search map for finding an address from its GPS coordinates.
The Bahamas are an archipelago of about 700 islands and 2,400 uninhabited islets and cays lying 50 mi off the east coast of Florida. They extend for about 760 mi (1,223 km). Only about 30 of the islands are inhabited, the most important is New Providence (80 sq mi 207 sq km), on which the capital, Nassau, is situated. Other islands include Grand Bahama, Abaco, Eleuthera, Andros, Cat Island, and San Salvador (or Watling's Island).
The Bahamas (area: 13 943 sq km / 5 383,42 sq mi), where the official language is English, lying in America and using the currency; Bahamian dollar (BSD), since 1966, set their clock to UTC-5. That means they are same time as Washington DC during Standard Time in Nassau, the capital. Note to the time difference: Daylight saving time: +1hr begins second Sunday in March; ends first Sunday in November.
The climate in the Bahamas; Subtropical. Hot summers and mild winters. Heavy rainfall, especially in summer. Hurricanes can strike in July–December.
Geography in a nutshell; Long, mainly flat coral formations with a few low hills. Some islands have pine forests, lagoons, and mangrove swamps.
Click here for more detailed information about the Bahamas.
Driving directions Bahamas
The Google maps and Google Satellite maps of the Bahamas above showing the country, located next to N/A. For your further reference, the latitude and longitude coordinates of the Bahamas are 24 15 N, 76 00 W , while the capital, Nassau found at 25 05 N 77 21 W.
When you are traveling around the Bahamas, Nassau, or its other cities, use this routing tool, providing up to date route planning service free of charge.
Look no further; get accurate driving directions in the Bahamas, Central America and the Caribbean, by filling the route planner form below.
Since Google acquired and introduced its digitalized maps in 2004, you're probably familiar with its base functions, like finding an address or driving directions to locations. Still, Google maps also accommodate bicyclists, pedestrians, and also public transportation with special directions and customizable routes.
---
About the Bahamas and the capital, Nassau
| | |
| --- | --- |
| | |
| The national flag of the Bahamas | Borderline map of the Bahamas |
| | |
| Flag description: three equal horizontal bands of aquamarine (top), gold, and aquamarine, with a black equilateral triangle based on the hoist side; the band colors represent the golden beaches of the islands surrounded by the aquamarine sea; black represents the vigor and force of a united people, while the pointing triangle indicates the enterprise and determination of the Bahamian people to develop the rich resources of land and sea. | Border length: 0 km. |
Did you know about the Bahamas?
Originally a pirate base, the Bahamas became a formal British colony in 1783. It did not achieve independence until July 10, 1973.
The country's extensive merchant fleet consists mainly of "flag-of-convenience" vessels registered by foreign owners.
The island chain of the Bahamas lies northeast of Cuba in the Atlantic Ocean, and is a wealthy financial center. Only 30 of the 700 islands are inhabited.
Some 700 beautiful coral islands and keys in the Atlantic Ocean, only a few of which are inhabited, make up the Bahamas. The Turks and Caicos Islands from the southeast archipelago of the Bahamas, which extend for 966 kilometers or 600 miles southeastwards from the coast of Florida. The islands are all low-lying with a subtropical climate, and most islanders live on Grand Bahama or New Providence.
The British colonized the Bahamas in the 17th century, but the islands have been independent since 1973. Tourism is the mainstay of the economy but fishing and limited agriculture, along with international banking, are also important.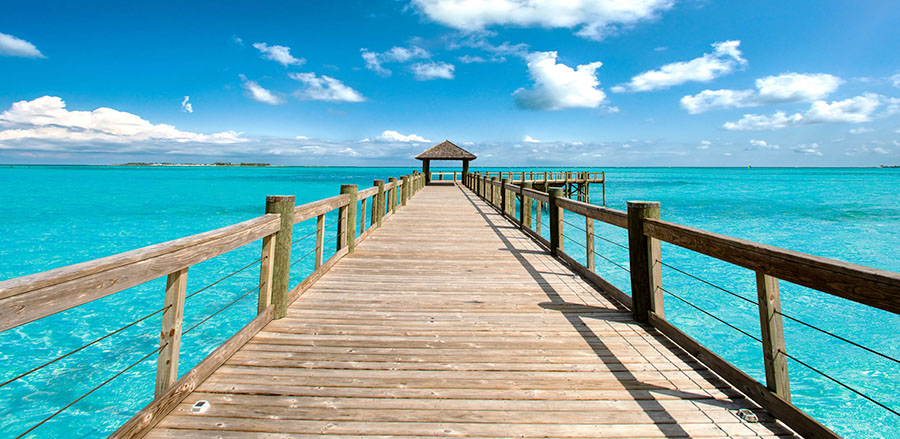 ---
Facts of the Bahamas (BS)
Name conventional long form: Commonwealth of The Bahamas, conventional short form: The Bahamas, etymology: name derives from the Spanish "baha mar," meaning "shallow sea," which describes the shallow waters of the Bahama Banks
Codes: ISO; BS, Internet; .bs
Capital city: Nassau
Language(s): English (official language), Creole (among Haitian immigrants)
National holiday(s): Independence Day, 10 July (1973)
Motto: Forward, Upward, Onward Together
Currency: Bahamian dollar (BSD), since 1966
GPS: 24 15 N, 76 00 W, Nassau; 25 05 N 77 21 W
Location: chain of islands in the North Atlantic Ocean, southeast of Florida, northeast of Cuba
Geography note: strategic location adjacent to US and Cuba; extensive island chain of which 30 are inhabited
Land boundaries: N/A, 0 km
Maritime boundaries: Caribbean Sea
Coastline: 3,542 km
Area: total: 13,880 sq km; land: 10,010 sq km, water: 3,870 sq km (total 5 383,42 mi2), slightly smaller than Connecticut.
Roadways: total: 2,700 km, paved: 1,620 km, unpaved: 1,080 km (2011)
Waterways: N/A
Local time (capital): UTC-5, same time as Washington DC during Standard Time
Note to the local time: Daylight saving time: +1hr begins second Sunday in March; ends first Sunday in November
Population in the Bahamas: 399 285
Population in Nassau: 222 200 (including the metropolitan areas)
Urbanization: urban population: 82.9% of total population (2015)
Major urban areas population: NASSAU (capital) 267,000 (2014)
Population growth rate: 0.83% (2016 estimate)
Birth rate: 15.4 births / 1,000 population (2016 estimate)
Death rate: 7.1 deaths / 1,000 population (2016 estimate)
Age structure: 0-14 years: 22.75% (male 37,779 / female 36,691) 15-24 years: 16.79% (male 27,843 / female 27,116) 25-54 years: 44.12% (male 72,295 / female 72,107) 55-64 years: 8.87% (male 13,023 / female 15,998) 65 years and over: 7.47% (male 9,399 / female 15,065) (2016 estimate)
Median age: total: 31.8 years; male: 30.6 years, female: 32.9 years (2016 estimate)
Ethnic groups: black 90.6%, white 4.7%, black and white 2.1%, other 1.9%, unspecified 0.7% (2010 estimate)
Religions: Protestant 69.9% (includes Baptist 34.9%, Anglican 13.7%, Pentecostal 8.9% Seventh Day Adventist 4.4%, Methodist 3.6%, Church of God 1.9%, Brethren 1.6%), Roman Catholic 12%, other Christian 13% (includes Jehovah's Witness 1.1%), other 0.6%, none 1.9%, unspecified 2.6% (2010 estimate)
Government type: Unitary parliamentary constitutional monarchy
Legal system: common law system based on the English model
National anthem: March On, Bahamaland
Known national hazards: hurricanes and other tropical storms cause extensive flood and wind damage
Major infectious diseases: N/A
Land use: agricultural land: 1.4%; arable land 0.8%; permanent crops 0.4%; permanent pasture 0.2%; forest: 51.4%; other: 47.2% (2011 estimate)
Agricultural products: citrus, vegetables; poultry
Industries: tourism, banking, oil bunkering, maritime industries, transshipment, salt, rum, aragonite, pharmaceuticals
Export commodities: crawfish, aragonite, crude salt, polystyrene products
Main export partners: Poland 26.3%, Cote dIvoire 20.9%, US 15.9%, Dominican Republic 14.3% (2015)
Import commodities: machinery and transport equipment, manufactures, chemicals, mineral fuels; food and live animals
Main import partners: US 22.3%, China 14.8%, Japan 9.5%, Poland 7.7%, South Korea 7.3%, Colombia 6.8%, Brazil 5.6%, Singapore 5.5% (2015)
Navigate the countries in Central America and the Caribbean faster and easier while driving, use the interactive Google maps for your driving directions. The continuously updated database contains over 220 countries and territories digitally mapped, hundreds of millions of businesses and places around the world positioned on the map.
Get fresh GPS navigation, traffic, and transit information – no matter what part of the Bahamas, Nassau, any other city and country in America, or the world you're in.
Do you like this the Bahamas information page? Please don't forget to share it with others! Thank you.